Investigation Leads: For the Past Three Years, Beijing Friendship Hospital Has Performed 200 Kidney Transplants Per Year (and Other Leads) (Photos)
(Clearwisdom.net) After the Chinese Communist Party's (CCP) inhumane and criminal practice of harvesting organs from living Falun Gong practitioners and then cremating their bodies was exposed, the Falun Dafa Association and Minghui website [Chinese version of Clearwisdom] founded "The Coalition To Investigate the Persecution of Falun Gong in China" (CIPFG) on April 4, 2006. The coalition calls on people from all walks of life and all organizations to form a united investigation group to gather possible leads for investigation of illegal organ harvesting. The following are several leads we obtained recently. We hope that people who have specific knowledge about such activities will assist us to continue to expose the inside stories of labor camps, prisons, and hospitals in China that are in collusion to persecute Falun Gong practitioners. Together we are striving to end the persecution.
Investigation Lead: Zhengzhou No. 7 Hospital Has Sufficient Kidney Resources for Transplants
On December 2, 2004, the Fujian Daily published an article titled "Three Mothers Offer to Donate Kidney; Love Wants to Heal Seriously Ill Boy." The article told how three mothers (the birth mother and two stepmothers) each offered a kidney to a sick boy, but none of their kidneys matched. People had donated 150,000 yuan to the family for the cost of a kidney transplant.
The article stated further, "On November (of 2004), the Dong Lixiang couple learned on the Internet that Zhengzhou No. 7 Hospital has sufficient kidney transplant resources. On November 10 they arrived in Zhengzhou City and had an appointment with director Liu Huailin." "The 50-year-old Mr. Liu Huailin had previously read some reports about the situation on the Internet, so he told the Dong Lixiang couple that the hospital would do surgery on Dong Zhong at a discounted price. On November 16, when the Dong Lixiang couple brought Dong Zhong to Zhengzhou, the hospital had a room ready for him. Two excellent surgeons were assigned to the surgery. On the 19th, a matching kidney was found."
This article clearly demonstrates that the Zhengzhou No. 7 Hospital does have "sufficient resources for kidney transplants." They found a matching kidney within 14 days. Other leads so far make it unmistakably clear to us it is very possible that the kidney was harvested from a living Falun Gong practitioner. No country in the world, including China prior to the persecution of Falun Gong practitioners in China in 1999, would have such a sufficient kidney supply for transplant surgeries.
Currently there is no law protecting involuntary organ transplant donors, including death penalty criminals whose organs are harvested [but by law, only with theirs or their families' consent]. Zhengzhou No. 7 Hospital and its director very likely knew that the kidney was obtained in complete violation of medical ethics and the law and harvested from a healthy Falun Gong practitioner against their will, yet for the sake of greed and making money they kept silent.
Investigation Lead: Beijing Friendship Hospital Performed Nearly 200 Kidney Transplants Per Year for the Past Three Years
Xinhua News Agency reporter Wang Sihai reported on June 17, 2006, "Three o'clock p.m. on June 14 was a busy time in Beijing Friendship Hospital urology department operating room. Eight surgeons were adeptly performing kidney transplants on two patients. When the fresh new kidneys were successfully transplanted into the patients, the hospital had completed their 2615th and 2616th kidney transplants."
Tang Yawang, Urology Department deputy director, was the chief surgeon for these surgeries. He told the reporter afterwards, "In the past three years, the hospital has completed an average of nearly 200 kidney transplants each year."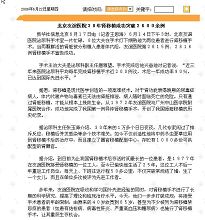 Investigation Lead: Tianjin City No. 1 Central Hospital Performed Many Transplants in 2004
The following is summarized from the Internet forum of Tianjin City No. 1 Central Hospital:
(1) In 2003, the hospital completed 384 liver transplants, more than one per day, which was one third of the total liver transplants in China.
(2) Up to November 2004, the hospital had completed 430 liver transplants and 310 kidney transplants, which is No. 1 in the country in total organ transplants in China, and also No. 1 in liver transplants in the world in 2004.
(3) According to available statistics, 1,210 kidney transplants were performed in our city in 2004, including 5 cases of combined transplants of kidney and pancreas and 12 cases of combined transplants of kidney and liver. The ages of kidney transplant patients were from three to 79. There were 1,300 liver transplants performed in our city; the ages of the liver transplant patients were from 15 months to 76 years old.
(4) Liver transplants brought the Tianjin City No. 1 Central Hospital a profit of 100 million yuan each year.
(5) More than 97 percent of the patients came from other cities. Patients from all over China, including Taiwan and Hong Kong, awee on the waiting lists for transplants. There are also patients from more than 20 countries, including the USA, France, Canada, Japan, Korea, Malaysia, and Singapore.

Investigation Lead: Zhengzhou Airport Delayed Takeoff to Transfer Kidney for Liuhuangding Hospital in Yantai
In a report on the Minghui website [Chinese version of Clearwisdom], in order to wait for a courier carrying a kidney for transplant, Xiantao Airport in Shenyang City delayed the takeoff of a flight for 17 minutes. Recently Zhengzhou Airport again delayed the takeoff of a flight to wait for a kidney for transplant.
After the boarding for flight CZ6961 at the Zhengzhou Airport was complete, the doors were closed and the plane was ready for take off. The flight was then delayed for 47 minutes to wait for Mr. Liu Dongfu, deputy director of Yantai City's Liuhuangding Hospital Transplant Center, who carried a kidney for transplant.
Insiders provided information that Liu Dongfu said there were several patients at his hospital in urgent need of kidney transplants, but could no matching organs could be found. He finally found the kidneys in Zhengzhou City. The flight was due to departure 15 minutes from the time he obtained the kidneys, but he was 40 minutes away from the airport at the time. Because of the great profits to be made, and the regime's complicity in the organ harvesting crimes, the plane was delayed so that the organ could be delivered.
The evidence also suggests that the organ harvesting is only possible with a huge and well coordinated living organ bank.
September 3, 2006