Additional Information on Ms. Yao Guoxiu, Who Was Driven to Mental Collapse and Died as the Result of Persecution (Photo)
August 27, 2006 | By a practitioner from Mainland China
(Clearwisdom.net) Ms. Yao Guoxiu worked as a salesperson in the Winery Department of the Jixi City Sugar and Wine Company. She lived in the Jiguan District, Jixi City, Heilongjiang Province. She died as a result of persecution on March 13, 2005, at the age of 52.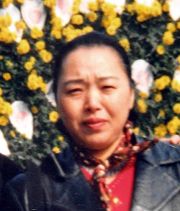 Photo of Ms. Yao Guoxiu before her death
Ms. Yao Guoxiu started to practice Falun Gong in 1997 and she benefited a great deal. Her health greatly improved and she was in a good mental state. She was so excited about the positive changes in her mind and body that she introduced the practice to her sisters and brothers, who were then in poor health. She gave away Falun Gong books, lecture tapes, exercise videotapes, and exercise demonstration tapes to new practitioners. She was praised for her high moral standard by fellow practitioners and those who benefited from practicing Falun Gong.
After the persecution began on July 20, 1999, Ms. Yao went to Beijing to appeal for justice for Falun Gong and clarify the truth quite a few times. Once, when the authorities sent her home, she managed to walk free. She then returned to Beijing to validate the Fa but was caught by the police. She was sentenced to two years of forced labor. She was inhumanely persecuted in the Wanjia Forced Labor Camp in Harbin City.
During her detention in the Wanjia Labor Camp, the guards used different methods of torture to try to break her down her mentally. They tried brainwashing, separation and confinement in a solitary compartment, no speaking, sitting in an iron chair for extended periods, having several people follow her around all day to brainwash her and try to force her to give up cultivation, and beating and kicking her when she refused to denounce her belief. Her head was injured several times because of the beatings. She was traumatized physically and mentally.
In the middle of October 2000, guard Zhang Bo used rope to tie her arms behind her back, and then the police hung her up and beat her. She reasoned with them but they didn't listen. They used a special handcuff to cuff her thumbs together and then hung her up by the cuff. It was so painful that she couldn't stop her tears.
In March 2001, due to the increase of detained practitioners, Wanjia Labor Camp intensified the persecution by adopting new torture methods, some of which were extremely cruel and vicious. When she was confined in the solitary compartment, Yao Guoxiu and other ractitioners went on a hunger strike to protest the persecution. The guards force fed her but she didn't cooperate, so they tied her up and continued to force feed her.
Because Ms. Yao "clarified the truth" about Falun Gong all the time, the guards force fed her drugs and injected her with an unknown drug to stop her from talking. It was said that, when one guard gave her a cup of tea with drugs in it, she drank it and went into a trance and couldn't control her behavior.
After that the guards and the prison doctors often drugged her. This continued until she clearly suffered from mental disorders, and only then did the guards in the labor camp notify her family to visit her.
When her family members came to see her, even from far away, they were shocked to find that she had changed into another person. She had been outgoing with a cheerful character but now she was suffering from dementia with two expressionless eyes, hair in disarray, lips dry and cracked, her forehead covered with bruises from beatings, and the skin on the back of her hands peeling off because the guards had stepped on them with leather shoes. She was not able to recognize her family members. After long and repeated pleas by her family members, she eventually seemed to know who they were on some occasions.
During her detention in the labor camp, the guards gave her injections and drugs. They said that the medication was to control her language and behavior. They claimed that she suffered from serious diseases and the medication was to cure her. But the strange thing was, the prison doctor didn't give her any medicine or any injections during the ten days when her husband was looking after her. As to what kind of drugs Wanjia Labor Camp used to cause her to become mentally unbalanced, it was hidden from her family members.
In July 2001 Ms. Yao Guoxiu was taken to her hometown in Jixi City. On March 13, 2005, due to her unstable mental condition, she died from a fall from upstairs in her building.
Organizations and personnel responsible for the persecution of Ms. Yao:
Lu Zhenshan, Director of Wanjia Forced Labor Camp in Harbin City in Heilongjiang Province
Shi Yingbai, previously Deputy Director of Wanjia Forced Labor Camp, now Director of Changlinzi Forced Labor Camp in Heilongjiang Province
Liu Lun, previously Chief of the Management Section of Wanjia Forced Labor Camp, now Director of the Changlinzi Forced Labor Camp in Heilongjiang Province
Zhang Bo, Leader of No. 12 Team