Jiang Honglu Sentenced to 14 Years After Being Shot by Police (Photos)
(Clearwisdom.net) Mr. Jiang Honglu is a practitioner in Mishan City, Heilongjiang Province. He is the victim of a shooting that happened in February, 2002, by policeman Meng Qingqi. But instead of being cared for, Mr. Jiang was sentenced for 14 years in prison. He is currently jailed in Mudanjiang Prison while the policemen, Meng Qingqi, Du Yongshan, Liu Xiaohu, responsible for his wounds, got away scot-free.
Mr. Jiang Honglu, who lives in Taiping Township, is a worker for the Taiping Highway Maintenance Section of the Mishan Highway Administration Station. In 1989, his 4-year-old son got bronchial asthma. For about 10 years, Mr. Jiang spent over 40,000 yuan in vain trying to cure his son's illness. In October 1998, his son started practicing Falun Gong and his illness was cured completely. After they witnessed the miracle of Falun Dafa, the whole family started practicing Dafa.
On October 6, 1999, Meng Qingqi, the head of the Security Section of the Mishan Police Department, along with about 10 more policemen, broke into Mr. Jiang's home, confiscated their property, arrested Mr. Jiang and his wife, and sent them to the police department for an investigation. Meng Qingqi then sent them to the First and Second Detention Centers separately. One month later, the police extorted the so-called Security Administration fine of 4,000 yuan, plus 8,000 yuan bail, before releasing them. When Mr. Jiang went to the authorities to report the racketeering, he was told: "This is the order of the higher authorities. If you don't agree with it, you may go to Beijing to appeal to the central government."
Without any other choice, Mr. Jiang went to Beijing on December 1, 1999 and started his journey of appealing. During the appeal, he was arrested by policemen from the Qianmen Police Station under the false charge of "disturbing public security," and brought to Jixi Forced Labor Camp.
On March 26, 2001, Mr. Jiang was released. When somebody later exposed that Meng Qingqi extorted money from Falun Gong practitioners, a city government official criticized Meng Qingqi, saying that he "shouldn't leave evidence," and required him to pay back part of the money. With no choice, Meng Qingqi returned 8,000 yuan in fines and a cellphone he had confiscated. As part of the refund, 4,000 yuan went to Mr. Jiang. After this event, Meng Qingqi held a grudge against Mr. Jiang.
According to Clearwisdom.net, Mr. Jiang Honglu and another practitioner were walking on Dongshan avenue in Mishan City at about 2:00 a.m. on Chinese New Year's day 2002, (February 12, 2002). They were stopped by a police patrol car, in which were policemen Meng Qingqi, Du Yongshan, and others, on the west side of the Chinese Industrial and Commercial Bank. Those policemen shouted loudly: "Stop right there!" Jiang Honglu realized that they had run into people who meant to do them harm, so they started running away. Meng Qingqi and Du Yongshan caught up with them by car. After jumping out of the car, they ripped off Mr. Jiang Honglu's belt and beat him with it. Mr. Jiang's face and head were injured and his blood was all over his clothes (see photos, below). After Mr. Jiang struggled to get up on his feet, he started running away again to the south. At that time, the policemen were tired from chasing him. Meng Qingqi brought out his handgun and shot nine bullets at Mr. Jiang , hitting his leg 6 cm below the knee. After Mr. Jiang fell down, Meng Qingqi, Du Yongshan, and others rushed up to him. They beat him with a machine gun handle, the handgun handle, police batons, and their heavy boots so badly that his head had a 2-inch gash. His head and face were seriously wounded, his left eye was protruding, and his eyes were bleeding and couldn't open.
Because Mr. Jiang was injured so seriously, and a taxi driver witnessed the whole event, Meng Qingqi and Du Yongshan brought Mr. Jiang to a hospital. After staying in the hospital for only two hours for basic care, Mr. Jiang was brought to the detention center by Meng Qingqi.
When he threw Mr. Jiang into a cell, Meng Qingqi told the detainees of that cell: "Beat him as hard as you can. You will not be responsible if he dies!" Afterwards, Mr. Jiang was beaten every time he was interrogated. They tortured him with all possible means, including such torment as putting mustard oil in his nose.
The following photos show Jiang Honglu's blood-stained clothes after he was beaten. (These photos were included in the Hong Kong Falun Gong Persecution Exhibition in 2002.)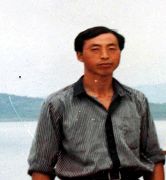 Jiang Honglu
This is the last bullet from Meng Qingqi's handgun after he shot 9 bullets. When he beat Mr. Jiang with his handgun handle, he dropped this bullet into Mr. Jiang's ripped clothing liner. (Diameter 8.38mm, Length 24.64mm, Head 7.7mm, Shell 16.94mm)
Only when the event was exposed, did Mr. Jiang's family learn that he was shot by police. Even under the strong demand by his family, the Security Section of the police department barely agreed to arrange a visit. They also said that his family was not allowed to talk about the event.
The family accused Meng Qingqi and Du Yongshan of wrongdoing to the government of Mishan, the Communist Party Committee of Mishan, the City People's Congress, and the City Political & Judiciary Committee. They also demanded the unconditional release of Mr. Jiang, and a reversal of the unjust conviction of Falun Gong. Because the bureaucrats shield one another, they didn't approve of the family's requests. Instead, they transfered the letter of accusation to Meng Qingqi.
After reading the letter, Meng Qingqi was enraged and ordered the arrest of Jiang Honglu's relatives. He arrested Mr. Jiang's elder brother, sentenced him to two years forced labor and brought him to the Jixi Forced Labor Camp. Mr. Jiang's wife was forced to leave their home. When she tried to return once, she was reported to the police by township security official Xu Yongcai (his phone number is 5156270). The Security Section arrested Mrs. Jiang and detained her in the detention center. In July 2003, the Mishan Police Department brought Mrs. Jiang to Harbin and tried to detain her there with a three-year sentence, but they refused to accept her due to her poor health. Taking her back to Mishan City, the police detained her for a long period of time and didn't release her until November 2003, under the strong request of her relatives.
On October 23, 2002, the Mishan court conducted a trial of eight Falun Gong practitioners. In court, the judge refused Jiang Honglu's request to state what really happened, and tried to coerce him to admit that he had assaulted the police after being shot. When Mr. Jiang refused, policeman Liu Xiaohu (Police Badge 238675) immediately beat Mr. Jiang in the court.
Although Mr. Jiang refused to admit the accusation, he was illegally sentenced to 14 years. The real criminals, Meng Qingqi, Du Yongshan, Liu Xiaohu, and all others involved, got away with their crimes.
On the way back to the detention center, policeman Liu Xiaohu and others started beating Mr. Jiang. They continued to beat him even when they arrived at the detention center and got out of the car.
In 2003, Mr. Jiang was brought to the Jixi Prison. In July, he was transferred to Mudanjiang Prison.
On January 20, 2005, Wang Wei, the head of the third section of the prison, ordered Mr. Jiang to be put into the confinement room because he refused to cooperate with the persecution. In the middle of this 3- or 4-square-meter room was an iron ring to which Mr. Jiang's handcuffs and ankle shackles were locked. Mr. Jiang couldn't lie down, stand up, or squat. He had to sit, bending his lower back. Mr. Jiang wasn't released from the confinement room until 5 days before the Chinese New Year; by that time, he was emaciated.
(Wang Wei's cell-phone: 86-13946346388, phone: 86-453-6404715 or 6251676 ext 8636. Meng Qingqi's cell-phone: 86-13945836696)