Hong Kong: Falun Gong Practitioners Protest against Criminal of Torture Jia Qinglin (Photos)
(Clearwisdom.net) Chairman of the Chinese Communist Party's (CCP) Political Consultative Conference Jia Qinglin arrived in Hong Kong on June 27, 2006 for a three-day visit. Hundreds of people from different groups and organizations including Falun Gong, the Hong Kong Alliance in Support of Patriotic Democratic Movements in China, April 5th Action and Frontier protested with banners and signs. Falun Gong practitioners called for the end of the persecution and bringing Jia Qinglin, Bo Xilai and other chief perpetrators to justice.
| | |
| --- | --- |
| Request to bring Jia Qinglin to justice. | Urgent call to investigate the CCP's labor camps. |
| | |
| --- | --- |
| Falun Gong march | Live organ harvesting cannot be tolerated (Photo by AFP) |
More than one hundred Falun Gong practitioners held a march from Standard Garden to a demonstration area outside Shangri-La Hotel. They held banners stating "Bring Jia Qinglin and Bo Xilai to Justice", "Stop the CCP's Persecution of Falun Gong", and "Urgent Call to Investigate the CCP's Labor Camps for Organ-Harvesting, Torture, and Rape." Falun Gong practitioners held a candlelight vigil in the evening in memory of thousands of Chinese Falun Gong practitioners who have lost their lives in the persecution.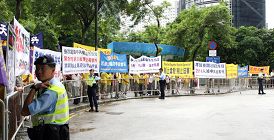 Falun Gong practitioners protest next to Court of Final Appeal.
Falun Gong practitioners read aloud an open statement: "Hong Kong is dishonored in these days because politicians and VIPs would probably shake hands with a person that owes debts of blood for the brutal persecution of innocent people. In a society that advocates morality and is ruled by law, handcuffs are what should have greeted the criminal' hands."
The statement also pointed out the serious persecution of Falun Gong in Beijing and Liaoning Province, where Jia and Bo were governing and actively following the persecution policy of Jiang Zemin's regime. These two chief perpetrators had been sued in many countries for genocide, torture and crimes against humanity.
The statement said that Bo Xilai was in charge of Liaoning Province when the crime of harvesting organs from living Falun Gong practitioners happened in Sujiatun Concentration Camp. Bo cannot shirk his responsibility. Falun Gong practitioners called for the international community of form a joint investigation team to conduct a complete, independent investigation. They hope that facts of the persecution will be exposed and the seven-year-long persecution will be stopped soon.
International investigation organizations had pointed out that Jia Qinglin actively cooperated with the persecution of Falun Gong since it was launched on July 20, 1999. He was directly involved in crimes of illegal detention and torture of Falun Gong practitioners when he was in the position of Secretary of the Party Committee in Beijing. He is one of the chief perpetrators of the persecution. Since September 2004, he has been sued for genocide and torture in Austria and Spain.