Taiwan: Practitioners Appeal to Hualien County Council and Condemn CCP's Live Organ Removal (Photos)
June 03, 2006 | By a practitioner in Hualien 	
(Clearwisdom.net) On May 30, 2006, on the first scheduled meeting of the 16th council, Hualien County Council, Falun Gong practitioners appealed to the council to condemn the Chinese Communist Party (CCP)'s atrocities of live organ removal. The CCP's crimes against practitioners imprisoned in concentration camps and labor camps violate human beings' safety and human rights. The practitioners hoped that the Hualien County Council would send the strongest condemnation to the CCP.
| | |
| --- | --- |
| Calling on Hualien County Council to condemn the CCP's atrocities of live organ removal | Local TV media covers Falun Gong practitioners' address to the county council |
| | |
| --- | --- |
| Explaining the facts of the CCP's persecution of Falun Gong | County Council member Liu Hsing-mei has a group photo with Falun Gong practitioners |
Falun Gong practitioners said that Falun Dafa teaches practitioners to follow Truthfulness-Compassion-Forbearance and has benefited one hundred million people across the world. The CCP, however, unlawfully imprisons practitioners, harvests organs from living practitioners for profit, and cremates their bodies to destroy evidence. Such brutal atrocities are inhumane. In mainland China, since the persecution started on July 20, 1999, at least 2,890 practitioners have been tortured to death, hundreds of thousands have been illegally sentenced to labor camps, and countless more are missing.
Since the disclosure of the CCP's atrocities of live organ removal in March, more evidence indicates that the live organ removal from Falun Gong practitioners is rampant across China.
Human life is precious. The practitioners in Hualien appealed to the county council, explained the facts of the persecution to council members and the urgency of rescuing the practitioners in China. The appeal won support from many council members. Member Liu Hsing-mei started a temporary proposal.
Council member Liu Hsing-mei conveyed the practitioners' appeal to Hualien County officials and council members in the council meeting and exposed the CCP's atrocities of live organ removal. The proposal included the following points.
1. Calling on the United Nations, international human rights organizations and the World Health Organization to form a coalition with Falun Gong practitioners to conduct on-site investigations in China, publishing the findings and stopping the CCP's atrocities against Falun Gong practitioners.
2. Requesting the Department of Health in Hualien County to direct and help medical professionals establish ethical rules for directing patients to get organ transplants in mainland China.
3. Requesting the Hualien County government to publicize information about the CCP's illegal live organ removal.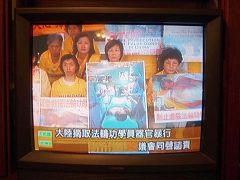 Report by Huilan Cable TV
| | |
| --- | --- |
| Front page report by United Daily | Report by Keng Sheng Daily |
The practitioners' efforts were covered by newspapers and TV stations. The proposal is currently being co-signed by Hualien Council members.