Norway: Introducing Falun Gong at a History Seminar (Photos)
May 03, 2006 | By a Norwegian practitioner
(Clearwisdom.net) On April 22, 2006, Norwegian practitioners were invited to introduce Falun Gong and the Chinese Communist Party's (CCP's) persecution of the practice at a two-day seminar on history held at a college in northern Norway.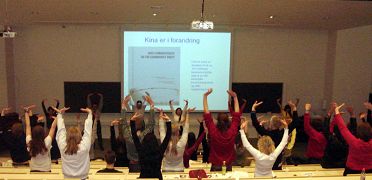 Attendees practice the first set of Falun Gong exercises, "Buddha Showing a Thousand Hands"
In the forty-five-minute presentation, a practitioner discussed topics ranging from the traditional culture of China and Falun Gong's initially being well received in China, to the persecution of Falun Gong by Jiang's political group because of Jiang's personal jealousy. Then, the practitioner discussed the CCP's use of excruciating torture and the recently-exposed barbaric act of removing organs from live Falun Gong practitioners and then cremating their bodies to eliminate the evidence. They discussed how practitioners strive to assimilate to the law of the universe, "Truthfulness, Compassion and Tolerance," and constantly improve their own moral standard, to their disclosing the fact of the persecution in the course of their peaceful anti-persecution activities the world over.
Thirty-five people who attended the seminar were very much interested in the presentation and showed great concern for those being persecuted in China. Some talked about the nature of the evil Communist Party in more detail with the practitioners.
Finally, those who attended the seminar learned the first exercise, "Buddha Showing a Thousand Hands."
The seminar ended in an atmosphere of serenity, with applause lasting for nearly two minutes. The chairperson thanked the practitioners for coming.

Source:http://clearharmony.net/articles/200605/32824.html