Pingtung, Taiwan: Introducing Falun Dafa in Eluanbi Park (Photos)
May 21, 2006 | By a Falun Dafa practitioner in Taiwan
(Clearwisdom.net) May 13, 2006 was the seventh "World Falun Dafa Day." Falun Gong practitioners around the world celebrated this sacred day in various ways. About 200 practitioners in Pingtung, Taiwan gathered in Eluanbi Park. On the green lawn, they practiced the exercises, studied the Fa and shared experiences and understandings, and performed Tang Dynasty drum and choir to introduce Falun Dafa to the visitors and celebrate the 14th anniversary of Falun Dafa's public introduction. They had a photo taken in front of the landmark of the park Lighthouse, to respectfully wish Master Li Hongzhi a happy birthday.
All practitioners in Pingtung send congratulations on revered Master's birthday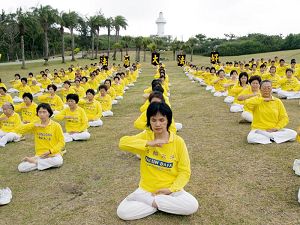 Group practice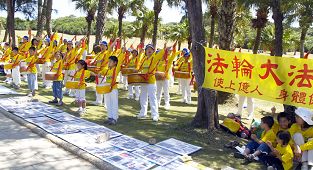 Tang Dynasty drum performance
Eluanbi Park in the southernmost point of Taiwan, covering an area of 145 acres, is one of the eight scenic spots in Taiwan. The Eluanbi Lighthouse, is also reputedly called "The Light of East Asia," has been preserved as a historical site. Within the park there are a number of recreational facilities and a wide range of interesting geological, botanical, and ornithological features, attracting tourists from all over the world. Falun Gong practitioners in Pingtung have been clarifying the truth about Falun Gong to tourists from the Mainland China at this scenic spot for years.
A special scene in the park--Falun Gong practitioners clarify the truth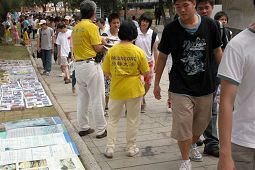 Clarify the truth to tourists
Since its first introduction to the public in May 1999, Falun Gong has been spreading throughout the world for 14 years. More than one hundred million people have improved their physical and mental wellbeing, and many people have become genuinely good persons. In 2000, Falun Dafa Associations in different countries decided May 13 would be "World Falun Dafa Day," so that all practitioners and people around the world can celebrate together Falun Dafa spreading in the human world.
But in Mainland China, kind Falun Gong practitioners have been subjected to brutal persecution launched by Jiang's regime and the CCP (Chinese Communist Party). Tens of thousands of practitioners have been arrested, sentenced to forced labor, tortured and abused, and some have even been tortured to death. This March, the media exposed the atrocities happening in the CCP's forced labor camps and concentration camps, particularly harvesting organs from living Falun Gong practitioners and selling for profit and cremating their bodies to destroy the evidence. In the past seven years, practitioners have made concerted efforts to clarify the truth, in hopes that people can see through the CCP's evil nature and stop the persecution.
On May 13, at 8:00 a.m. practitioners in Pingtung arrived at the beautiful Eluanbi Park to do group practice. When practicing the second set of the exercises, a group of high school students from Taitung exclaimed that the scene was so beautiful. They lined up in a row behind the practitioners, excitedly learning to do the movement of holding a wheel. They said they wanted to keep this peaceful scene in mind. Falun Gong practitioners' truth clarification has become a special scene in this park.
Celebrating World Falun Dafa Day with tourists by playing Tang Dynasty drum and choir performance
"Pingtung Tianwei Tang Dynasty Drum Troupe" composed of nearly 40 practitioners gave a wonderful performance, gaining warm applause from the tourists. Six young practitioners in ancient costumes, attracted many tourists to watch their performance. The young practitioners said they did not feel a bit tired even though they sweat a lot.
After the Tang drum performance, practitioners led all practitioners to sing songs composed by Dafa practitioners. Their expression was serious and attentive, and their singing was loud and clear, with only one hope that the world's people can see the greatness of Falun Gong. One practitioner said she saw a Chinese tourist listen to their singing for a long time, and said to her, "How nice your singing is! You've worked hard!" He looked kind and sincere, and it seemed that the singing had touched him. The practitioner then said, "Let us sing a song 'Coming For You.'" Practitioners sang with their hearts and hoped that "Truthfulness-Compassion-Forbearance" had moved him.
After the activity, practitioners had a group photo taken in front of the Lighthouse to respectfully wish revered Master a happy birthday, and encouraged each other to do well the three things Master requires of us, and help bring an end to the persecution.