Toronto: Celebrating World Falun Dafa Day, Practitioners Extend Their Deep Gratitude to Master (Photos)
May 18, 2006 | By Minghui reporter Ye Linghui
(Clearwisdom.net) May 13, 2006 is World Falun Dafa Day. Falun Gong practitioners in Toronto, Canada got together with their friends at the Nathan Phillips Square in front of the City Hall, to celebrate the 14th anniversary of Falun Dafa's public introduction and Master's 55th birthday.
| | |
| --- | --- |
| Young practitioners demonstrate the exercises | Vocal solo |
| | |
| --- | --- |
| Plum Blossoms dance | Dai Nationality Dance |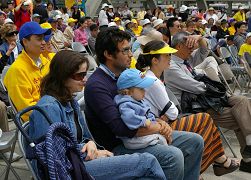 Dedicated audience
A representative of the Canadian Falun Dafa Association, Zhang Zhaojin, said that Falun Dafa has brought new hope for all sentient beings in the cosmos and all of humanity. May 13 therefore becomes so deserving of celebration. Falun Dafa has gained vigorous support and help from the Canadian people and the Canadian government, and has been honored with many awards from the governments for so many years. Falun Dafa has deeply rooted in Canada.
Zhang Zhaojin said, "We thank the Canadian people and government. We hope that Falun Dafa will bring a wonderful future for Canada."
Mr. Wang, who started practicing Falun Gong in 1996, said, "Before practicing cultivation, I did not know the meaning of life, nor did I know the past, present and future of the humanity. Everything I did was for gaining that bit of profit. I felt so unhappy. After practicing Falun Gong, I've experienced the wonderfulness in my life from being unselfish."
"Today, we get together to display to the world our new demeanor after practicing cultivation," Said Mr. Wang, "One of the things I want to do the most today is to say to Master 'Master, Happy Birthday!'"
Mr. Lin was once illegally detained for two years in China for persisting in practicing Falun Gong. During the detention, he was subjected to abuses, which is unimaginable for people.
Mr. Lin said, "I thank the Canadian people and government for rescuing me, so that I'm able to come to this free land." "I thank Falun Dafa for purifying my soul and improving my health. I feel so happy today, I want to say to Master, 'Thank you, Master! Falun Dafa is Great!'"
Western practitioner Dona said she started practicing Falun Gong on June 19, 2001. She used to suffer from depression. She had frequently visited hospitals for 15 years, and she had taken numerous medicines but could not solve her problem.
Dona said, "During that period of time, I often got angry. I contended with others and there was no pleasure in my life. After practicing Falun Gong, all symptoms disappeared. I ultimately obtained the balance and calmness in my mind. I thank Master for bringing Falun Dafa to the world, enabling a hundred million people to have the physical and mental benefits. I'm so fortunate to be one of the practitioners."
Julia came from China to study in Canada in September 2001. She saw people practicing Falun Gong on campus, but she did not get to know them due to the influence of the CCP's slander against Falun Gong. Later, she saw that not only many Chinese people practice it, but Westerners also practice it. Out of curiosity, she started reading Falun Gong books, and communicating with Falun Gong practitioners. After one-year exploration, she finally truly started practicing Falun Gong.
"I remember that when I mailed Falun Gong truth clarification materials to my parents inside China for the first time, my father refused to speak to me for two months." Julia said, "Six months later, they came to visit me, and participated in the 2004 Falun Dafa Day activities. They also witnessed that our family's inherit chronic and stubborn disease disappeared. Not until then did their attitude change."
Marco's family of three sat at the front quietly and watched all the performances. They did not understand Chinese, nor had they heard about Falun Gong.
Marco said, "We only passed by, and came over to see the performances. These performances are beautiful."
Marco therefore learned about Falun Gong. While holding Falun Gong materials in hand, he said to the reporter, "I will read these materials carefully after going home."
During the celebration, Falun Gong practitioners took the form of singing, dancing and poem recitation to express their appreciation and gratefulness and respect for Master Li Hongzhi. Practitioners also prepared nine big birthday cakes to share with friends.



Toronto Divine Land Marching Band makes its first appearance
The Divine Land Marching Band composed of a hundred Falun Gong practitioners in Toronto made its first appearance, and performed two pieces, "Falun Dafa is Great," and "Fa Rectifies the Universe." Their performances prompted warm applause from the audience.