Mental Torture and Murder in the CCP's Persecution of Falun Gong -Part 3 (Photos)
May 16, 2006 | By Minghui reporter He Yu
(Clearwisdom.net) (Continued)
"The target of a "100% transformation rate" forces practitioners to make a choice between giving up their beliefs and sustaining endless, cruel physical and mental persecution. For the firm faith-holder, giving up faith means the death of spirit, while enduring endless, cruel persecution may eventually mean death of the body. From any perspective, Jiang's regime is intentionally attempting to destroy all Falun Gong practitioners."
--- Author
3. Hard Methods of Mental Persecution
In order to deceive the public, the CCP spent a large sum of money to build garden-like prisons and labor camps especially designed to be appear innocuous, and even pleasant, to outside visitors, while it boasts the "reform" of Falun Gong practitioners resembles "spring breezes and rain". In fact, the CCP uses violence, torture and murder to pursue its desired "reform rate."
"Stewing the eagle"
The guards at the Xin'an Labor Camp in Beijing told Falun Gong practitioners, "We'll treat you like spies until you suffer a nervous breakdown and reform."
In order to force Falun Gong practitioner Li Deshan, an outstanding teacher from Dezhou City, Shandong Province to reform, guards at the Wangcun Labor Camp in Shandong Province cuffed his hands and feet to two neighboring beds and pulled the beds apart, which nearly tore his body apart. Another torture Li Deshan suffered is the so-called "Half-flying." His arms were stretched out with his hands chained to a metal bed frame. He was hung up like this with only his toes barely touching the floor for half a month. Mr. Li was also constantly shocked with electric batons. He was jailed in a solitary confinement, monitored by criminals, allowed only one to two hours of sleep every day for half a year, and criminals slapped his face if he closed his eyes. When his mind was not clear due to sleep deprivation, they ordered Li Deshan to read material that had been written to defame Falun Gong and recorded his words; then they finally let him go to sleep. When he woke up with a clear mind, they played his recording in public. Li Deshan denied making the statement, so the policemen deprived him of sleep and forced him to read the materials again when his mind was not clear, and recorded it and played it again. After repeatedly going through mind-numbing torment, he firmly upheld his belief until he died.
Practitioner Luo Qingshu, in her 80s, was handcuffed and hung up for a long time at the Gongjiawan Legal Training School in Lanzhou City. She was coerced to write "guarantee statements." Her legs swelled and appeared translucent; she could not even remove her sweatpants and could not bend her legs. Deep and long cracks appeared on her thighs and calves; her hands looked like balls from the swelling and she could not bend her fingers. Once, she was hung up for 12 days nonstop. She was not allowed to sleep. They let her down only when she was on the brink of death. Guard Qi slapped her face until blood came from her nose and mouth, and her face became swollen and looked deformed. Qi screamed, "If you don't listen to the Communist Party and don't reform, I'll hang you up hundreds of times, skin you and pull out your tendons."
In November 2003, practitioner Li Mingtao from Handan City was detained in a small dark room at the Beijiao Prison in Shijiazhuang City because he held onto his belief. He was tortured with "taming the eagle" and savage beatings. Guards from the Education Section "advised" him, "Don't be stubborn! How can you practice [Falun Gong] when you are in a prison? If you don't write a guarantee statement, don't you know this is a coercion reform agency?" Li Mingtao insisted, "We are not doing anything wrong by practicing Dafa and by being good people." Guard Zhao Jun hammered metal nails underneath Li Mingtao's fingernails. Six months later, Li Mingtao's fingers were still ulcerated and seeping pus.
The Beijing Judicial, Law and Administration Net reported how Li Jirong, head of Division 4 of the Beijing Women's Labor Camp reformed Falun Gong practitioner Du, "After 16 day-and-night continuous work, Du wrote a 'break away statement'."
At the Dongshan District Legal Education School in Guangzhou City, each day loudspeakers blast slandering propaganda at illegally detained Falun Gong practitioners at a deafening volume and forbid the practitioners to sleep.
Torture
A large amount of evidence shows horrific tortures are used at labor camps, detention centers, prisons, mental hospitals, drug rehabilitation centers and brainwashing classes, without exception. More than 100 torture methods from the past, present, from inside and outside of China are used to brutalize Falun Gong practitioners who want to be good people.
Shocking with multiple high-voltage electric batons at the same time: the body parts shocked include mouth, head, face, chest, breasts, other private parts, and others; various kinds of handcuffs and shackles and hanging-up; various sticks, clubs and whips including rubber clubs, spiked stick, leather whip, copper wire whip, steel bar, etc; hammering bamboo sticks and metal nails into the practitioners' fingers, so deep they reach the practitioners' bones; pinching the practitioners' flesh with pliers; force-feeding pepper water, concentrated salt water and feces through a large-diameter plastic tube; pouring cold water all over the practitioners in the winter, strip the practitioners of their clothes and throwing them outside; force the practitioners to stand under the sun in the heat of summer, burn them with hot iron rods; forbidding restroom use; dungeon, water dungeon, Tiger Bench, Death Bed, sitting on small stools and in metal chairs, solitary confinement cell; rape, gang rape and other sexual abuse of female Falun Gong practitioners.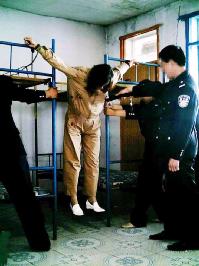 Reenactment of hang-up and electric shock
Reenactment of "Quartering"
Authorities oat the Sanshui Labor Camp in Guangdong Province used "five horses splitting the body" in forcing Falun Gong practitioners to give up their belief. It works like this: handcuff and shackle the practitioner and pull them in four different directions. On January 2, 2003, guard Zhang Wujun, together with several inmates under his order, handcuffed practitioner Huang Zhufeng's four limbs and stretched them hard in four directions simultaneously, which made Huang Zhufeng to dislocate his shoulders and his hands were covered in blood. Twenty-eight days later the muscles on his arms atrophied.
Following is the account from graduate student Zhao Ming at Trinity College in Dublin:
"...They ordered me not to sleep for two days and coerced me to 'reform.' After I refused, they tied my arms, upper body, legs, and feet to the bed plank. Then they put a rope across my mouth and tied down my head this way ...They shocked me all over my body with at least six electric batons, each one capable of releasing tens of thousands of volts of electricity.
My entire body started to twitch and jerk fiercely. It was tremendously painful. I was short of breath and felt my throat dry up. I breathed with difficulty. From time to time they would stop to maintain my acuity to pain and tried to force me to sign some statements. Policeman Liu Guoxi was very experienced in using the electric batons. He held an electric baton in each hand and rolled the batons against my chest, using the wires to shock me. My ears were filled with the cracking of electric baton touching the flesh, and the air was filled with the scorched smell of flesh; each air particle was filled with violence and evil...
They never stopped. With tremendous physical and mental torment, I almost could no longer maintain a clear mind and reasoning. [It lasted] until I agreed to reform." (more details, please see http://www.clearwisdom.net/emh/articles/2002/6/14/23085.html)
At the secret torture chamber on Jingyue Mountain, Jingyuetan, Changchun City, Falun Gong practitioner Zhang Zhikui was stripped naked. His hands were cuffed behind his back on a Tiger Bench; the guards repeatedly yanked his cuffed hands from behind him in front of his body; [in the process] his bones cracked and broke; tendons and bones were exposed on his ankles in his painful struggle, because his feet were shackled. The guards burned his entire back with cigarettes and candles until it turned black, and then they poured hot wax on his back until not a single intact piece of skin could be found. He refused to renounce his belief, even when the guards shocked his genitals, and the guards finally smashed the tip of his penis...
34-year-old Liu Haibo, a doctor from CT Section at the Luyuan District Hospital had a very long electric baton inserted into his anus, which directly shocked his internal organs until he died...
At least 23 Falun Gong practitioners were tortured to death in an attempt to "reform" them at this torture chamber.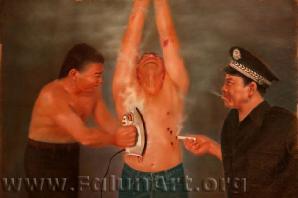 Reenactment painting of burning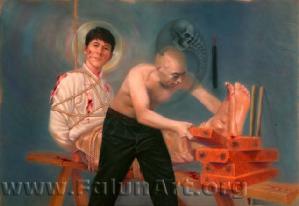 Reenactment painting of Tiger Bench
Wang Yuhuan, a 60-year-old woman was illegally detained and held in labor camp(s) nine times within six years by the Changchun police because she persisted in her belief in Truth-Compassion-Tolerance. She was tortured on the Tiger Bench for three days and two nights and was otherwise savagely tortured every five minutes. The guards poured boiling or freezing water on her after she lost consciousness, and they continued to torture after she came to; they shocked her head and face until they were scorched; they burned her eyes with cigarettes and stabbed the inside of her ears with thin bamboo sticks, which pierced her eardrums and caused permanent hearing loss...More horrific: the guards stripped Wang Yuhuan who is of similar age as the guards' parents and other female Falun Gong practitioners naked; they spread the practitioners' arms and legs, tied them to hard wood planks for 26 days and insulted them in every way possible.
Yang Guang was tortured in the two years between January 2000 and March 2002. The torturers were Liang, head of Division 1 of the Changchun Police Department and his subordinates. They shocked him with electric batons, tortured him on the Tiger Bench and put him in a straitjacket, the Big Hang-up [In this torture, the practitioner is hung up by his cuffed hands and his feet just off the ground], tried to suffocate him by wrapping his head in a plastic bag and force-fed him alcohol. The beating caused him to lose hearing in his left ear and lose function in his arms, and his lower body became paralyzed. He was illegally sentenced to 15 years in prison. They took him to the section for old and disabled detainees at Jilin Prison. He was held at a "naked division" where the detainees are kept out of the sunlight all year long; their lower bodies are always bare, and they live in filthy feces and urine.
Chang Xuexia, a quiet woman from Dalian City, was sent to the Dalian Labor Camp again in January 2003 because the morally bankrupt people wanted to "reform" her. Division head Wan Yalin ordered inmates to strip her naked, hang her up, beat and kick her, pinch her nipples, pluck her pubic hair, and savagely stab her vagina in a sawing motion with a large shoe brush...
The perpetrators tortured practitioner Ms. Wang Lijun by pulling a knotted rope back and forth across her genitals, causing them to swell. They also broke a wooden handle of a broom and inserted the sharp end into her vagina, causing massive bleeding. Her lower stomach and genitals swelled tremendously. These brutes, completely devoid of human nature, used such torture on unmarried female practitioners!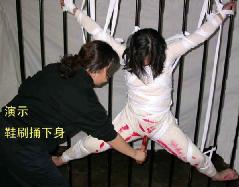 Reenactment photo: stabbing vagina with shoe brush
These mind-numbing tortures exceed human imagination and defy any description. The 100% reform of Falun Gong practitioners is forcing each practitioner to choose between giving up their belief and enduring constantly escalating brutal persecution. For a determined cultivator, giving up his belief means spiritual death, while enduring constantly escalating persecution very likely leads to physical death. From any perspective, the CCP and Jiang's regime are clearly trying to wipe out Falun Gong.
(To be continued)