Police Confiscate the Funeral Canopy from the Home of the Deceased Mr. Wang Jianguo (Photos)
(Clearwisdom.net) At around 5:00 a.m. on April 30, 2006, the head of the Changyi Sub-bureau of the Jilin City Police Department, along with 40 to 50 officers including five or six policewomen, arrived in 13 vehicles at Mr. Wang Jianguo's home in the Fourth Group, Hongyuan Village, Hongyuan Economic Development Zone, Changyi District, Jilin City. One of the vehicles was equipped to load cargo. The large contingent of police completely blocked the road in front of Mr. Wang's house and rushed into his courtyard while his family members were away. In just a few minutes they had ripped out a funeral canopy and plundered everything around it, leaving only Mr. Wang's portrait. They said that the funeral awning was "a bad influence."
| | |
| --- | --- |
| The funeral pavilion in Mr. Wang's courtyard | The courtyard was empty after the police dismantled the funeral canopy. |
Before this incident, at around 7 or 8 p.m. on April 29, two plainclothes police officers from the Jilin City Police Department had gone to the home of Wang Jianguo's uncle and threatened the family, saying, "You'd better not get involved in this matter [referring to Wang Jianguo's death], as it does not have anything to do with you. His parents need to come forward to get things straightened out." Mr. Wang 's relatives and friends were also threatened and intimidated to varying degrees by police and relevant departments. Those who work in factories or coalmines were harassed by their workplace security departments; those who work in government departments were talked to by their directors; even restaurant chefs were intimidated by the police. No matter where Wang Jianguo's relatives and friends worked, there were people out there to threaten them not to get involved in his death. Most of Mr. Wang's relatives' cell phones were also monitored. It's clear that the police department is afraid that the family may appeal as well as continue to expose the police's crimes to the public, so they are making a concerted effort to prevent the family members from getting involved. Earlier on, some unidentified people claimed to be reporters requesting to interview the family, when in fact they were trying to get information about the family's thoughts and plans on this matter.
On the morning of April 30, 2006, Mr. Wang's aunt went to the reception room of the Jilin City Police Department. The officer in the reception room called the department and two policemen came down to take her to the chief's office. Two days before, on April 28, Chief Lin Guorui had arranged for 18 people from the police and judicial departments to have a "briefing on Wang Jianguo's self-inflicted death" in the Jilin City Jail and sent an unreasonable request to Mr. Wang's family members, notifying them that they needed to remove the funeral awning and have the corpse cremated right away. Since the family did not want to accept these unreasonable demands, they raised several questions to chief Lin when they saw him on April 30. They asked, "You work for the government. Why didn't you reveal your true identity? What do you actually do? We have a right to know." "You said you did not have any responsibility for Mr. Wang's death. We want you to write down what you said so that we can use it in our appeal." "Who do you represent? Is it the Party or the government? Did the Party and the government tell you not to allow the common people to appeal and redress an injustice?" "Why do you say you will cremate the body against our will if we do not comply? Our family members think you are trying to destroy the corpse so as to erase any evidence against you." Faced with these questions, Lin Guorui did not have anything to say.
The family also asked, "With regard to your stealing the funeral awning this morning, aren't your people behaving like bandits? Forty to fifty people robbed things in broad daylight. The canvas used in the funeral awning was new. Where did you take these materials?" Lin said, "Your funeral canopy was set up on the road." The family said, "No, we set it up inside our courtyard. How can you say it was on the road?" Lin also said, "This matter has such a bad impact. Now everyone knows about it. Even people overseas know about it."
The family members said, "If you're afraid of the public knowing about this matter, then you should not have killed Wang Jianguo. Why did you not protect him? You could at least give us a reasonable explanation of his death. You casually threaten and intimidate us. You also registered the identities of those who came to mourn Mr. Wang. You even attempted to arrest his parents, telling the villagers that they would get a cash reward if they reported the couple to you." Lin said, "We did no such thing." The family members said, "The villagers told us about the cash reward. If you do not believe us, you can ask them."
Facing the questions the family raised, Lin didn't give direct answers. When the family members left, two policemen followed them closely and escorted them to the front door.
At 9 a.m. on April 30, 2006, four of Mr. Wang's family members went to the Jilin municipal government. Mr. Wang's 81-year-old grandmother held Mr. Wang's portrait and entered Jilin municipal government building to seek justice for her grandson who was persecuted to death. However, the receptionist asked them to go to the People's Congress to appeal. When the family members arrived at the Appeal's Office of the People's Congress, they were told to go to the Jilin City Police Department to appeal. On their way to the various offices, Mr. Wang's grandmother cried as she walked and told passersby about the injustice done to her grandson. At 10:12 a.m. they entered the Jilin City Police Department. In a short while, all of them came out. Obviously the police department was also trying to shirk its responsibility.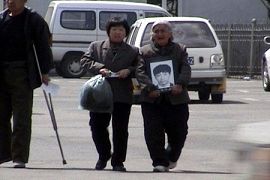 Mr. Wang's grandmother held his portrait
Mr. Wang's grandmother held his portrait and stood in front of the Jilin City Police Department and cried. The passersby slowly gathered around her. The elderly lady cried and said, "My grandson died unjustly. He and his wife ran a restaurant and lived a very happy life. Just because he practiced Falun Gong and did good deeds, he was killed in the jail in only 40 days. There is no way for me to complain to the higher authorities!"
After the passersby heard this, they were all very indignant and also sympathized with her very much. A woman said, "Bring a lawsuit against them. Appeal to the higher authority. You can even go to Beijing to appeal." Mr. Wang's grandmother said, "Although China is huge, where can I find an honest official?" One gentleman said indignantly, "Where is justice? Just because he practiced Falun Gong, he was beaten to death. Moreover there's no explanation for his death. The corpse wasn't even returned to the family. This society is too sinister." An elderly gentleman said, "Now there is no place to reason things out." There were dozens of people around discussing this issue.
Jilin Changyi Public Security Sub-bureau: Jiefang Street East, Jilin City, zip code 132041
Changyi Public Security Sub-bureau's chief office: 86-432-2485301
Political commissar's office: 86-432-2499302
Deputy chief's office: 86-432-2485303, 86-432-2485306
Political office director: 86-432-2485943
Criminal police chief office: 86-432-2485378
Jilin City Police Department: 51 Beijing Street, Jilin City, zip code:132084
Switchboard: 86-432-2409221, 86-432-2455848
Police chief's public telephone: 86-432-2409110, 86-432-2488110, 86-432-2455848
Jilin Municipal Lockup Cong Maohua: 86-432-4819029, duty office: 86-432-4819130
Hongyuan Economic Development Zone office: 86-432-2732696, 86-432-2740697
Police officer at the Hongyuan Economic Development Zone: Fu Bin
Nanjing Local Police Station: 86-432-2409634
Those who directly participated in persecuting Mr. and Mrs. Wang Jianguo: Tan Xinqiang and Wang Kai
May 4, 2006