Canadian Political VIPs and Human Rights Attorney Launch Independent Investigation of Live Organ Harvesting in China (Photos)
(Clearwisdom.net) On the morning of May 8, 2006, a news conference was held on Capital Hill in Ottawa, Canada. Former chairman of Canada's Sub-Committee on Human Rights of the Committee of Foreign Affairs and former director of the Asian Pacific Division of Canada's Foreign Affairs Ministry, Mr. David Kilgour, along with the well-known international human rights attorney Mr. David Matas, announced that they will jointly lead the efforts to investigate the organ harvesting from living Falun Gong practitioners by the Chinese Communist Party.
Since March of this year, witnesses have come forward to expose the organ harvesting from living Falun Gong practitioners and cremation of their bodies in China. According to witnesses, there are at least 36 concentration camps and numerous labor camps where detained practitioners are used for live organ harvesting. The involved people include high-ranking officials, military personnel and the armed police. In response to such allegations, MP Kilgour and Attorney Matas launched independent investigative action.
David Kilgour hoped that this investigation would be completely independent. He announced that they will let the public know their detailed investigation plan in 4-6 weeks. He hoped that such an investigation can help the Canadian government to understand what's going on with the live organ harvesting.
At present, the investigation plan includes interviewing witnesses and telephone investigators from the Coalition to Investigate the Persecution of Falun Gong, as well as actually going to China to conduct on-site investigations. Attorney Matas promised that he and MP Kilgour will seek all possible investigation means. Matas said going to China can only provide partial answers to such allegations. Evidence from witnesses living outside of China will not be overlooked.
Falun Dafa Association spokesperson Zhou Limin said since the persecution of Falun Gong began in 1999, numerous practitioners have been detained and tortured, or have simply gone missing. Many family members only received ashes of their loved ones. On the other hand, since the persecution began, the number of organ transplants in China has been increasing exponentially. Zhou Limin also hopes that an independent investigation will provide support for Falun Gong practitioners.
Seven Members of Parliament from the three major political parties were also present to show their support.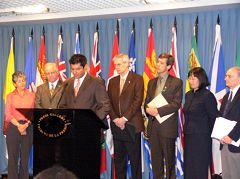 Photo 1: Conservative Party Member of Parliament, Rahim Jaffer (middle), expressed his support for the investigation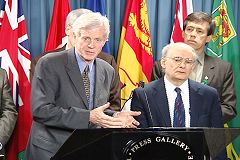 Photo 2: MP David Kilgour (left) and Attorney David Matas (right)
Conservative Party (the ruling party) Member of Parliament, Rahim Jaffer said, "The stand of the Canadian government is to encourage independent investigation to verify the allegations of live organ harvesting." He also said that given the human rights record of China, we have the responsibility to treat such allegations seriously. He considered the independent investigation by Mr. Matas and MP Kilgour to be the very first step. He thought that live organ harvesting not only affects one group of people, but also violates the basic rights of human life. We all have the right to find out the truth.
Conservative Party Members of Parliament Maurice Vellacott and Bruce Stanton, as well as Liberal Party Member Borys Wrzesnewskyj, were also present.
New Democratic Party Member of Parliament Bill Siksay has written a letter to the Minister of Canadian Foreign Affairs, urging the Canadian government to take the right action [to investigate the live organ harvesting allegation] on behalf of Falun Gong practitioners in Canada. New Democratic Party MPs Wayne Marston and Denise Savoie were also at the press conference. MP Savoie came after learning about the news from her constituents.
CTV, CBC and other major media outlets came to report the press conference.