Florida, U.S.A.: Falun Gong Brightens the Day at Spring Fiesta in Orlando (Photos)
April 08, 2006 | By a Falun Gong practitioner in Florida
(Clearwisdom.net) The 17th Spring Fiesta opened at Lake Eola Park on April 1 and April 2, 2006 in Orlando, Florida. Lake Eola is located in central Orlando, where lots of shops and restaurants create a big draw for tourists.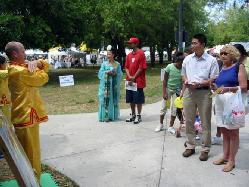 Exercise demonstration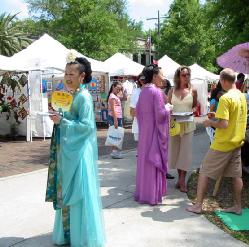 "Celestial Maidens" handing out truth-clarification flyers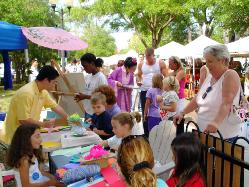 Children learn how to make paper lotus flowers
The Spring Fiesta attracted many artists from different fields and industries to demonstrate their arts and crafts, such as jewelry, clothes, ceramics, painting and sculpture. Some are traditional handmade crafts and some are created with modern techniques. As a unique qigong that cultivates both the mind and body, Falun Gong was a refreshing addition to the festival.
Falun Gong practitioners wearing yellow exercise suits demonstrated the five sets of slow and graceful exercises with the Falun Gong music and commentary in the background. Several women practitioners wearing beautiful "celestial maiden" dresses distributed flyers that explained the exercises. Some practitioners volunteered to teach people how to make paper lotus flowers. Together they demonstrated the traditional Chinese cultivation practice and ancient Chinese culture. People were attracted by the peaceful exercises and they listened to the practitioners explain the outstanding health benefits of Falun Gong. The harmonious atmosphere attracted many people, some of whom started learning the exercises. Some locals asked about practice sites, as they wanted to explore this wonderful practice further.
The practitioners also explained to the visitors about the persecution against Falun Gong that is going on right now in China. Recently, a witness revealed that a secret concentration camp located in Sujiatun, Shenyang City has held 6,000 Falun Gong practitioners since 2001. The Provincial Thrombosis Hospital of Integrated Chinese and Western Medicine, where the concentration camp is located, is where Falun Gong practitioners' kidneys, livers, corneas and other body parts are removed for illegal sale before their bodies are tossed in a crematorium. Three-quarters of the 6,000 Falun Gong practitioners have already had their hearts, kidneys, corneas and skin removed and their bodies burned to destroy the evidence. People were shocked and indignant at the revelation. One young woman said that her friend went to China one year ago and witnessed the violence of the Chinese police, when she saw some police officers ruthlessly beat an elderly woman who sold things in Tiananmen Square.
The practitioners who taught people to make paper lotus flowers explained the activity called "Petals of Peace": thousands and thousands of children in China are left uncared because their parents are incarcerated or have died from persecution for practicing Falun Gong. Millions more children are forced to join signature campaigns against Falun Gong. The "Petals of Peace" activity encourages all children in the world to make paper lotus flowers as a way to end the persecution, to expose the Chinese Communist Party (CCP) and Jiang group's persecution of Falun Gong, and help more people learn about this disaster that is touching everyone's life in China. The practitioners hope that people will support Falun Gong and help end the persecution. The lotus flowers symbolize the Chinese children's hope. As the number of lotus flowers increases, the persecution grows weaker and weaker. The children visiting the practitioners' booth listened intently and learned how to make the folded paper lotus flowers.
Visitors who came to the exhibit table and who took flyers were from all over the world, including Mainland China. One woman had just recently arrived from China, and she was happy to see so many Chinese people at the table. She mentioned that she had already read the "Nine Commentaries on the Communist Party" in the Epoch Times newspaper.