Florida: Practitioners Visit State Capitol and Call for Attention to the Sujiatun Concentration Camp (Photos)
April 03, 2006 | By a practitioner in Florida
(Clearwisdom.net) Tallahassee is capital of Florida, where there are many visitors on a daily basis and where the state's legislators can be found.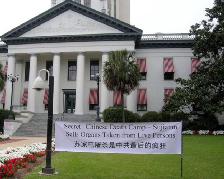 Banner set up in front of the State Capitol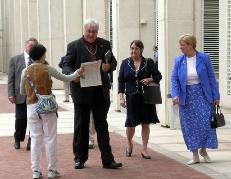 Explaining to people the facts of the persecution in China
On March 29, 2006, practitioners in Florida came to Tallahassee and inform their representatives and government officials about the genocide occurring in China. Based on recently disclosed information, a person with access to inside information at the Liaoning Thrombosis Hospital of Integrated Chinese and Western Medicine confirmed that there is a secret concentration camp in the hospital. Since 2001, 6,000 Falun Gong practitioners have been imprisoned there and no one has come out alive. Horrible crimes of harvesting bodily organs from living practitioners have occurred in this hospital. After the organs were removed, the practitioners' remains are incinerated in a crematorium to destroy evidence. Three quarters of the 6,000 practitioners have been killed for their organs.
Practitioners in Florida felt that it was imperative to let their elected officials know about the persecution, in addition to their local truth-clarifying efforts. Practitioners set up large banners in English and Chinese to expose the persecution. They talked about the CCP's crimes to people entering and exiting the capitol building and called on them to sign a petition letter to President Bush.
There are many people from different social circles outside the building everyday. Besides officials, there were many visitors. On the square between new and old state capitol buildings and inside the building, there were university students and teachers celebrating an occasion for Florida State University. Practitioners noticed that mayors, supervisors and their assistants from all over Florida had a conference there, too. The practitioners took the opportunity to explain the facts to them. Many mayors signed on the petition letter to President Bush to urge him to pay attention to the Sujiatun Concentration Camp.
On the day, practitioners also prepared letters to Governor Jeb Bush and state legislators. The practitioners were divided into two groups and visited offices of several hundred state senators and representatives. In the legislators' offices, the practitioners met with their legislative assistants and exposed the Sujiatun atrocities. Many legislative assistants were shocked and said that they would relay the information and encouraged the practitioners to come back to explain the incident directly.
Many of the assistants asked how they could help the practitioners from the state level. The practitioners said that Florida need to clearly state that it cannot tolerate the killing of Falun Gong practitioners and request federal government to thoroughly investigate the brutal persecution by the CCP.