Taiwan: 54 Legislative Committee Members Urge International Community To Investigate Chinese Labor Camps (Photos)
(Clearwisdom.net) Regarding the CCP's crimes of harvesting organs from living Falun gong practitioners, on April 18, Taiwan Legislative Committee Member Lai Ching-Te sponsored an interim resolution for the legislative Yuan to pass. The resolution urges international human rights organizations and the World Health Organization to investigate labor camps, prisons and medical facilities in China, and called on the Chinese Communist regime to stop such abhorrent crimes and publicly examine its organ transplant policies. The resolution was cosponsored by 54 legislative committee members from all parties. After being reviewed by the chair, it will be submitted to a related committee for discussion next Tuesday.
| | |
| --- | --- |
| Press conference held to condemn the Chinese Communist regime's atrocities of harvesting organs of practitioners in labor camps | Accompanied by legislative committee members Tien Chiou-chin (left) and Wang Yu-ting (right), director Ming Chu-Cheng from the Taiwan Association for Rescuing Falun Gong Practitioners Being Persecuted (Center) calls for international investigation. |
| | |
| --- | --- |
| A number of legislative committee members attend the press conference outside the Legislative Yuan | A number of media outlets report the press conference outside the Legislative Yuan |
In the morning, a number of legislative members, including Lai Ching-te, Huang Chao-hui and Tien Chiou-chin attended a press conference outside the Legislative Yuan to "Condemn the CCP's Atrocities of Harvesting Organs from Living Falun Gong Practitioners and Urge the United Nation to investigate the Evil Crime". At the site, several volunteers reenacted the organ removal operation from living persons in China. The bloody sheet, the desperate struggle from "practitioners" and the rampant clamor of "Chinese policemen and doctors" demonstrated to the public this extremely abhorrent crime taking place in China.
Demonstration to reveal abhorrent crime in China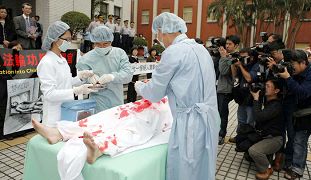 Organ removal re-enactment attracts media attention
Taiwan Falun Dafa Association chairperson Chang Ching-hsi played recordings of undercover reporters' photo interviews of many major Chinese hospitals. During the interviews, a number of Chinese doctors confirmed that they have many organs from donors in their 20's and 30's, and their livers are whole livers. They also claimed that they now work overtime performing operations around the clock. If patients want transplants, these doctors said, they should take this opportunity, as organ supplies will decrease dramatically by May.
The phone interview play shocked the attendees of the press conference. Legislative committee members in succession condemned the atrocities.
Member Huang Chao-hui advised people to think it over before they go to China for a transplant, as it is not safe in this rule-by-decree communist regime.
Member Tien Chiou-chin initially felt the organ removal issue was nearlr impossible as it seemed too brutal to believe. When reminded of the investigation of a Nazi concentration camp 60 years ago, when the Nazis showed the world a peaceful, free environment, he realized that the Chinese Communist regime is now doing the same trick to cover its crimes and deceive the world.
Member LIAO KUO-TUNG strongly condemned these doctors who violate the vows of medical professionals to carry out operations to remove organs from living practitioners.
Member Wang Yu-ting said that human rights are universal values. Though civilians have to wait if they want to have an organ transplant in Taiwan, they will be safe as the practice in Taiwan is more regulated and observes both medical and ethical standards. If they go to Mainland China for a transplant, they may have permanent regret if the organs turn out to be from living Falun Gong practitioners.