Malaysia: Chinese Embassy Interferes with Practitioners' Candlelight Vigil (Photos)
April 12, 2006 | By a Falun Dafa practitioner in Malaysia
(Clearwisdom.net) Falun Gong practitioners in Malaysia gathered outside the Chinese Embassy on April 8, 2006 to hold a candlelight vigil for fellow practitioners who have died as a result of the persecution at Sujiatun and other Chinese Communist Party (CCP) secret concentration camps. The Chinese Embassy staff came out to interfere with the practitioners and with the media that conducted interviews on the scene.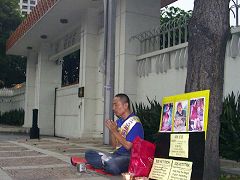 In front of the Chinese Embassy, a Falun Gong practitioner mourns fellow practitioners who have been murdered in China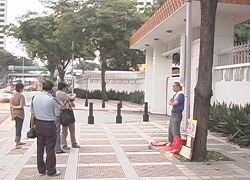 Media interview
Falun Gong practitioner Zhang Xufeng started a 72-hour hunger strike on April 7, 2006, to protest the CCP's mass killing of fellow practitioners in Mainland China. At 6:00 p.m. on April 8, he went to the Chinese Embassy in Malaysia to hold a candlelight vigil for fellow practitioners persecuted to death in China. Fifteen minutes later, a car from the Chinese Embassy suddenly entered the embassy, and was captured by the cameras of reporters who were conducting interviews. The embassy staff who drove the car came out later, looking nervous, and tried to snatch the camera and videocam from the reporters. Reporters from The Epoch Times and NTDTV reminded him that this was not CCP territory, but is Malaysia. In Malaysia, reporters have the freedom to conduct interviews and take pictures. They told the embassy staff that they had no right to intervene.
At the time, Zhang Xufeng, who was doing the Falun Gong exercises, saw the embassy staff member behave in a rude and disrespectful manner to the reporters. Mr. Zhang stopped the man from grabbing the reporter's camera. The man threatened him and attempted to drag Zhang Xufeng into the embassy. Mr. Zhang said afterward, "Even in Malaysia, the Chinese Embassy staff dares to behave so rudely and unreasonably to Chinese practitioners. It seems he thought that he could drag me into the CCP's building to persecute at any time."
Recently, Falun Gong practitioners in Malaysia have been interfered with when holding activities or doing the exercises and mediation in front of the Chinese Embassy to protest the CCP's persecution. Mr. Zhang said, "The Chinese Embassy has been exerting pressure on the Malaysian police, to try to drive the practitioners away, and now the embassy staff came out directly to interfere. I feel they are very afraid of the persecution being exposed by the media, particularly since the revelation of the Sujiatun concentration camp."
The practitioner and the reporters went to the police department the next day to report the incident, requesting the Malaysian police to investigate the matter.

Chinese embassy staff member (middle) comes out to interfere with reporters and the practitioner who is doing the exercises