Sweden: Condemning CCP Crimes (Photos)
April 11, 2006 | By a Swedish practitioner
(Clearwisdom.net) March 28, 2006, the Swedish Human Rights association SHRIC (Supporting Human Rights in China), volunteers from the Epoch Times newspaper, and Falun Gong practitioners held an event to support the nine million withdrawals from the CCP and to protest against the crimes committed by the CCP in its Sujiatun and other death camps in China. The event was held on Mynttorget square in downtown Stockholm.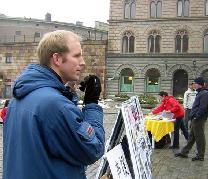 Jen from SHRIC calls on the Swedish government to work with the international community to investigate death camps in China
Jen, a member of SHRIC, said, "The problem in concentration camps is so urgent that the Swedish government has an obligation to investigate it. They should investigate the atrocities and should punish those responsible.
Volunteers from the Epoch Times and Falun Gong practitioners condemned the atrocities in Sujiatun and other concentration camps in China. They appealed to people to pay more attention to China's human rights issues, and to spread the Nine Commentaries on the Communist Party.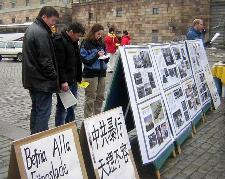 People look at posters attentively
A local Chinese person said, "I know that the CCP is not good but I just realized how ferocious the CCP is after reading your material. I feel lucky to be able to live in western society. Chinese people should abandon the Communist Party."
A few Chinese tourists, after watching the changing of the guard in front of the imperial palace, said that they have heard about the Nine Commentaries. They all took material about Sujiatun and the Nine Commentaries and said they would study it.
Two Russian government officers attending a conference in Riksdag took material, signed their names, and said, "We will go to China for meetings later. Russia used to be a communist dictatorship but now has changed. We wish the Chinese people are also able to enjoy democracy and freedom."
One young person came to sign his name and asked how to help the practitioners in concentration camps in China. Practitioners said, "Please help us to spread the news to your colleagues, relatives, and friends and encourage them to sign their names on the website." The young person nodded and said, "Certainly! All of us with the right conscience cannot tolerate such things happening."
Understanding the communist party's crime, people signed their names one after another and said, "We support you!" and "Good luck!"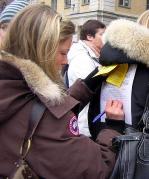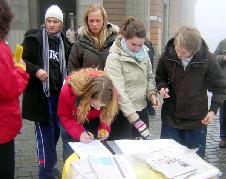 People sign to support Falun Gong practitioners persecuted
http://clearharmony.net/articles/200604/32435.html