Hong Kong: Practitioners Hold Hunger Strike in Front of Chinese Liaison Office to Call for Immediate Investigation into Concentration Camps
April 11, 2006 | By a practitioner in Hong Kong
(Clearwisdom.net) On the morning of April 6, 2006, Practitioners in Hong Kong started a 24 hour hunger strike in front of Chinese Liaison Office to protest the atrocities of Chinese Communist regime (CCR) in its concentration camps for Falun Gong practitioners. They also call on the international community to immediately establish a delegation to conduct an independent investigation and help stop the persecution as soon as possible.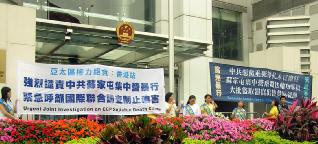 Several practitioners hold banners and posters in front of the Chinese Liaison Office and read a statement against the atrocities committed by the Chinese Communist regime, removing organs from living practitioners for profit and then cremating the bodies.
Dozens of practitioners meditating in front of the Western Section Police Station to raise awareness of the atrocities
The Minghui website and the Falun Dafa association posted an announcement on April 5 establishing an "Coalition to Investigate the Persecution of Falun Gong in China (CIPFG)" and officially invited international organizations, state agencies and media to conduct an independent, complete investigation. The situation is serious. The latest information indicates that the CCP is proceeding with a mass slaughter to eliminate witnesses.
Around 50 practitioners started the 24 hours hunger strike outside the Chinese Liaison Office in the morning of April 6.
Before noon, some practitioners marched from Western Section Police Station to the Chinese Liaison Office with banners and commemorative posters in hand. They read out the announcement of the establishment of "Coalition to Investigate the Persecution".
Two practitioners in the hunger strike group have family members held unlawfully in Mainland China. Ms. Dong Ming indicated that, when first heard of the Sujiatun incident, she felt shocked, and heavy. She has personally experienced CCP detention and torture. Her sister is imprisoned in the Moganshan Women's Forced Labor Camp of Zhejiang. She could not go back to visit when her father died in this March.
The other practitioner was Kuang Senqia. His wife Zhang Lihong was taken away on October 27, 2004 by policemen from Criminal Team of Cheng District Branch Police Department, Shanwei City. She was sentenced to three years of forced labor by the local State Security Bureau. Mr. Kuang indicated that he was shocked when learning about the Sujiatun case. He was very concerned about his wife and other detained practitioners.
He said, "Many practitioners in the concentration camps were taken there from forced labor camps. Now my wife is imprisoned in the Women's Forced Labor Camp of Gaungdong Province. I worry very much, and according to what I've heard, there are concentration camps in Guangdong Province!"
Practitioners set up posters at the hunger strike site, passed out fliers to passengers and explained the atrocities. Miss Cai, a passer-by college student said: "The incident is so sensitive, but the Hong Kong media remained silent. The case has been widely known through the Internet. People should not tolerate the CCP's wrongdoing. It's illegal, and so inhuman."