Belgium: Practitioners Protest the CCP's Killing of Falun Gong Practitioners in Front of Chinese Embassy (Photos)
March 25, 2006 | By a practitioner in Belgium
(Clearwisdom.net) On March 20, practitioners in Belgium protested the CCP's atrocities in the secret Sujiatun Concentration Camp, harvesting organs from living practitioners for profit. They also urged the Belgian government and European Union to pay attention to and investigate the crimes in Sujiatun Concentration Camp and help stop the CCP's inhuman persecution.
The banners read: "Strongly protest the CCP's Sujiatun Concentration Camp murdering Falun Gong practitioners and selling their organs for profit" and "Urgently rescue Falun Gong practitioners being persecuted in China". Several wreathes were placed beside the banners to commemorate the fellow practitioners who were tortured to death.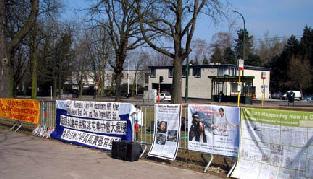 At least 6,000 Falun Gong practitioners have been imprisoned in Sujiatun Concentration Camp. The CCP has killed many of them through harvesting their organs and then cremating their remains to destroy evidence. This extreme evil deed against practitioners is an outrage to heaven and earth. Such a brutal tragedy occurring in today's society demonstrates the CCP's evil nature and can only hasten its demise.
The practitioners broadcasted news reports exposing the CCP's atrocities and interviews with two practitioners familiar with the situation. They also relayed calls from more than 1,000 family members of practitioners who wish to ask the world to help rescue their relatives.