Washington, DC: Exposing the Sujiatun Concentration Camp in Front of the White House; People from All Circles Condemn CCP Atrocities (Photos)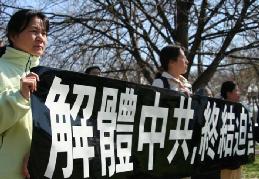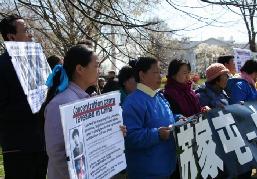 Protesting CCP atrocities and calling for action to rescue persecuted Falun Gong practitioners in China
(Clearwisdom.net) From 7:00 a.m. on March 16 to 7:00 a.m. on March 18, Falun Gong practitioners from Washington, DC and nearby areas held a 48-hour continuous sit-in on Lafayette Square in front of the White House, to condemn the Chinese Communist regime's atrocities at the Sujiatun Concentration Camp and to call on the U.S. government and all other countries to take immediate action to stop the arbitrary killing of practitioners in China. On the evening of March 16, practitioners held a candlelight vigil to commemorate practitioners persecuted to death by the Chinese Communist Party (CCP).
| | | |
| --- | --- | --- |
| Attorney Jason Dzubow, an American of Jewish heritage | Practitioner Jared Pearman | Dr. Torsten Trey, a German-American |
| | |
| --- | --- |
| Tenor Guan Guimin plays the trumpet to call attention to the Sujiatun Concentration Camp | Passersby were shocked by the atrocities in the Sujiatun Concentration Camp |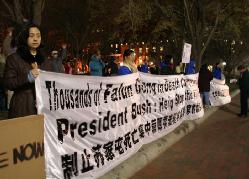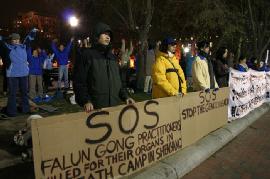 Late at night, the appeal continues
At noontime on March 16, practitioners and representatives from all circles in Washington, DC held a press conference on Lafayette Square. The square is surrounded by the office buildings of major media outlets, government institutions and think tanks. As the rally was held during lunch break, there was a continuous flow of pedestrians, many of whom stopped to read the banners and posters and/or listen to the speeches.
People from All Circles of U.S. Society Unanimously Condemn CCP Atrocities
D. J. McGuire, Executive Director of China e-Lobby said in a statement, "We rally here today to express our outrage at the Chinese Communist regime's Sujiatun Concentration Camp. While we all shocked by it, we are not surprised...the inhumane Chinese Communist regime must be held accountable."
Dr. Torsten Trey is a German-American. He said, "I am a doctor, and my mission is to save patients' lives. When I hear that Sujiatuan Concentration Camp has harvested organs from healthy people, I am very concerned. Such a barbaric practice is completely against humane conscience and the professional values of doctors." Dr. Trey also called on all people around the world to come forward to resist the persecution of Falun Gong and to say "No!" to the CCP's atrocities.
Attorney Jason Dzubow is of Jewish heritage. He said, "I was not surprised when I first heard about the Sujiatun Concentration Camp, as the Chinese Communist Party's persecution of Falun Gong is well known. The annual Human Rights Country Reports of the Department of State lists tens of hundreds cases of persecuted Falun Gong practitioners every year. For simply practicing Falun Gong, they are tortured and killed, and tens of thousands have been imprisoned.
Dzubow said, "I am of Jewish descendent, my family immigrated to the U.S. from Europe before World War II. Some of my family members stayed in Europe and were all killed [by the Nazis]. Therefore, I am greatly concerned about the Sujiatun case, and I think that all Americans will be very alarmed by this news."
A gentleman from California, Mr. Noland, came to Washington, DC to attend a conference. He ran into the press conference during his lunch break. He was shocked by the posters which illustrated torture cases in China. After learning the truth, he immediately phoned a relative in California to tell them about the CCP's atrocities against Falun Gong. He then asked practitioners for more details. Mr. Noland said that he cannot imagine that the CCP can so brutally persecute practitioners for doing meditation. He said that he would write to his representative and the President, urging them to stop the CCP's persecution of peaceful Falun Gong practitioners.
Every Day, More People Die from CCP Tyranny
At the press conference, New York resident Mr. Xueshan Teng said that one year ago, his friend's wife was abducted and detained in the Masanjia Forced Labor Camp for her belief in Falun Gong. The camp refused his friend and their child's requests to visit her, with all kinds of excuses. Upon hearing about the atrocities in the Sujiatun Concentration Camp, his friend is very worried about his wife's situation.
Mr. Teng said, "I cannot express enough my friend's sorrow and outrage. People living under the evil CCP's tyranny have no human dignity. Before they are persecuted to death, their organs are harvested for commercial interests. Please think about how much pain and agony these Falun Gong practitioners are enduring as I speak. My friend hopes that his wife and more Mainland Falun Gong practitioners will receive help from the U.S. and all kind-hearted people worldwide, before they are sent to concentration camps and killed."
 
Attorney Jason Dzubow said, "My colleague, Attorney Gao Zhisheng published an open letter last year to detail the torture and killing of Falun Gong practitioners in China. For this very reason, the Chinese Communist regime confiscated his license and shut down his business. In January, the regime also tried to assassinate him by staging a car accident."
D. J. McGuire, of China e-Lobby, stated, "We have seen that the Chinese Communist regime is exporting its persecution overseas and infiltrating the U.S."
Just this past February, Dr. Peter Yuan Li, the chief technical officer of the outspoken Epoch Times newspaper and a Falun Gong practitioner, was assaulted at his Atlanta home. In addition, several cases have been reported in which CCP secret agents have broken into offices of the Epoch Times in Hong Kong, Taiwan and Japan.
Attorney Jason Dzubow said, "I am honored to represent Falun Gong practitioners in the U.S., to sue the Chinese Communist regime for its repeated attempts to harass and suppress them. The case is now in process in the Washington, DC Federal Court."
McGuire said, "If the Chinese Communist regime exists for one more day, it means that more people will die. We should not only be outraged, but we should also speed up our actions to bring freedom to China, safety to the U.S. and peace to the whole world."
Nine Millions Have Quit the CCP and its Affiliated Organizations
McGuire said, "Despite these terrorist atrocities, we don't feel desperate or simply outraged as we gather here. We are full of hope, as we know that these barbaric activities are not a reflection of strength but of desperation. It is not the normal behavior of a stable regime, and the Chinese Communist regime knows that it is approaching to its doom."
Jeff Chen, spokesman for the Washington, DC Falun Dafa Association, said, "This genocide is challenging basic human conscience. We all know the tragedy that happened in Nazi concentration camps. Today, more than 9 million Chinese have quit the Chinese Communist Party and its affiliated organizations. As the regime knows it is approaching its doom, it has launched a series of crazed activities. The last measure of the regime is to slaughter all kind-hearted Chinese and destroy good traditional values."
McGuire said that the Nine Commentaries on the Communist Party has inspired 9 million people to quit the CCP and its affiliated organizations. In addition, the numbers suggests that the Nine Commentaries have been spread to every corner of China.
"We Hope that Such Tragedy Will Not Happen Again"
Practitioner Jared Pearman said, "Sujiatun Concentration Camp is not only killing individuals, it is a genocide, a crime to eliminate these people from the Earth. This cannot be tolerated from any human standard."
Pearman called on President George Bush and Secretary of State Condoleezza Rice to investigate this case and expose the crimes of the CCP.
Pointing in front of him, Pearman said, "In this area not far from us, the administration is planning to build a monument to the worldwide victims of Communism. Behind us is the World War II Memorial. We hope that we will not [have to] build another memorial in the future and we do not want one for us. We hope that such tragedy will not happen again."
Calling on the U.S. Government to Stop CCP Atrocities
Mr. Pearman called on President Bush and Secretary of State Rice to communicate with the CCP leader Hu Jintao immediately and demand the shutdown of the secret concentration camp, and to meet with representatives of practitioners to discuss a concrete plan to end the persecution. In addition, he also called on the U.S. government to cooperate with the United Nations to investigate the situation of Sujiatun and launch rescue efforts.
Attorney Jason Dzubow said, "We jointly demand that the governments of the U.S. and countries around the world come forward to say 'No!' to the Chinese Communist regime. What is happening in China should not happen to anyone in the future. I want to say to President Bush and Secretary of State Rice: If they meet Hu Jintao next month, they must clearly state that the U.S. will not tolerate such a large-scale slaughter and genocide."
On March 16, the Washington, DC Falun Dafa Association wrote a letter to President Bush and delivered the letter to White House. The association called on the White House to take immediate actions to end the secret Sujiatun Concentration Camp, which is reminiscent of the Nazi's Auschwitz, and urged President Bush to take all possible effective measures to publicize the truth of the Sujiatun Concentration Camp. The letter stated that President Bush should summon the Chinese Ambassador to the U.S. and question the regime on this case.
Music to Awaken the Public
At the rally, Falun Gong practitioner and renowned tenor Guan Guimin played a musical composition he wrote two year ago, entitled, "Please Sit by My Side."
Mr. Guan said, "I come here to tell the public of the atrocities of the Chinese Communist regime. Though the regime can try everything to hide the evidence, it cannot eliminate the evidence. Because it has committed crimes, there must be some evidence. I am sure that people with a sense of justice will come forward to expose this case further, and more news will come out soon.
"China has a saying: To prevent people from knowing [of a bad deed], one can only not do it [the bad deed]. I believe that the truth will come out one day. Today, people's indifference to social injustice has reached a shocking extent. If such an appalling phenomenon is allowed to exist, it will be a disgrace to human beings."
Mr. Guan hoped that he could awaken those lost people with music.
He said, "As a human being, from the President to the general public, everyone should pay close attention to this case."