How Shenyang Police Torture Falun Gong Practitioners (Reenactment Photos)
(Clearwisdom.net) Since July 20, 1999, police officers at the National Security Team of Shenyang's Tiexi Police Department closely followed the Jiang-Luo political regime's decrees and used all kinds of cruel techniques to persecute Falun Gong practitioners. They went to practitioners' homes to harass, monitor and search them; they also took practitioners as hostage and demanded ransom. To force people to renounce their belief in Falun Gong, torture is widely used. The police also made many illegal arrests in and out of their territory.
On October 3, 2000, these police officers murdered several practitioners: Tiexi District Falun Gong practitioner Zhong Hengjie was killed by police brutality; in September 2004, Gao Lianyi was killed; on September 1, 2005, Ren Shujie was killed. In addition, Zhang Xianting, Li Shuzhen, Jiang Shumei, Dong Yanyuan, Jing Suo, Li Guanghao and Sun Shiyou also suffered from various tortures at the hands of the Tiexi National Security Team.
On January 13, 2002, Tiexi District practitioner Li Weixun was taken to the Lingkong Police Station, in violation of the Chinese Constitution. To protest the persecution, Li Weixun refused to answer questions and started a hunger strike. The police beat her on the head and face; they also handcuffed her arms to the back of a chair. A police officer crushed her toes with his heavy shoes, kicked her and hit the front of her legs with a metal bar. Two police officers from the Tiexi Police Department also tortured Ms. Li. One of them bragged, "I was the one who killed Zhong Hengjie!" They slapped her face repeatedly. In February 2002, the police and court sentenced Li Weixun to 16 years in prison in her absence.
On March 6, 2005 at about 3:00 a.m., agents from the Tiexi National Security Team and from the Shenyang City Police Department's National Security Branch illegally arrested several Falun Gong practitioners, including Gao Rongrong. The police officers involved included Division Head Zhang, Divison One Head Li Shuwen, Political Director Feng Deli, Deputy Division Head Wang Anyu, and police officers Yang Hai, Zheng Zhiguo and Li Qiang.
The following photos are reenactments of tortures used by the Shenyang police on Falun Dafa practitioners:
1. Beating

2. Stepping on the legs and pulling the arms to the back
3. Stomping and standing on people's feet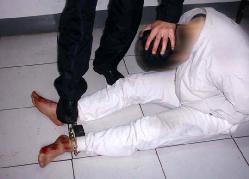 4. Stepping on people's feet with shackles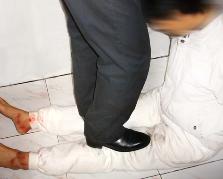 5. Stepping on the knees
6. Rolling a hard stick over the lower legs


7. Electric baton shock
8. Motorcycle helmet torture
9. Stabbing needles into fingers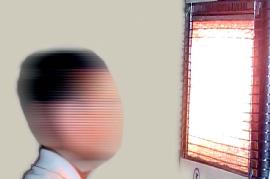 10. Strong light in front of the eyes

11. Pulling arms from behind and scratching the ribs

12. Painfully handcuffing the arms being one's back
Shenyang Tiexi District National Security Team address:
42 Xinghua South Street, Tiexi District, Shenyang City, 110021
Tiexi National Security Team (designated for persecuting Falun Gong practitioners)
Division head: Zhang Changshi,
Former head: Li Shuwen
Deputy head: Wang Anyu,
Political head: Feng Lide
Phone: 24-25850233
Team members: Xiu Decheng, Liang Zhiguo, Yang Hai, Zheng Zhiguo, Liu Bo, Li Qiang; home phone: 24-25835312; Li's wife Sun Li works in the Shenyang Water Company's Tiexi Branch. Her phone number is 24-25615169
Shenyang's Diexi District Police Department, Criminal Police Team:
Ding Jian, Sun Jianping, Gao Yinghua, Yang Shihe
Address: 42 Xinghua North Street, Tiexi District, Shenyang City, 110021
Phones: 24-25637115; 24-25739288