Exposing the Lee Kuan Yew Regime's Dictatorship in Singapore to the United Nations (Photo)
(Clearwisdom.net) Regarding Falun Gong practitioner Ng Chye Huay and Erh Boon Tiong being unlawfully tried and imprisoned by the Singapore authorities, the Falun Gong Human Rights Working Group (FGHRWG) submitted a human rights violation report to the UN recently. The report revealed Singapore's long-term violation of the fundamental human rights of Singapore's people, and reminded the international community to be clear about the Singapore government.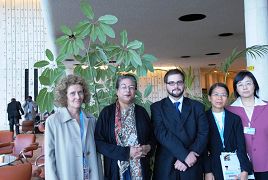 Group photo of Falun Gong practitioners from Singapore and UN Special Rapporteur in Geneva, September 2006
The report pointed out that the two Falun Gong practitioners were accused and detained merely because they sat in front of the Chinese Consulate to protest the Chinese Communist Party (CCP)'s persecution of Falun Gong practitioners. In the process of the trial, the Singapore authorities rejected all the evidence and witness statements about the persecution that the two practitioners provided. Without evidence, witnesses or victims, only a police officer's speculation, the charge of "harassment" was upheld. Furthermore, the court did not honor the UN's reports on Falun Gong practitioners' human rights violation in China.

In order to isolate practitioners, the administration in Singapore also threatened attorneys to prevent them from handling the case. Stemming from conscience and justice, the only human rights lawyer in Singapore, Mr. Ravi took the case. But Lee Kuan Yew's regime constantly harassed, threatened and even attacked Mr. Ravi. In September 2006, Attorney Ravi was invited to testify before the Human Rights Council of the UN, but he was taken away by police right on the day for departure, so he couldn't attend the meeting. Afterwards, he was forced to enter a psychiatric clinic, and was injected with some psychiatric drugs. Finally, Mr. Ravi's license for practicing law was revoked by the authorities.

Without an attorney, the two practitioners had to defend themselves. In court, without sufficient evidence and disregarding the dignity of the law, the judge ruled that the two practitioners were guilty, even though they conducted a strong defense of their innocence. Furthermore, the judge violated the legal process by not allowing the practitioners to appeal immediately, but put the two practitioners in prison. The court's unlawful activities ignoring human rights have defamed itself severely. How could the people of Singapore believe their government? Singapore's lack of rule by law has been clearly revealed to the international community.
Lee Kuan Yew regime's dictatorship in Singapore has drawn more and more attention from the international community. There is no freedom of speech in Singapore, even though freedom of speech is one of the important components of the UN's Universal Declaration of Human Rights.
The FGHRWG calls for UN to investigate and condemn the Singapore government's long-term violation of the International Human Rights Convention. FGHRWG also calls for attention from the international community over Singapore's violations of human rights .
( provided by FGHRWG )