Taiwan: Introducing Falun Dafa in Keelung Jail (Photos)
(Clearwisdom.net) Falun Gong, which has fascinated the people in more than eighty countries for its miraculous effect of mind-body-spirit improvement, has gained great popularity in Taiwan. Falun Gong practitioners have benefited from it and introduced it to more people. They don't even forget special places like jails. On the afternoon of Nov. 10, 2006, Dr. Lin Gwei from Taichung and local Falun Gong practitioners held a health workshop in Keelung Jail and introduced Falun Gong to over one hundred inmates.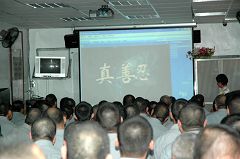 Falun Gong practitioners enthusiastically introduce Falun Gong to people everywhere, even in jails
A Falun Gong practitioner contacted the Keelung jail about the possibility of giving lectures on physical and spiritual health and teaching Falun Gong. Mr. Gao, Head of the Education Department welcomed it and promised to send many inmates to the lecture. Mr. Gao was touched that Dr. Lin came all the way from Taichung to teach the lecture for free. He gathered inmates in the only classroom of the jail. The room was packed with more than one hundred people.
Dr. Lin told his personal experience: He used to disbelieve Chinese medicine but eventually discovered the miraculous effects of Chinese medicine. He introduced the benefits of Falun Gong from a medical point of view, and told about the improvement in his health and his miraculous experience practicing Falun Gong. All were impressed with his down-to-earth style of lecture.
Practitioners played a video of the exercises and taught them on the spot. Many inmates learned them very well. Some worried the jail wouldn't have enough room for them to do Falun Gong exercises. Some were curious to know if Falun Gong could cure infectious disease. One of them showed great interest and asked if it was possible to float in the air. A practitioner told him he had never seen anyone levitate, but practicing Falun Gong could make one feel light while walking as if he was pushed by a force.
Practitioners were told video recording wouldn't be allowed in jail, but Mr. Gao said it was O.K. to take pictures. Mr. Gao said he had seen Falun Gong practitioners do the exercises and knew that there were several group exercise sites in Keelung. Practitioners asked him if they could come back to teach exercises again, and the answer was positive.
Most inmates in Keelung were drug users in the past. Falun Gong practitioners brought articles sharing experiences of quitting drugs after practicing Falun Gong. They donated thirty copies of Zhuan Falun to the jail so that interested inmates and staff members could study the books.
Many inmates have benefited from this Falun Gong introduction activity.