Taiwan: Falun Gong Practitioners Demonstrate the Exercises at the "Lujhu Games" in Taoyuan (Photos)
November 17, 2006 | By Liang Huijuan
(Clearwisdom.net) On November 12, 2006, The Lujhu Township Games were held at a high school in Lujhu Town, Taoyuan County. Fifty-three groups from each village in Lujhu attended the sports meet, and more than 4,000 spectators, including the mayor, representatives, residents, and students, watched the game.


Falun Gong practitioners demonstrate the exercises
Falun Gong practitioners demonstrate the exercises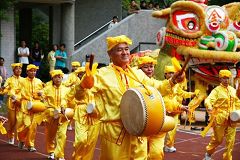 The waist drum performance
Falun Gong practitioners were invited to demonstrate the exercises and to perform on waist drums. Local practitioners have clarified the truth of Falun Gong and the persecution in Mainland China to the mayor of Lujhu and township representatives. After learning the facts, the mayor invited practitioners to perform at the sports meet so that more people could learn about Falun Gong.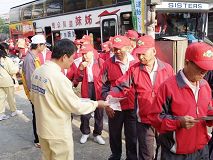 Passing out truth-clarifying material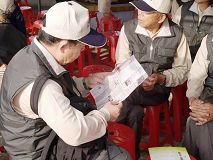 Reading the handouts carefully
The waist drum team was welcomed by the spectators. Although it was set up only one year ago, the group has performed many times in Taiwan and Hong Kong.
The gentle and beautiful exercises attracted many people and many asked for more information.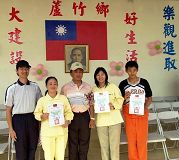 The mayor awarded Falun Gong practitioners for actively participating in this community activity