Greece: "Truthfulness-Compassion-Forbearance" Art Exhibition Held in Athens (Photos)
November 15, 2006 | By a practitioner from England
(Clearwisdom.net) On the evening of November 1, the "Truthfulness-Compassion-Forbearance" Art Exhibition opened in Athens, the capital of Greece. The art exhibition was hosted by the Falun Dafa Art Exhibition Preparatory Committee and the Falun Dafa Association in Greece. Forty works by artists, Falun Gong practitioners from all over the world, are exhibited at the City Centre Art Gallery. Many visitors are drawn to the exhibit, which is scheduled to be displayed for 22 days.
Mr. Zhang Kunlun, a famous sculptor, was invited to participate in the exhibition and to deliver an opening speech. He said that he and other artists felt honored to have the "Truthfulness-Compassion-Forbearance" Art Exhibition held in Athens, a city with an excellent art tradition. He explained that the art exhibition endeavors to herald a return of orthodox arts and morality, enlightening people's conscience and kindness. He called on all people of conscience to end the inhuman and wicked persecution which has lasted for seven years in China.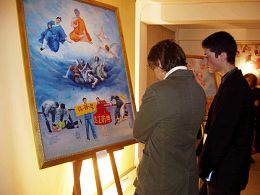 The exhibition hall
The journal Thinking reported on the exhibition and the persecution of Falun Gong by the Chinese Communist Party.
"Red Wall" is a representative work by Mr. Zhang done in 2003. He told the reporter, "Red Wall" epitomizes what I have seen and experienced in China. Not only has the CCP used prisons to detain innocent people, but it has turned the whole China into a big prison as well." Later, a reporter from Greek newspaper TA NEA interviewed Mr. Zhang Kunlun.
Thinking, a bimonthly journal with a circulation of 35,000 in Greece, carried a report entitled "Crimes on Canvas" telling about the exhibition and the CCP authorities persecution and torture of Falun Gong practitioners.
Mr. Georgia described the purpose of exhibition to the reporter. He said, "One of purposes of the Truthfulness-Compassion-Forbearance Art Exhibition is to tell people in Greece about the cruel persecution happening right now in China. It has exposed the CCP's lies and propaganda. The persecution should not have happened in this day and age. Greece is a cradle of western arts. People here went through an autocratic rule as well. Therefore, it is easy for them to understand the sufferings depicted in these artworks. Another aspect of the exhibition is to show people in Greece the nobility of the practitioners in China who stand up for their beliefs as well as the greatness of the practice of Falun Dafa."
The "Truthfulness-Compassion-Forbearance Art Exhibition" has been held in over 70 cities in Europe.