The Epoch Times: "Truth, Compassion and Tolerance" Exhibit at the Cyber Café, Florida Mall
January 18, 2006 | By Marcus Green Epoch Times Florida Staff
Jan 16, 2006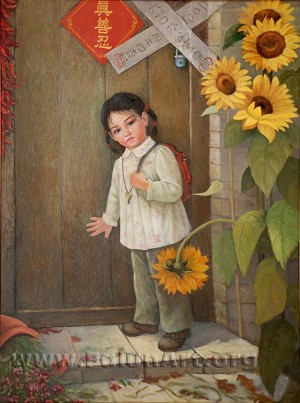 Work entitled "Homeless" depicts a child in China returning home only to find her parents taken away because of their belief in "Truthfulness, Compassion, Tolerance." (falunart.org)
The Cyber Café at The Florida Mall in Orlando Florida Cafe hosted prints from the Truth, Compassion and Tolerance" art exhibit. Approximately 70 million tourists visit Florida each year and some of those will travel to the Florida Mall and perhaps to the Café. The Florida Mall is one of the largest retail malls in Florida and The Cyber Café is a popular six-month old addition to the mall. Many international travelers come to the Café to check their e-mails, check travel arrangements or just to order a coffee or smoothie and relax on their oversized comfortable couches.
The two pieces at the Café only represent part of the originals which are on a worldwide tour. The exhibit depicts scenes and tells a courageous story of Mainland Chinese Falun Gong practitioners' struggle and what they face and endure daily. "The works in this exhibit were created by a diverse group of accomplished artists. Through the practice of Falun Dafa--an ancient Chinese tradition of meditation and self-improvement--they have gained health in both body and mind, deepened their grasp of the workings of nature, and found answers to a lifelong search for the greater meanings of art and life," says the website for the exhibit, www.falunart.org.
"I came from New York City to Orlando four years ago and people are always commenting how hard it is to find good, quality art with good contents and values in Orlando. Finally its here!" said one of the volunteers for the show. The workers at the Cafe enjoyed the addition to the walls of their workplace and received a deeper understanding of the suppression of Falun Gong, and human rights in China. Many of the Cyber Cafés patrons commented on the quality of the prints and the craftsmanship of the artist. The volunteers plan to add more prints to the collection and after the Cyber Café show plan to have exhibits at local libraries, senior centers and, as a volunteer said, "a lot of people can get a glimpse and experience through the medium of painting a deeper understanding of the situation in China."
http://www.theepochtimes.com/news/6-1-16/37046.html