Germany: Falun Gong Practitioners at the Dresden City Festival (Photos)
September 05, 2005 | By a German practitioner
(Clearwisdom.net) Dresden is the capital of Sachsen, Germany. On August 20th and 21st, 2005, Falun Gong practitioners at Dresden were invited again to participate in the Dresden City Festival.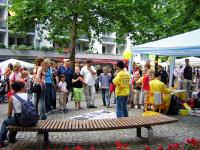 People stopped to learn about Falun Gong and the persecution in China
During the two days, the Falun Gong practitioners demonstrated the five Falun Gong exercises. Some distributed leaflets to passers-by, and some wrote greeting cards for the locals. Surrounding the stand there were items such as banners advertising the free teaching of the Falun Gong exercises and hand-made paper lotus flowers.
Lots of German people stopped to take in the essence of ancient Chinese culture. Some took photos or filmed the demonstration of Falun Gong exercises and some carefully examined the display boards about the cruel persecution against Falun Gong. Some of them were pretty shocked by such a peaceful practice being cruelly persecuted in China, and they did not understand why, so they exchanged opinions with fellow practitioners who distributed leaflets. They took fliers with them and signed their names to appeal for the release of Falun Gong practitioner Jiang Renzheng, who was sent to the forced labour camp after leaving Germany for China. They also gave their good wishes to Falun Dafa and Falun Gong practitioners. Some stood in lines in front of the stand to read Falun Gong information and to wait for cards inscribed with the words Truthfulness, Compassion, and Forbearance.
| | | |
| --- | --- | --- |
| Clarifying the truth | Booth on which truth-clarifying materials are displayed | Lining up to wait for practitioners' greeting cards |
Some passers-by from China also came to our stand. In the very beginning, they were extremely surprised, and had no idea about Falun Gong being widely spread and being severely persecuted in China. They found it hard to believe. After the practitioners' patient explanation, they took with them materials in Chinese and said that they would find out more about Falun Gong once they had the opportunity.
At the same time, a great number of kind German citizens learned the facts about Falun Gong being cruelly persecuted in China during these two days. Some said that they would like to learn the exercises, and we were very happy to invite them to join our weekly group exercise of Falun Gong.
http://clearharmony.net/articles/200509/28614.html