Liu Shufen Holds Hunger Strike - Her 78-Year-Old Father Longs for Her Release (Photos)
(Clearwisdom.net) Falun Dafa practitioner Ms. Liu Shufen is illegally detained at the Women's Prison in Heilongjiang Province. She has been on a hunger strike for over three months protesting the persecution, and her life is now in danger. During the Chinese Moon Festival, her mother left her bed-ridden spouse at home to go visit their daughter. However, her visit was denied by the prison authorities.
Ms. Liu Shufen has experienced a series of persecutions since October 1999 for practicing Falun Dafa and telling people the truth about Falun Dafa. She has been illegally fined, arrested, detained, and forced to leave home and wander about to avoid persecution. In mid-May 2002, Liu was arrested by police at the place where she was staying at the time. Later she was sentenced to eight years of imprisonment by Ranghu District Court in Daqing City, Heilongjiang Province. Liu is being severely tortured in the Women's Prison of Heilongjiang Province. The police locked her in a small cell, tied her up spread eagle, hung her up by stretching her legs, handcuffed her hands behind her back around the clock, and hung her up by the handcuffs. They deprive her of sleep and don't let her use the toilet. From March 15, 2005, to the beginning of August, Liu Shufen was confined in a small cell. She started a hunger strike to protest the persecution on June 6, 2005, when she was already very weak, and is still on the hunger strike now.
| | |
| --- | --- |
| Liu Shufen | Liu Shufen with her parents |
When Liu Shufen was at home she took good care of her parents. She was born when her father, Liu Mochen, was already quite elderly, and her father loved her very much. The 78 year-old man has been confined to bed for a long time and cannot take care of himself. He often looses control of his bowels. Now, in addition to his bodily suffering, he is living with the pain of being separated from his beloved daughter. Whenever he sees someone, his first words are, "Do you know when my daughter will be back?"
In 2002, Liu Mochen was very ill and couldn't get up from bed. When he heard that his daughter had been severely tortured in prison, he insisted on taking a cab to the prison to get his daughter back even though it could endanger his life. When he got out of the cab, he couldn't walk one more step and crawled into the gate of the prison. Even so, the police didn't let him see his daughter. Liu Mochen survived after spending twenty days in a hospital.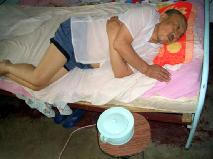 Photo of Liu Shufen's bed-ridden father
Liu Shufen's mother, Wang Yanxiang, is short and slender. Although she is overloaded with the task of taking care of her husband, she also has to endure the pain of having her beloved daughter suffering in prison. During the Moon Festival, (a time for family reunification) when she learned that her daughter's life was in danger due to the hunger strike, she was anxious to see her daughter and asked someone else to take care of her husband. She boarded a long-distance bus to Harbin City Prison, but was stopped at the gate. When she asked to see the head of the prison, he wouldn't see her. She tried to make phone calls to him, but no one answered the call. When Liu Mochen heard that his wife couldn't get any information about his daughter, he sobbed and was unable to talk.
Here we call upon all kind hearted people to render your help. We request the Judiciary Bureau of Heilongjiang Province, the Prison Management Bureau, and the Women's Prison of Heilongjiang Province to set Liu Shufen free so that her family can be reunited.
Related people and contact information:
Address of the Female Prison of Heilongjiang Province:
389 Xuefu Rd. Nangang District, Harbin City, Zip Code 150069
Telephone: (Operator) 86-451-86684001, 86-451-86684002, 86-451-86684003 (tell the operator the name of person you want to speak with or his title and they will put you through.)
Friday afternoon is the time for the head of the prison to receive people from 1:00 p.m. to 3:00 p.m.: 86-451-86684002 ext. 3009, 86-451-86694053
Xu Longjiang, Prison Head: extension 8001
Cong Xin, Zhu Shuhua and Liu Zhiqiang, deputy heads of the prison (in charge of bailing people out for medical treatment)
Political commissar of the prison: Extension 8002
Chu Xiuhua, political commissar of the prison (female): 86-451-86684001 ext. 3003
Zhao Yingling, head of prison hospital: Extension 8053
Cui Hongmei, supervisor of the First Section in prison
Xia Fengying and Hou Xueping, deputy supervisors
Staff: He Yujing, He Jing, Liu Yan, Liu Xiaofang, Deng Yu, Lv Cuijun, Sun Jian, Yue Xiufeng, Wang Yan, Zhou Ying, Lu Heng, Lu Min and Yu Li.
Prosecutor's Office stationed at Harbin Women's Prison: 86-451-82030982
Telephone for reporting information to Harbin Binjiang Prosecutor Office: 86-451-86663178
Harbin Binjiang Prosecutor Office: 86-451-82359148
Harbin Binjiang Prosecutor Office stationed at the Women's Prison: 86-451-86663178
Prison Management Bureau of Heilongjiang Province: 86-451-6335924
Address: 79 Hanguang St. Nangang District of Harbin City, Zip Code: 150080
Wednesday is the time for the head of the bureau to receive visitors.
Sun Ping, head of the Prison Bureau of Heilongjiang Province: 86-451-86316442, 86-451-86342238, 86-451-86342139
Written on September 20, 2005