During a Session of the European Parliament, A Councillor Appeals to the Chinese Communist Party to Release Falun Gong Practitioner Yang Feng (Photo)
September 26, 2005 | By a UK practitioner
(Clearwisdom.net) On September 8th, there was a forum on the Chinese Communist Party's abuses against human rights and freedom of speech during a session of the European Parliament. Mr John Bowis, an MEP from London, made a brief speech appealing to the CCP to stop its violations of human rights.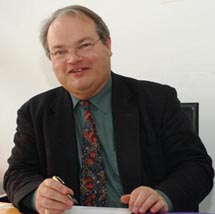 MEP John Bowis
In his speech, Mr. Bowis said, "China is a great country with a splendid culture. But the violation of human rights has brought shame on the reputation of the country. I hope that the Chinese all can listen attentively to what my colleagues are talking about and also to the resolution on freedom and tolerance."
In his speech, he also mentioned Yang Feng, a former UK Falun Gong practitioner who is locked up by the CCP. Mr. Bowis said, "I hope that the Chinese Government can set Miss Yang Feng free. She was illegally arrested when calling on a friend of hers. She has been put into a Women's Forced Labour Camp, without going through any legal process, where she is suffering from ill-treatment and brainwashing."
Mr. Bowis said finally, "Only by listening attentively to, taking action and putting an end to the behaviour of persecuting human rights, can the Chinese government receive our respect."
Appendix:
Yang Feng, 42, was arrested at the home of a friend, a Falun Gong practitioner, in Beijing on the evening of March 1st 2005. Yang Feng refused to sign a search warrant and replied that she had done nothing wrong. After searching her by force, police took Yang Feng away together with her PC and some other things, leaving her fourteen year-old son shocked and alone at home. After they left, it was the child himself that rang one of his relatives for help.
Mrs. Agnes Wilton from London, a good friend of Yang Feng's who has known her for ten years, said, "Falun Gong is very peaceful, not harmful and has nothing to do with politics. Everybody around me likes Annie (Yang Feng's English name)." She "felt very sad" about Yang Feng's arrest. " I have called those who probably know where she is detained, but nobody knows where she is locked up."
Mrs. P Fitzgerald living in Ireland is another friend of Yang Feng's. She has known Yang Feng for six years. Mrs Fitzgerald said she was "shocked and extremely dissatisfied." She also said, "I am deeply sympathetic to her situation. She is a very nice person, honest and kind."
Source: http://clearharmony.net/articles/200509/28978.html