Taiwan: "Truth-Compassion-Forbearance International Art Show" Moves Students and Teachers (Photos)
September 18, 2005 | By a Taiwanese Falun Dafa practitioner
(Clearwisdom.net) The "Truth-Compassion-Forbearance International Art Show" came to Jianguo National High School in Beigang Township, Taiwan from September 6 to September 10, 2005. After the visitors learned the stories behind the paintings, their hearts were moved.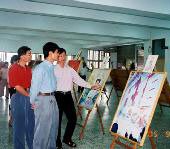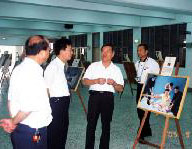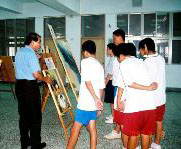 A guide explains the stories behind the paintings to visitors
The "International Art Show" is composed of artwork by 15 artists from different countries who are all Falun Gong practitioners. The artists used their brushes to display the beautiful and high spiritual level one attains after cultivation practice and the truth about the Chinese Communist Party's (CCP's) persecution of Falun Gong. The show has traveled to Washington, DC, Manhattan, New York City, San Francisco, Canada, Korea, Indonesia and has been exhibited in over twenty large cities. This time, it came to Beigang Township of Yunlin County, Taiwan.
The principal of Jianguo High School, Mr. Lu Fusen, gave the show a lot of support. In order for more parents to have an opportunity to visit the art show, he rescheduled the new students' parents meeting to a day during the exhibition.
The organizer said that the purpose of the exhibition was to have more people understand the persecution of Falun Gong in Mainland China. The Falun Gong practitioners are brutally persecuted, but from the paintings it is clear that the practitioners have no anger or resentment. All you can find are practitioner's peacefulness, compassion, persistence and rationally in calling for world support to end the persecution.
The director of Beigang Township visited the exhibition. He carefully looked at each painting and listened to the introductions.
| | |
| --- | --- |
| A guide tells the story behind a painting | Students learn how to make paper lotus flowers |
After visiting the art show, Mr. Cai Ziming, a reporter from the News Network, said that the exhibition could help more people understand how the CCP persecutes Falun Gong. He said he would tell his friends to recognize the true nature of the Communist Party.
An English teacher said that it was hard to understand a political party that could persecute its own people like this, especially a group of people who believe in "Truth, Compassion, Forbearance."
Students felt that the artworks about tortures were too bloody and violent to look at it. The guides told them the stories behind each painting. Through the pictures, the students recognized the evil nature of the persecution.