Why Is Heaven Outraged? Examining the Earthquake in Daqing City, the Hailstones in Shenyang City and a Strange Plague in Ziyang City (Photo)
August 11, 2005 | By Zhong Yan
(Clearwisdom.net) Let's take a look at the recent series of incidents that took place in three different regions of China, ranging from the north to the south. Daqing City in Heilongjiang Province, Shenyang City in Liaoning Province, and Ziyang City in Sichuan Province will be our starting point for reviewing the principle of "Heaven and the people are one and the same." We should reflect upon why heaven has sent us frequent warnings.
1. Daqing City in Heilongjiang Province
According to a news report on July 26, 2005, from the Xinhua News Agency in Beijing, an earthquake with a magnitude of 5.1 occurred in Lindian County of Daqing City, Heilongjiang Province on July 25, 2005, at 11:43 p.m. (Beijing time). The center of the quake was located 33 kilometers (about 20.5 miles) north of Daqing City, which is 90 kilometers (about 56 miles) from Qiqihaer City, or 180 kilometers (about 112 miles) from Haerbin City. According to initial investigations, residents in Daqing City, Qiqihaer City and Haerbin City all felt the quake.
On the same day (July 26), a report entitled "Three Falun Gong Practitioners Died in Daqing Prison in Three Consecutive Months" was posted on the Minghui website (the Chinese version of Clearwisdom.net). It reported that on the evening of July 23, Falun Gong practitioner Yuan Qingjiang passed away as a result of prolonged cruel torture by the police in Daqing Prison. He was the third practitioner to be tortured to death in Daqing Prison over the past three months. The other two practitioners were Wang Hongde and Xu Jishan.
In the first half of 2005, Jiang Shuchen, the Deputy Head of Daqing Prison, and Guo Chuntang, Head of the local 610 Office, initiated another wave of persecution against Falun Gong practitioners after they returned from a conference in Xian City. At a meeting dedicated to mobilizing prison police to persecute Falun Gong, Guo Chuntang told his subordinates, "It counts for nothing if several Falun Gong followers are tortured to death. You will not bear any responsibility." Li Fengjiang, Head of the Seventh Prison District, yelled at the practitioners, "If you refuse to be "transformed," you will be cremated."
After May 1, Daqing Prison escalated their persecution of Falun Dafa practitioners. More than ten practitioners went on a hunger strike. They were subjected to solitary confinement in a small cell and torture methods such as sitting on the iron chair. In early May, Mr. Yuan Qingjiang in the Sixth Prison Section had been on a hunger strike for more than 10 days. He was tortured by brutal force-feeding.
Dong Fenghuan, Head of the Sixth Prison Section, personally beat Mr. Yuan until he vomited blood. His arms and legs were disabled due to tight, prolonged binding. He suffered cirrhosis and liver ascites. His abdomen and penis were severely swollen. He was reduced to a skeleton. It was a truly tragic scene.
Another practitioner, Mr. Wang Hongde, died on May 14, only 15 days after he was released on medical parole. At the end of May, in just 15 days, they also tortured Falun Dafa practitioner Xu Jishan to death.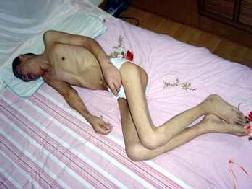 Mr. An Senbiao was tortured to the brink of death
Another report on the Minghui/Clearwisdom website dated July 16, 2005, tells us that Mr. An Senbiao, a 38-year-old employee of the second oil extraction factory of Daqing City, was arrested on January 24, 2005. Why? Because he clarified the truth about Falun Gong to people. Mr. An was held in the Longfeng Detention Center and subjected to solitary confinement. He was forced to wear shackles weighing more than 15 kilograms (33 lbs) that were designed for death row inmates. The police tied his shackles to a metal ring on the ground and poured cold water on him. It was wintertime and his cotton clothes were soaked with icy water. On July 13, 2005, Mr. An was on the verge of death. His family members were notified to take him home. He was previously a healthy man weighing 82.5 kilograms (about 180 lbs). Upon his release, he weighed only 42.5 kilograms (about 94 lbs) and had only a layer of skin on his bones. Due to prolonged binding with ropes and the wearing of handcuffs and shackles, his arms were stiff and could not bend.
2. Shenyang City in Liaoning Province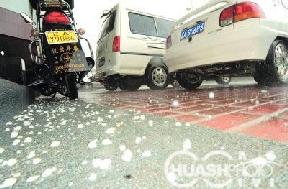 Rare, golf-ball size hailstones in Shenyang City
The Chinese Business Morning Post, reported that on June 21, 2005, at 6:46 p.m., the Liaoning Province Weather Station issued an orange level warning. The forecast was that in one or two hours there would be a thunderstorm with hailstones in Shenyang City. That same day, hailstones assaulted Shenyang City, but the suburban areas were not affected. As of 9:00 p.m. that day, the rainfall in Shenyang City was 24 mm (about 0.9 inch). It was a very heavy rainfall. The reporter noted that the hailstones were as big as marbles and the biggest ones were as big as golf balls. As the hailstones struck the glass windows, they made quite a lot of noise.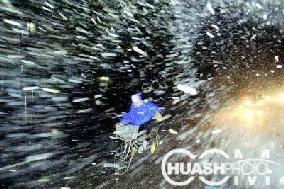 Pedestrians are moving forward against the heavy rain and wind with much difficulty
A June 19, 2005, report on the Minghui/Clearwisdom website showed a picture of Ms. Gao Rongrong, a 37-year-old female Falun Dafa practitioner, after she had endured brutal persecution. She died in the emergency room of the China Medical University Hospital, which is located in Shenyang City, Liaoning Province. Minghui reports and statistics revealed that Ms. Gao Rongrong was the fifty-fourth Falun Dafa practitioner to be tortured to death in Shenyang City. While Gao Rongrong was alive, her jailors in the Longshan Forced Labor Camp severely disfigured her. They shocked her face with electric batons for nearly seven hours. Due to the torture, she was disabled and many of her body functions failed.
3. Ziyang City in Sichuan Province
A Ming Pao (a Chinese newspaper in Hong Kong) report stated that an initial investigation in Ziyang City and Neijiang City of Sichuan Province revealed that an outbreak of a "strange disease" was still out of control. The present statistics show a death toll of 24 out of a total of 117 patients. The World Health Organization (WHO) explicitly stated that this outbreak of swine streptococcus in Sichuan was "unprecedented, the worst in history."
The latest news from the Xinhua News Agency stated that infectious cases were distributed over three districts of Ziyang City and neighboring Zizhong County. Altogether, 23 towns and 49 villages were involved.
Let's look at what else has taken place in Ziyang city. The World Organization to Investigate the Persecution of Falun Gong (WOIPG) reports that the Yanjiang District 610 Office has stopped at nothing in persecuting Falun Gong in Ziyang City. The staff of the 610 Office spends the money taken or extorted from practitioners who they have ruthlessly persecuted. On one hand, they instigate radio stations, TV stations and newspapers to collaborate with the CCTV "Focus Interview" program in defaming and slandering Falun Gong. They compel local residents to sign their names on anti-Falun Gong statements and brainwash them with their propaganda that demonizes Falun Gong. On the other hand, they order the Police Department and the Department of Justice to arrest, detain and sentence Falun Gong practitioners. These officials send practitioners to forced labor camps, ransack their homes, extort fines and money from them, and expel them from their jobs. As a result, dozens of practitioners have been sentenced and sent to labor camps. Many practitioners' families have been broken apart. This has forced many to lead the lives of fugitives. Practitioners' relatives, friends, colleagues and work units have been implicated. Among the more than one million people in the Yanjiang District, none have escaped harm from brainwashing. It is noteworthy that most of the victims of direct persecution are female and older practitioners.
Nanmusi Forced Labor Camp is in Zizhong City, Sichuan Province. It is one of the most notorious forced labor camps for persecuting Falun Dafa practitioners. A report dated July 16 on the Minghui/Clearwisdom website described and showed pictures of torture methods used in the labor camp. Included were "double twists and binding" (twisting practitioner's legs and arms behind their backs, binding both the arms and the legs tightly), the tiger bench, force-feeding of concentrated saline solution, hanging practitioners in the air, hanging them from a tree with their hands cuffed behind their backs, fixed position cuffing, cuffing them to a bed, making them squat in a fixed position, beatings, electric shocks, humiliation, forced squatting or standing for long time periods, and other forms of torture and punishment. (Please refer to the re-enactment figures of the torture methods for details.)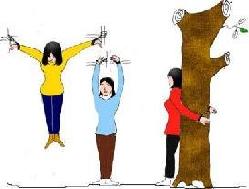 Torture methods "hanging up in the air," "fixed cuffing," and "hanging up with hands cuffed behind the back"
Some people think that it is a little farfetched when we associate natural disasters with human atrocities. However, as the old saying goes, "It would be too much if it happened three times in a row." If the association of natural disasters and human atrocities manifests again and again, it then becomes a frequent, prevalent phenomenon. At that point we must think it over seriously.
Actually, all these can be explained by the ancient Chinese principle that states that "Heaven and the people are one and the same." It is the reasoning of karmic retribution. If human beings follow the course of the cosmos and do good deeds, then they accumulate virtue, and Heaven will manifest auspicious signs in the human realm. People will have good weather for growing crops and will have a good harvest. The whole nation will be secure and people will be happy with their lives. If human beings act against the course of the cosmos, do evil deeds and thus accumulate karma, Heaven will show them the knell sign (death sign). There will be continuous disasters, drought, floods, earthquakes, plagues and other catastrophes. In ancient times people respected Heaven and understood the arrangements made for them by divine beings. They knew they should do good deeds and accumulate virtue. There was truth in the principles they followed.
In the past six years, the persecution of the Falun Gong spiritual group and the trampling of the belief in Truthfulness, Compassion, Forbearance is a crime that is unacceptable to heaven, earth and gods. Those areas where the persecution is most severe and where large numbers of people are being deluded by the deceitful propaganda against Falun Gong, have suffered astonishing disasters. These are heaven's warnings. We cannot ignore them and we have to seriously think about them.
The old Chinese sayings tell us, "A crime in a dark room cannot escape the shining eyes of gods." "There are deities three feet above one's head." We hope these old teachings will help people realize that when people's behavior and conduct drops below the standards of spiritual and moral values for mankind, they will encounter dangers that may threaten human being's lives.