Spain: Mourning for Practitioners Who Lost Their Lives and Calling for an End to the Persecution at the Chinese Embassy on July 20 (Photos)
July 31, 2005 | By a Spanish Falun Gong practitioner
(Clearwisdom.net) On July 20 six years ago, former Chinese Leader Jiang Zemin and the Chinese Communist Party (CCP) began a campaign of genocide against Falun Gong practitioners. To mourn the practitioners who were murdered by the CCP and to call for an end to this persecution, Spanish practitioners once again peacefully appealed outside the Chinese Embassy.
On the sixth anniversary of the persecution, practitioners in Spain appealed peacefully in front of the Chinese Embassy
There were always a lot of vehicles passing by the Chinese Embassy. When stopping at the nearby traffic lights, drivers took the initiative to lower their windows and ask for leaflets. Others who didn't stop at the traffic lights honked their horns to support the peaceful protesters.
There was also a lot of media interest in the activity. Spain's two leading news agencies, EEE and Agence Europe, the national radio station, national television stations, and other media outlets also interviewed Falun Gong practitioners at the activity.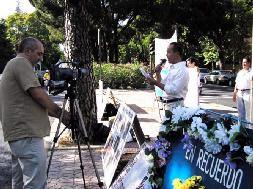 A practitioner is interviewed by the media
After hearing the facts about the persecution, one woman said: "I do know that there is no freedom of belief and speech under the Chinese Communist regime's dictatorship. As I have witnessed the dissolution of the powerful former Soviet Union in a short period of time, I believe the Chinese Communist regime's dictatorship definitely won't last long. People are awakening to the importance of getting rid of the autocratic rule." The woman wished Falun Gong practitioners good luck and said, "I'll pray for China."
A Spanish police officer said: "This persecution must be stopped immediately." The security officers on duty at the embassy were from the national military police brigade that is usually responsible for security activities such as parades, demonstrations, etc. After hearing the facts of Falun Gong, they praised the practitioners' peaceful and rational protest activities over the past six years, and said, "This persecution must be stopped immediately." After the activity was finished, they said to the practitioners, "It would be very nice if all the protesters in Madrid could be as peaceful as you are." In the meantime, they wished the practitioners good luck and great success.
http://clearharmony.net/articles/200507/27967.html