Australia: Directions Hearing for Falun Gong Legal Action Against Foreign Minister Downer (Photos)
July 22, 2005 | By Falun Gong practitioners in Australia
(Clearwisdom.net) The lawsuit filed by Falun Gong practitioners Zhang Cuiying and Dai Zhizhen is moving forward in the Australian Capital Territory (ACT) Supreme Court against Foreign Minister Alexander Downer for violating human rights. On July 18, 2005, a Directions Hearing was held in the Supreme Court.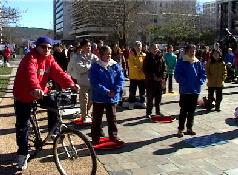 Australian Falun Gong practitioners support the lawsuit against Minister Downer outside the court
At 8:00a.m., Falun Gong practitioners from different areas of Australia gathered outside the Supreme Court of the ACT, supporting the lawsuit against Foreign Minister Downer, who abused his power, sold Australian people's interest, and issued monthly certificates for 42 consecutive months specifically "banning Falun Gong practitioners from displaying banners in front of the Chinese Embassy." The practitioners also condemned Downer's unrighteous action of violating Australian citizens' human rights. After the court hearing, the practitioners held a press conference. Major media outlets in Australia came to conduct interviews. The second court hearing will be held on August 1, 2005.
Over three years ago, Mr. Downer signed a certificate specifically banning Falun Gong practitioners from displaying banner in front of the Chinese Embassy during the visit of Chinese Foreign Minister Tang Jiaxuan. The period of validity for the certificate was 30 days. Since then, Downer has signed the special 30-day certificates against Australian citizen's human rights for 42 consecutive months.
| | | |
| --- | --- | --- |
| One of the plaintiffs--Falun Gong practitioner Dai Zhizhen and her daughter Fadu | One of the plaintiffs-Zhang Cuiying speaks | South Africa Shooting Victim David Liang |
| | | |
| --- | --- | --- |
| Major media outlets come to cover the event | Falun Gong practitioner Geoff speaks | Falun Gong lawyer Bernard Collaery speaks |
In that time, Falun Gong practitioners in Australia have made great efforts to communicate with Ministry of Foreign Affairs, but they have not obtained a positive reply. They have no other way but to seek the legal channel to safeguard their rights.
Practitioners' lawyer Bernard Collaery spoke at the press conference. He talked about when a former officer of the 610 Office recently defected to Australia, he brought with him electronic information from the most secret archives of Beijing's Public Security Bureau. In the past three months, we have been translating and reading these shocking materials. Almost every Chinese organization overseas has been infiltrated into by the CCP's public security departments. The 610 Office had a list of 14 main targets which it particularly struck, including Christian churches. The enormous sums of money were spent in monitoring and infiltrating into these Chinese churches and other civil organizations in the United States, Canada and Australia. These sums of money were provided by the CCP government.
The lawyer also stated, "You will read about the billions of dollars being invested in this country, Australia, at the moment. Well I should tell you that a large sum of money is also spent on watching you (Falun Gong). And not only that, penetrating your organizations, and deceiving innocent people. We have studied the Chinese law and constitution, and found out that 610 Office was illegally set up. Australia's government is a weak government. Over the past two years, I've been to many countries, and I have never seen any democratic countries ban Falun Gong banners. In free world, the only country that prohibits Falun Gong banners is Australia. This makes all Australian people worry. This matter has lasted for two years, and would ultimately be resolved through legal channel."
One of the plaintiffs, Zhang Cuiying expressed in her speech that Downer disrespected law, abused his power, and took advantage of privileges granted him by law and parliament to re-issue 30 days' certificates, participating in helping evil CCP to persecute Falun Gong practitioners. During the time of Mr. Downer re-issuing certificates for 41 months, 1187 Falun Gong practitioners died as a result of persecution in China, but the Chinese citizens had known nothing about it. Ms. Zhang said, "The purpose of our holding banners in front of the Chinese embassy is to let more Chinese people know the truth and the facts about the CCP's persecution of Falun Gong practitioners. Downer's action of violating human rights, has brought about great harm to both the Chinese people and Australian people."
Falun Gong practitioner Geoff pointed out at the press conference that the period of validity for the certificate signed by the Foreign Minister is 30 days, and must be submitted to the parliament in seven working days. At parliament, among 82 certificates that ban Falun Gong practitioners from displaying banners in front of the Chinese Embassy, only 78 were put on record. In other words, there were four certificates that were not passed at parliament. What is interesting is on March 6, 2002, when Chinese Foreign Minister Tang Jiaxuan visited Australia, the first certificate Downer signed was not put on record at Parliament. That is to say, in 2002, it was an illegal action of the federal police to remove Falun Gong banners from the outside of the Chinese Embassy. He said, "Every month we tried to communicate with Minister Downer, but he has been refusing to have a dialogue with us, we have no other way but to seek the legal action to resolve it."