June 2005: Deaths of 230 Falun Gong Practitioners Verified (Photos)
July 12, 2005 | By Clearwisdom/Minghui correspondent Li Ming
(Clearwisdom.net) In June 2005, the persecution deaths of 230 Falun Gong practitioners in China were verified. Since Jiang's regime began persecuting Falun Gong on July 20, 1999, a total of 2,656 practitioners have been tortured to death and their deaths have been verified through civil channels.
Of the 230 torture deaths verified in June, 59 took place between January and May 2005, and 15 took place in June 2005. Sixty two percent of the practitioners tortured to death were women, and sixty three percent were over the age of 55. Additionally, according to preliminary statistics from the Minghui/Clearwisdom website, at least 271 practitioners died under the persecution between January and June 2005, and among them, 230 death cases were verified.
These 230 persecution deaths happened across 24 provinces, cities and autonomous regions. Of the victims, 43 practitioners were from Hebei Province, 26 from Jilin Province, 21 from Liaoning Province, 18 from Shandong Province, 18 from Heilongjiang Province, 16 from Sichuan Province, 13 from Henan Province, 13 from Jiangsu Province, 11 from Hunan Province, 9 from Hubei Province, 7 from Beijing, 5 from Xinjiang Autonomous Region, 5 from Gansu Province, 3 from Inner Mongolia Autonomous Region, 3 from Guangdong Province, 3 from Guangxi Autonomic Region, 2 from Yunan Province, 2 from Jiangxi Province, 2 from Chongqing City, 1 from Anhui Province, 1 from Tianjin City, 1 from Shannxi Province, 1 Shanxi Province and 1 from Zhejiang Province. Another five cases could not be documented regarding the areas due to the CCP (Chinese Communist Party) information blockade.
These practitioners experienced savage physical torture and mental torment before they died.
This article focuses on two cases. The case of Gao Rongrong, former accountant at the Luxun Institute of Fine Arts, and the case of Han Junmiao, former director of the Recruiting Office of the Xiong County Education Bureau in Baoding City.
The 610 Office Murdered Ms. Gao Rongrong After Labor Camp Authorities Disfigured Her Face
Ms. Gao Rongrong was 37 years old and worked as an accountant at the Financial Division of Luxun Institute of Fine Arts in Shenyang City, Liaoning Province. In July 2003, Gao Rongrong was arrested and sent to Longshan Forced Labor Camp. To try to force her to give up Falun Gong, Tang Yubao, deputy head of Division 2, and team leader Jiang Zhaohua, shocked Gao Rongrong with electric batons continuously for seven hours, starting from 3:00 p.m. on May 7, 2004. Gao Rongrong's face was severely disfigured. Her hair stuck to the bloody pus on her scorched skin. Her swollen face reduced her eyes to mere slits, and her mouth was also distorted from the swelling. Even the inmates from the same cell did not recognize her.q1q

Gao Rongrong, accountant at Luxun Institute of Fine Arts in Shengyang City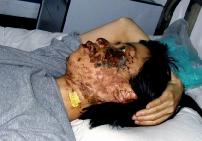 Gao Rongrong was tortured on May 7, 2004. Her face was covered with burn scars. This picture was taken 10 days after the torture took place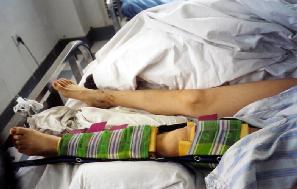 On the evening of May 7, 2004, Gao Rongrong jumped out of the window of the guards' office on the second floor to avoid further persecution. She was later diagnosed with two fractures of her pelvis, her left leg was severely fractured, and the bone in her right heel was split.
Authorities from the labor camp sent her to Shenyang General Army Hospital and later transferred her to Shenyang City Police Hospital. On May 18, Gao Rongrong was sent to Ward 533 of the No. 2 Orthopedics Division, No. 1 Hospital, Affiliated with China Medical University.
After more than three months of abuse, on August 9, 2004, Gao Rongrong started to urinate blood. She could not eat or drink and was reduced to skin and bones. Her eyes were sunken. She could not close them and looked ghastly. The doctor said she could die any time and issued numerous critical condition notices. However, Shenyang City Judicial Bureau, the direct superior of Longshan Forced Labor Camp, refused to release her and told the doctor to perform emergency treatments if she lost consciousness and that she would not to be released, even if she died.
On October 5, 2004, several Falun Gong practitioners rescued Gao Rongrong from the hospital despite strict police surveillance.
After Gao Rongrong's facial disfigurement was exposed in the international community, many kind-hearted people expressed anger and concern. The involved Chinese government departments not only didn't prosecute those responsible for Gao Rongrong's torture, Luo Gan, the head of central 610 Office, personally arranged the retaliation against Gao Rongrong claiming, "This incident has caused too much stir in the international community." He ordered his subordinates to "take good care of her case." The Ministry of Public Security listed her escape as Top Priority Case No. 26. A Special Case Group was established at the Shenyang City Security Bureau, and the Shenyang City Judicial Bureau issued a "Notice for Assistance in Investigation." The Dafa practitioners who rescued Gao Rongrong, including Feng Gang, were arrested and they are currently being brutally tortured.
On March 6, 2005, Gao Rongrong was again arrested. This time the persecutors tried their best to make Gao Rongrong "disappear." Authorities at Zhangshi Forced Labor Camp, Masanjia Forced Labor Camp, the Judicial Department in Liaoning Province, Liaoning Province Labor Reeducation Bureau and persons from Luxun Institute of Fine Arts spoke along the same lines about Gao Rongrong as the government. No one mentioned her whereabouts or her true situation.
Gao Rongrong's parents went to the Masanjia Forced Labor Camp numerous times and asked to meet with her. Su Jing, female head of the labor camp, lied and said Gao Rongrong wasn't there, and that the government was investigating her case and even she could not see Gao Rongrong. Later she changed her story and said, "Gao Rongrong is here and she is eating well. She is doing great!" Wang, another head of the labor camp, said to her parents on the fourth day of Gao Rongrong's hospitalization, "We never wanted to accept her to begin with. Those 'higher authorities' forced us to take her. It is up to them to decide whether you are allowed to visit her or if she is to be released."
Gao Rongrong's former work unit, the Luxun Institute of Fine Arts in Shenyang City, falsely claimed in a document issued in late March 2005 that Gao Rongrong had left China.
On June 6, 2005, Gao Rongrong was sent to the No. 1 Hospital affiliated with China Medical University for emergency treatment. The doctor who treated Gao Rongrong said, "She was in critical condition when she was brought here." On June 16, Gao Rongrong passed away at the age of 37, after suffering many tribulations.
According to witnesses, the hospital did not provide necessary treatment for Gao Rongrong and did not feed her. One of Gao Rongrong's relatives with some medical knowledge immediately pointed out that Gao Rongrong did not receive enough nutritional supplements, and those that were administered were not suitable for her condition. The relative concluded that Gao Rongrong suffered systemic failure from long-term malnutrition.
According to the doctor, a medical examination revealed abnormalities in Gao Rongrong's brain. He suspected the cause to be injection(s) of destructive drugs.
At around 9:00 a.m. on June 12, after having receiving a notice, Gao Rongrong's parents rushed to the hospital. They saw that Gao Rongrong was at death's door after being diagnosed with systemic failure. She had a very weak pulse, and was hooked up to an oxygen tank. She was skin and bones. She was unconscious and showed no reaction to external stimuli. The scars on her face from the electric shocking were still deep and startling. Even in such a condition, Gao Rongrong was monitored and guarded by about 20 people. They were so heartless that they even asked the doctor many times in the presence of Gao Rongrong's parents, "When is she going to die?"
Gao Rongrong's family asked Masanjia Labor Camp officials and the hospital officials for Gao Rongrong's medical records and profile, but their request was denied. Even several days before Gao Rongrong passed away, the persecutors began telling people in the local area that she had "committed suicide by hunger strike."
After Gao Rongrong died, the 610 Office and the police forbade her family from seeing her body, and forced them to agree to letting the police monitor and handle her body. They even tried to snatch receipts for the Agreement on Body Placement and the Notice on Body Entering/Exiting the Freezer, so they could cremate the body at Shenyang City Mortuary. Their fear of punishment and their intent to shirk responsibility for Gao Rongrong's death is very clear.
Han Junmiao Was Tortured to Death for Refusing to "Reform"
Ms. Han Junmiao was 53 years old and was the director of the Recruiting Office of the Education Bureau at Xiong County, Baoding City. Before she started practicing Falun Dafa she had several illnesses, such as heart disease, liver disease, swelling of the leg, and other conditions. These conditions disappeared after she began practicing Falun Gong. She benefited mentally and physically from the practice. She worked diligently, and was well liked and respected by her colleagues and superiors at her workplace. In 1998 the bathroom in the Education Bureau needed repair. Dirty water was everywhere in the hot summer, and nobody did anything about it. Han Junmiao took care of it all by herself and even paved the floor with bricks. In her position as Director of the Recruiting Office, she never accepted any bribes or took advantage of perks normally associated with her position.
In November 1999, officers from the Political and Security Section in the police department came to Han Junmiao's office. With the excuse that Ning Hongmao, the Secretary of the Political and Judiciary Committee, wanted to have a chat with her, they unlawfully detained her. Ten days later the Political and Security Section officials sent her to Baoding City Mental Hospital where four men held her down and injected her with a drug that attacks the central nervous system. The drug took effect and Han Junmiao couldn't sit or lie down. Ms. Han was so tortured for two weeks at the mental hospital and suffered severe mental and physical trauma.
Early in October 2000, Dong Aihua, Zhao Daping and Wang Jianjun from the Political and Security Section came to Han Junmiao's work place again and took her to a detention center. Her husband was not home at the time. Her youngest daughter was only ten years old and couldn't find her mother when she returned home from school. In November, Han Junmiao started a hunger strike to protest the illegal detention. Approximately ten days later she was sentenced to three years of forced labor and sent to Baoding City Forced Labor Camp.
During the 12 days at Baoding Forced Labor Camp she was handcuffed for several nights to the staircase handrail. Dozens of policemen pushed her down to the floor and used electric batons to shock her, from the bottom of her feet to her lower back. They even put an electric baton into her mouth. They shocked her on the head and back. Ms. Han wasn't allowed to sleep and was forced to stand in water around the clock for four days. Nevertheless, the labor camp still couldn't shake Han Junmiao's belief in Dafa. She was then transferred to the Gaoyang Forced Labor Camp.
At Gaoyang Forced Labor Camp, she was again injected with drugs that harm the central nervous system, which for a while made her mentally incoherent. She was locked in an steel cage for ten days where she wasn't able to sit down or stand upright.
In December 2000, for refusing to write the so-called guarantee statement to give up practicing Falun Gong, Han Junmiao was sent to a huge, icy-cold, windowless warehouse. She was handcuffed to a steel ring affixed to the concrete floor, making her only able to squat. She couldn't sit or stand all day long and was deprived of sleep. Washing for personal hygiene was out of the question. A person being subjected to this kind of torture would experience numbness in the legs in a little over an hour and would be unable to bend over because of back pain. The second day of being handcuffed like this, Han Junmiao's hands and arms were severely swollen. She was handcuffed in this manner for approximately five days.
In or around July 2001 the weather was scorching hot. Han Junmiao was handcuffed in the yard under the blazing sun. She still couldn't stand or sit all day long, and was deprived of sleep. She was handcuffed like this for several days.
The police still could not make Han Junmiao change her mind about Dafa, even after she suffered all the tortures that the Gaoyang Forced Labor Camp used on Dafa practitioners, including the tiger bench, force-feeding with hot pepper water, being force-fed with human feces, and the death bed. The guards took her out to the fields in the evening, to mercilessly beat her and to allow her to be bitten by snakes and vermin. Gaoyang Forced Labor Camp officials later transferred her to the Shijiazhuang City Forced Labor Camp to continue her persecution.
After she returned home when her labor camp term expired, Li Chengqun, the 610 Office head in Xiong County, ordered his subordinates to continue persecuting her physically. In October 2004, Li Chengqun sent agents to Han Junmiao's home to arrest her, and had her sent directly to the Baoding Forced Labor Camp. The labor camp refused to accept her because she was very weak. Li Chengqun then sent her to Xiong County Brainwashing Class where she underwent another period of cruel torture.
By this time Ms. Han had been tortured to the point of not being able to eat. She vomited every time she ate. Several days later Han Junmiao's 90-year-old mother went to visit her. When she saw her daughter's terrible condition, she begged the authorities to let her daughter go home. The anxious mother took out the only 300 yuan she had and gave it to a guard named Zhang Guoli. Reluctantly, they allowed Han Junmiao to leave. Even after Han Junmiao returned home, Li Chengqun from the 610 Office still refused to let up on the persecution. He sent people to continually watch her, and harassed and monitored her saying, "When she is able to stand up, we will send her to the labor camp again."
After Han Junmiao was released from the labor camp, she was not allowed to go back to her job. Since the family needed to send two children to school and her husband didn't make much money, they were having a difficult time financially. She petitioned several times to get her job back, but due to pressure from the 610 Office her request was ignored. In the spring of 2005, Han Junmiao started going to the office every day. Her boss didn't assign her any work, so she did general cleaning work. After two months her boss said they would discuss her salary issues with the 610 Office. The very next day, though, Li Chengqun and about eight men came to her house. They lied to her husband saying, "Baoding Forced Labor Camp called and will need to give Han Junmiao a physical examination." Ms. Han refused to go with them. Li then ordered several men to drag her away and put her into a vehicle. When they arrived at their destination, the labor camp refused to accept her. Li had to send her back home, and still had people watch her continually.
Han Junmiao's entire family could not live a normal life due to the continuous harassment and persecution. She was unable to practice and cultivate normally and was under great physical and mental distress. Her health deteriorated and she passed away early in the morning on May 6, 2005. She was 53 years old.
Every case is a debt of blood. Every case represents a rope that will eventually tie up the persecutor. Goodness will be rewarded and evildoing will reap its own peril. The day of reckoning for the CCP when it is held responsible for all the atrocities committed during its brutal persecution is imminent.