Japan: Practitioners Spread Falun Dafa on Commemoration Day in Nagoya (Photos)
June 06, 2005 | By a practitioner in Japan
(Clearwisdom.net) In every city or place in Japan, annual commemoration and memorial ceremonies are held. It is said that these occasions imitate ancient Chinese fairs. The tradition is rare in current day China but continues in Japan. Commemoration Day in Nagoya is usually during October each year, but moved to May 28 and 29 this year to coincide with EXPO 2005, taking place in Nagoya from March through September. Falun Gong practitioners in Nagoya joined the ceremonies with practitioners around the city. They brought truth-clarifying newspapers to the event and explained to people the facts about Falun Gong and the persecution in China.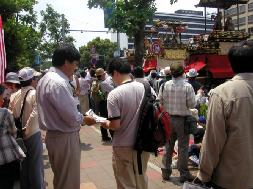 Practitioners explain the facts on the sidewalk
| | |
| --- | --- |
| Japanese man asks for a truth-clarifying newspaper | Saying "Thank you" after accepting the truth-clarifying newspaper |
It was reported that over one million people attended the two-day event. There were more foreigners this year than during the past few years. EXPO 2005 brought Nagoya into the focus of the international community. Ten practitioners distributed several thousand truth-clarifying newspapers within a couple of hours. Many came to ask for the newspaper and learn the facts after seeing the large title about the lawsuit of former Chinese president Jiang Zemin in Japan.
| | |
| --- | --- |
| People accepting the truth-clarifying newspaper | Foreigners accepting the truth-clarifying newspaper |