Taiwan: "Truthfulness-Compassion-Forbearance International Art Exhibition" Held at Oceania University (Photos)
June 30, 2005 | By a practitioner in Taiwan
(Clearwisdom.net) The "Truthfulness-Compassion-Forbearance International Art Exhibition" vehicle, which is traveling to colleges and universities in Taiwan, has arrived at Taiwan Oceania University, Chilung, in the northern part of Taiwan. The exhibition lasted for one week, from June 20-26, 2005, from 10 a.m. to 8 p.m.
The show was unveiled at 2 p.m. on June 20. Mr. Li Kuoten, Vice-President of Taiwan Oceania University, said in his speech: "Falun Gong follows Truthfulness-Compassion-Forbearance. I am deeply impressed by the forbearance of Falun Gong practitioners, who are still determined in their belief although they are being persecuted and harassed. It's really not easy." This is the second time Mr. Li Kuoten had attended the art exhibition. The first time was on Chunghsiao Road, which is close to his home in Taipei.

Mr. Li Kuoten, Vice-President of Taiwan Oceania University, gives a speech at the opening ceremony
Mr. Chang Ching-Chi, Director of the Falun Dafa Association Taiwan, noted in his speech that more than ten years have passed since Falun Gong was publicly introduced in 1992 and that it is welcomed across the world but has been persecuted in China by the Chinese Communist Party since 1999. Following the principles of Truthfulness-Compassion-Forbearance, Falun Gong practitioners clarify the truth in all circles of society and call for a stop to the brutal persecution in China. These artists are also practitioners. After benefiting from practicing Falun Gong, through their paintings they have expressed their compassionate hearts and peaceful states of mind when facing the persecution.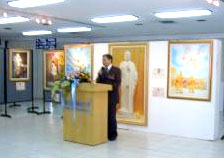 Mr. Chang Ching-Chi, Director of the Falun Dafa Association Taiwan, gives a speech
Mr. Lin Shui-mu, the former mayor of Chilung City, mentioned in his speech that Falun Dafa was spreading all over China when he visited Shanghai seven years ago. There are also many practitioners practicing Falun Gong every day here on the square in front of the Chilung City Cultural Center. Mr. Lin believes that Falun Gong will be more popular in the future.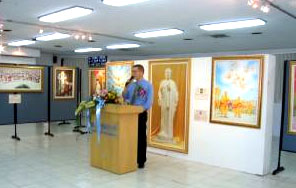 The former mayor of Chilung city, Mr. Lin Shui-mu, gives a speech
A babysitter came to the exhibition with a beautiful eight-month-old baby. She said that before she came to the exhibition the baby was a little uneasy but became quiet after entering the exhibition hall. She further mentioned that the baby slept during the day but not at night. The baby's mother asked her to take care of the baby instead. When this babysitter let the baby listen to Falun Gong audio-lecture tapes, the baby calmed down. Since then the baby has been nice, quiet, and easy to take care.
Some students from Taiwan Oceania University had attended the Art Exhibition in Taipei. After the exhibition, they were interested and curious. They asked many questions about cultivation and got more information about Falun Gong.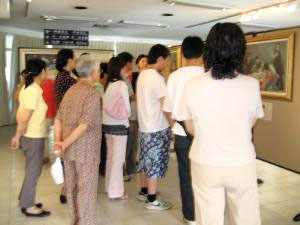 Viewers listen to a practitioner's explanation
Mr. Ye Chen-shin is an artist with more than twenty years of experience in painting. He presented a painting to Taiwan Oceania University in appreciation for its providing such a nice exhibition hall for the art show. He said that it was technically difficult to show the serene and peaceful figures in the painting "Heaven and Human Become One." Mr. Ye highly praised the artist's technique in the painting "Suffering in China." The viewers would notice first the crying lady, then her husband's body by her side, and finally the torn "brainwashing statement" in his hand. People who attend the exhibition are saddened by this scene in the painting.
| | |
| --- | --- |
| Heaven and Human Become One | Suffering in China |
The artists represented in this exhibition come from all over the world. One of them is Wong Wei-hsin, a Chinese artist residing in the U.S. She said she was searching for truth in the maze of art and human life. It was "Truthfulness-Compassion-Forbearance" that guided her out of the maze. She wanted to share her joy with everyone.