Illawarra Mercury, Australia: Falun Gong members claim harassment
June 15, 2005 | By LAUREL-LEE RODERICK
June 14, 2005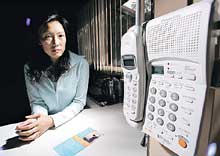 Targeted: Esther Wang, who received harassing phone calls because of her Falun Gong beliefs, has welcomed the spotlight being cast on Chinese government activities in Australia. Picture: KEN ROBERTSON
FALUN Gong members in Wollongong endured a campaign of harassment before a Chinese diplomat went public with allegations of a Chinese spy network in Australia.
Practitioners of the spiritual movement, including David Skoumbourdis and Esther Wang, received a series of harassing phone messages in February and March.
They firmly believe the calls could be traced to the Chinese Government and were not surprised by recent allegations that Beijing could have 1000 spies and informants in Australia.
Diplomat Chen Yonglin caused a political storm when he quit his job at the Chinese consulate in Sydney to seek asylum with his wife and daughter. He alleged China had up to 1000 agents working in Australia to monitor dissident groups such as Falun Gong and to conduct state-sponsored abductions.
Falun Gong, or Falun Dafa, teaches meditation, truthfulness, benevolence and forbearance. It is outlawed in China.
Mr Skoumbourdis has been a member since 2001 and while not Chinese, has not been immune from harassment.
"Falun Gong practitioners have always been victims of abuse and these claims are no surprise to us," he said.
Earlier this year, the University of Wollongong contact for Falun Dafa received several recorded messages in Chinese on his phone, prompting him to change his number.
"It definitely is an uncomfortable feeling to know that the Chinese are able to exert that much influence in Australia," Mr Skoumbourdis said.
Esther Wang received three messages one afternoon in February. It continued for several days until she also changed her phone number.
"The recorded voice said they want to talk about Falun Gong and how it is illegal in China, and then mentioned events from three years ago," Ms Wang said. "Each message was five minutes' long and because they kept doing it, I did feel harassed."
Although the messages did not threaten any harm, Ms Wang fears for her family's safety and is convinced intelligence is being gathered on her activities in Australia.
"My relatives in China have all been visited by national security agents and they told my relatives they know what I do," she said. "It is disturbing they are infringing on our rights and it all relates back to the National Security Bureau in China."
http://www.illawarramercury.com.au/articles/2005/06/14/1118645780977.html