Taiwan: "Truthfulness-Compassion-Forbearance" International Art Exhibition Visits Tsinghua and Chiao Tung Universities (Photos)
May 09, 2005 | By a practitioner in Taiwan
(Clearwisdom.net) The "Truthfulness-Compassion-Forbearance" International Art Exhibition has been held at 16 universities and colleges in Taiwan this semester and will be presented at many more next semester. The exhibition opened at Political University Library at the beginning of April 2005 and the third stop was Tsinghua University.
People view the exhibition
At Tsinghua University the exhibition was held during graduate entrance exams. Practitioners had a group practice and distributed flyers to introduce Falun Gong to passers-by. At Chiao Tung University, Falun Gong introduction materials were placed in the stairway between the first and second floors in the library to catch the attention of passers-by.
People come to view the paintings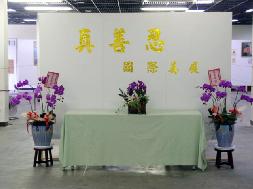 Art exhibition at Tsinghua University
During the exhibition, a student who came to view the paintings on the persecution of Falun Gong practitioners in China shook his head with a sigh. Some viewers asked where to buy the book Zhuan Falun after looking at the paintings. Many were appalled at some of the works and asked if it were true that the persecution was so brutal. Practitioners explained the facts of the persecution to them. Many students learned about Falun Gong and were incredulous at the escalating persecution in China.
A visiting student paid attention to the innocent expression of a young girl in one painting and wondered, "Why can't she return home?" After a practitioner explained the situation, he learned that, after the 610 Office unlawfully arrested the young girl's parents, the girl became homeless. The painting describes the inhumane persecution in China. The student said that he had read Zhuan Falun and that the book teaches people to be good.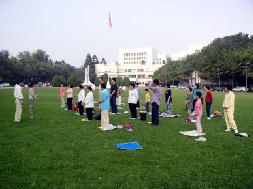 Several viewers learn the Falun Gong exercises
Practitioners at the two universities pointed out that Falun Gong is widespread and welcomed by senior government officials and all walks of life in Taiwan. But across the strait, Jiang's faction has brutally persecuted Falun Gong for six years only because of its widespread popularity. Many teachers and students were deprived of work and study for persisting their belief of "Truth, Compassion, Forbearance." Jiang's faction even breeds hatred in students using propaganda against Falun Gong.
So far the three exhibitions have not only brought the facts of Falun Gong to the faculty and students in the universities but have also allowed predestined people to learn Falun Dafa.