The Epoch Times: Falun Gong, Practiced in 78 Countries (Photo)
May 18, 2005 | By Wang Zhen
May 17, 2005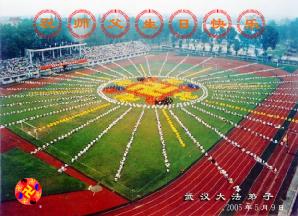 Falun Gong practitioners in Jinan, Shandong sent an electronic birthday card to Mr. Li Hongzhi, the founder of Falun Gong, via Minghui.net for the 13th World Falun Dafa Day. (Clearwisdom.net)
May 13, 2005 was the 13th anniversary of Falun Gong's introduction to the world. It was also the 54th birthday of Mr. Li Hongzhi, the founder of Falun Gong. Falun Gong practitioners and people from all walks of life around the world together celebrated the 13th World Falun Dafa Day with various activities.
Having gone through almost six years of cruel persecution, Falun Gong practitioners in China still insist on the righteous belief of "Truthfulness, Compassion, and Forbearance." In recent days, Falun Gong practitioners in thousands of areas in China sent electronic birthday cards to Mr. Li Hongzhi via minghui.ca [the Chinese version of Clearwisdom].
After six years of continuous and brutal persecution by the Chinese Communist Party (CCP), Falun Gong has not only resiliently endured but it has spread to more than seventy countries, including the Asia-Pacific region, North America, South America, most countries in Europe, and some countries in Africa. This demonstrates the great attraction of "Truthfulness, Compassion, and Forbearance."
Before Falun Dafa Day, on May 5th, the highest court in Hong Kong made a final judgment on the "case of obstructing a public place," that caused a major stir three years ago in Hong Kong and even around the world. The court dropped all charges against the Falun Gong practitioners. The decision successfully protected the Hong Kong people's basic human rights like freedom of speech and demonstration. [see http://english.epochtimes.com/news/5-5-6/28531.html]
In South Korea, a Korean Falun Gong practitioner, Gao Chengnv, who had been imprisoned by the CCP for a year, was rescued from prison on May 13 through the help of people from all walks in Korean society. Gao Chengnv is the wife of Guo Binggao, a South Korean citizen. In the process of rescuing Gao, the people in South Korea gave much support. There were 230,000 South Korean citizens signing petitions to support the rescue, 24 members of Congress establishing a rescue team of members of the Congress, and 71 congresses and groups especially passed a resolution to rescue Gao. The main media in Korea also published tracking reports and actively supported the rescue campaign.
Falun Gong Has Spread to at Least 78 Countries
Falun Gong practitioners are members of all communities in the world. They are supported and respected. Their spirit of devotion is recognized by their communities.
Before Falun Dafa Day, the governor of Georgia announced that May 13, 2005 is "World Falun Dafa Day" in the state of Georgia. There have been more than 2490 letters, awards and supporting bills for Falun Dafa and its founder issued from different groups, government organizations, and members of congresses around the world.
Falun Gong has already spread to at least 78 countries and regions, including the Asia-Pacific region, North America, South America, most regions in Europe, and some countries in Africa. These countries are China, Hong Kong, Taiwan, Macao, Papua New Guinea, Malaysia, Philippines, South Korea, Thailand, Nepal, New Zealand, Singapore, Japan, Sri Lanka, Australia, Indonesia, India, Belorussia, Turkey, Kazakhstan, Kyrgyzstan, Georgia, Cyprus, Russia, Iran, Israel, Ukraine, Poland, Bosnia, Bulgaria, Belgium, Iceland, Portugal, Macedonia, Malta, France, Finland, England, Germany, Denmark, Yugoslavia, Norway, Latvia, Lithuania, Romania, Luxembourg, Croatia, Holland, Czechoslovakia, Spain, Greece, Hungary, Sweden, Switzerland, Slovakia, Slovenia, Estonia, Ireland, Austria, Italy, US, Canada, Panama, Brazil, Bolivia, Belize, Mexico, Peru, Nicaragua, Costa Rica, Guatemala, Honduras, Chile, Argentina, Venezuela, Tanzania, Tunisia, South Africa.
Zhuan Falun Has Been Translated into More than 30 Languages
Zhuan Falun, the main text of Falun Dafa, has been translated into more than thirty languages. Even more translations are being prepared now. Recently, the Italian version of Zhuan Falun and Falun Gong have been formally published by Yihchyun Publication in Taiwan. The published languages include Chinese, English, German, French, Italian, Spanish, Swedish, Finnish, Russian, Hindi, the Thai language, Malaysian, Vietnamese, Hebrew, Arabic, Persian, Romanian, Slovak, Danish, Bulgarian, etc.
http://theepochtimes.com/news/5-5-17/28811.html