Article from Czech Newspaper: Falun Gong on the Streets of Karvina
May 13, 2005 | By Vitezslav Fejfar
The following article was published in the Czech newspaper 'Moravskoslezsky Denik' on April 26, 2005.
Practitioners of the meditation system Falun Gong, which is practised in more then sixty countries worldwide, are back in Karvina to raise awareness about human rights abuses against people in China because they believe in this ancient practice.
"We started our tour in Karvina at the end of the week and we would like to visit Havirov, Frydek-Mistek, Bohumin, Ostrava and Krnov. Our goal is to let people know about the Chinese Government's inhuman treatment and persecution of people in China who practise Falun Gong," explains one of the six people who voluntarily do these activities.
During the activities, passers-by could learn about the torture methods and other Chinese Government atrocities used against Falun Gong practitioners and they could also sign a petition condemning the persecution.
"The petition will be presented to the Czech Parliament Petition Committee and a copy will be given to the UN office," added the organiser, who said that people can also sign the petition on the Falun Gong website.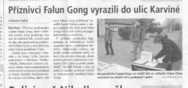 Source http://clearharmony.net/articles/200505/26476.html