Sweden: Promoting Falun Gong at a Stockholm Health Fair (Photos)
April 11, 2005 | By Swedish practitioners
(Clearwisdom.net) On April the 2nd and 3rd, Falun Gong practitioners participated in a health fair called "Harmony Expo" in Liljeholmen, Stockholm. They demonstrated the five sets of exercises on a stage several times during the two days and handed out hundreds of leaflets and newspapers about Falun Gong and the persecution that has been taking place in China for the last six years.
Many people showed their sympathy for China's persecuted Falun Gong practitioners and signed a petition calling for an end to the persecution. One woman who signed took a petition list home to collect signatures amongst her friends.
Members of the public said they really liked seeing the beautiful and peaceful exercises when they were demonstrated on the stage. A young man sat watching practitioners demonstrate the exercises and at the same time he drew some sketches. There were several chances for those who were interested in the exercises to learn on the spot and many took the opportunity to have a go. A lot of people expressed their intent to go to their local practice site and to learn the exercises at a later date.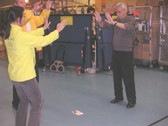 Many people already had a good understanding of the persecution happening to Falun Gong practitioners in China. They knew that the Chinese Communist Party (CCP) does not tolerate spiritual thinking or dissidents and that is why they not only persecute Falun Gong practitioners, but also Christians, Buddhists, Tibetans, monks, nuns and others. Some people asked why Falun Gong is persecuted. Practitioners answered that former Chinese leader Jiang Zemin couldn't tolerate the fact that as many as 70-100 million people practised Falun Gong whilst there were only 60 million CCP members. He banned the practice in July 1999.

Source: http://clearharmony.net/articles/200504/25844.html
Originally published in Swedish at http://se.clearharmony.net/articles/200504/13981.html