U.N. Envoy Finds Torture Still Widespread in China (Photo)
After being forced to lie still on a bed in a cold room for 85 days, Beijing activist Hu told United Nations Special Rapporteur on Torture Manfred Nowak that it was like being killed with a dull knife. Other detainees interviewed by Mr. Nowak, however, begged him to keep their stories confidential to avoid reprisals.
On Friday, during the two-week U.N. visit, Mr. Nowak told reporters that torture is still widespread in China.
In a December 2 report entitled "U.N. investigator catalogues China torture," the AP quotes Mr. Nowak as saying, "Recently I talked with somebody who was forced to kneel on the ground with a board across his legs.. Two men stood on the board, putting
continuous pressure on his legs."
The report continued: "Those who told me the most serious stories very often at the end said: 'Please keep this totally confidential,'" said Nowak.
Besides intimidating interviewees from telling the truth, the Chinese Communist Regime also tried every possible means to prevent the delegation from seeing the truth.
According to another AP report on December 2, 2005, entitled "Officials impeded work, inspector says," The Special Rapporteur said, "There was frequent surveillance of my interviews that I had outside the prisons with victim family members by intelligence agents who tried to, on the one hand, to listen to our private conversations." In addition, "victim families were actually prevented by various means, by putting them under house arrest, or physically prevented them, from coming to meet me."
According to Reuters, Mr. Nowak said: "My preliminary conclusion is that as far as the amount of torture, I would recognize a certain decline ... but nevertheless torture remains widespread in the country."
As the Rapporteur stated that "his team was under frequent surveillance during a two-week trip" (Reuters), Mr. Nowak apparently didn't meet all the people that he should have met. According to the South China Morning Post, the U.N. Special Rapporteur on torture said on November 24 that he was unable to visit Shandong Province to investigate claims of torture against Falun Gong practitioners during his China tour because of time constraints.
One day later, on November 25, two middle-aged Falun Gong practitioners were raped by a policeman in the presence of another policeman, an event which underscored the widespread occurrence of police brutality and torture in China.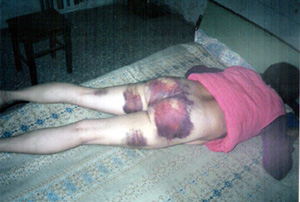 On November 25, two Falun Gong women, ages 42 and 51, were raped in police custody. Shocking photos suggest the violent nature of at least one of the two rapes. The rapes occurred only three days after the U.N. Special Rapporteur on Torture arrived in China for an investigation.