Researchers Discover that Meditation Builds up the Brain (Photo)
(Clearwisdom.net) According to a report from New Scientist on November 15, 2005, researchers have found that meditation does more than just feel good and calm you down, it makes you perform better - and alters the structure of your brain.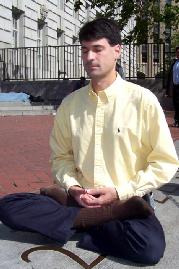 A Falun Gong practitioner doing the sitting meditation
A group of researchers from the University of Kentucky in Lexington made the conclusion based on their recent experiments. They used a well-established "psychomotor vigilance task", which has long been used to quantify the effects of sleepiness on mental acuity. The test involves staring at an LCD screen and pressing a button as soon as an image pops up. Typically, people take 200 to 300 milliseconds to respond, but sleep-deprived people take much longer, and sometimes miss the stimulus altogether. Ten volunteers were tested before and after 40 minutes of either sleep, meditation, reading or light conversation, with all subjects trying all conditions. The 40-minute nap was known to improve performance (after an hour or so to recover from grogginess). But what astonished the researchers was that meditation was the only intervention that immediately led to superior performance, despite none of the volunteers being experienced at meditation.
"Every single subject showed improvement," says O'Hara, one of the researchers. The improvement was even more dramatic after a night without sleep. But, he admits: "Why it improves performance, we do not know." The team is now studying experienced meditators, who spend several hours each day in practice.
Brain builder
What effect meditating has on the structure of the brain has also been a matter of some debate. Now Sara Lazar at the Massachusetts General Hospital in Boston, US, and colleagues have used MRI to compare 15 meditators, with experience ranging from 1 to 30 years, and 15 non-meditators.
They found that meditating actually increases the thickness of the cortex in areas involved in attention and sensory processing, such as the prefrontal cortex and the right anterior insula.
"You are exercising it while you meditate, and it gets bigger," she says. The finding is in line with studies showing that accomplished musicians, athletes and linguists all have thickening in relevant areas of the cortex.
Reference: http://www.newscientist.com/channel/being-human/dn8317.html