Korean Actress Appeals for Falun Gong Before APEC (Photo)
(Clearwisdom.net) According to a report by Central News Agency on November 11, on the eve of APEC, renowned Korean actress Suh Gab-suk joined an appeal in front of the Chinese Embassy at Seoul. Holding a poster reading "Chinese Communist Party Stop the persecution of Falun Gong," she called on the CCP to end the persecution against Falun Gong. She then held a sit-in protest. Before arriving at the embassy, Ms. Suh also walked through the busy downtown area with her poster to send her message to the public.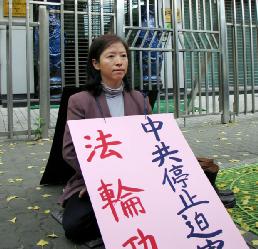 Actress Suh Gab-suk appeals for Falun Gong
Before her departure for the Chinese Embassy, Ms. Suh read an article calling on the CCP to end the persecution. The article stated: Life and freedom are precious, and no one can suppress human rights endowed by heaven for any reason. Her article pointed out that U.S. representatives have appealed to President Bush urging the president to articulate the U.S. position on human rights in China to other leaders, particularly Chinese President Hu Jintao.
With her poster, Suh then walked through downtown and arrived at the Chinese Embassy to protest the persecution and hold a sit-in protest.
According to related laws, rallies or protests at foreign embassies with more than 2 people must obtain permission 1 day in advance. In addition, such rallies or protests can only be held outside a radius of 250 meters from the targeted embassy. Considering such regulations, Ms. Suh decided to protest on her own so that she could get close to the Chinese embassy without needing to report to the police in advance.
Ms. Suh said that she would take the train to Busan to join other practitioners in the evening. In Busan, they will hold a series of activities to expose the brutal persecution to the public and foreign leaders and call on Hu Jintao to stop the unlawful persecution.