Hu Jintao Visits Europe Amid Calls to End The Persecution (Photos)
During Chinese President Hu Jintao's three-country European tour, Falun Gong practitioners held activities to disclose the 6-year brutal persecution to the western world, and called on Hu to end the tragic persecution.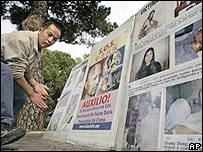 BBC: Falun Gong is expected to hold more protests (AP photo)
The notorious human rights record of China is well-documented. Having found that the government of China has engaged in "systematic and egregious violations of freedom of religion," the U.S. Commission on International Religious Freedom (USCIRF) recently published a report recommending to the Secretary of State that China be designated as a "country of particular concern (CPC)." According to USCIRF Chair Michael Cromartie, China is not improving, and "room for...greater civil and individual freedoms is narrowing in China."
Besides holding appeals, practitioners have also taken legal action against one of the culprit of the persecution, Bo Xilai. Bo, the Chinese Commerce Minister, is accompanying Hu during this tour. The BBC reported on November 13 that practitioners filed charges of genocide against Bo in Spain's high court several days before.
Though Hu's visit has been mainly dominated by trade, a brave western politician reminded Hu of the human rights issue in Germany. According to BBC, German regional leader of the North Rhine-Westphalia state, Juergen Ruettgers, told Hu that he was "convinced that human rights and political liberty, along with prosperity, are today more than ever the irreplaceable foundations for stability and unity".