Japan: Truthfulness-Compassion-Forbearance Art Exhibit in Saitama County (Photos)
October 06, 2005 | By a Falun Gong practitioner in Japan
(Clearwisdom.net) On September 13-18, 2005, a Truthfulness-Compassion-Forbearance Art Exhibit was held at the Joint Communication Center in Saitama City, the biggest city in Saitama County, Japan. Many visitors watched the exhibit and learned about the facts of Falun Gong. They showed their support and encouragement to Falun Gong practitioners. The staff at the center shared the same opinion, that this exhibit was of the highest level among all art exhibitions held here.
The Persons in the Paintings Come Alive
Many visitors said that persons depicted in the paintings seem to be alive. They did not simply view the paintings, but listened to persons in the paintings tell them real stories. Some people could not help touching the children in the paintings to console them. Some people said that the Buddha in the figure of Buddha smiles so benevolently and peacefully, making one feel touched and at ease in heart.
Little Paper Lotus Flowers Become Japanese People's Favorites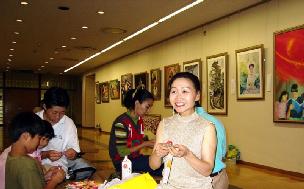 Practitioners make paper lotus flowers
Little lotus flowers tied with a bookmark containing Dafa messages were a favorite of Japanese people who came to visit the exhibit. Some people said they would hang the little lotus flowers as ornaments at home or at their Buddha's altar. Some hung little lotus flowers with message "The world needs Truthfulness-Compassion-Forbearance" in their cars. Some took one lotus flower, and then asked practitioners if they could get one more for their friend. Some people asked practitioners to teach them how to fold paper lotus flowers, so they could make them at home.
People Who Have Learned about the Truth

Through this "Truthfulness-Compassion-Forbearance" Art Exhibit, many people have learned about the facts of Falun Gong. A lady said that she had heard about some reports propagating how "good" China is in Japan, though she knew that all other communist countries' situation was very bad, she had thought the Chinese Communist Party (CCP) was different from them, and was "quite good." Through viewing the art exhibit, she came to understand that the CCP has the same viciousness, and in such a free world, they still brutally persecute human rights, and it is really intolerable by Heaven and Earth.
During the art exhibit, it happened that there was a tea party in the center where some overseas Chinese students attended. Some overseas students who had been abroad quite some time had read Falun Gong truth clarification newspapers. After viewing the art exhibit, they encouraged practitioners and expressed that they would practice Falun Gong if they had time. Overseas students who just came out of China viewed the art exhibit, and their attitude was changed from being scared at the beginning to being bewildered after viewing the works of art. The truth revealed by the paintings strongly impacted their prejudice resulting from the CCP's lies. After listening to practitioners talking about the aim of holding the art exhibit, they expressed that they would take a good look at the truth clarification materials after returning home.
Some people came to visit after receiving practitioners' advertisements, and even came more than once. In particular, an 85-year-old man whose ears and eyes are still sharp, came with his wife the first time to view the art exhibit, and returned home after taking some truth clarification materials. The next day he returned and listened carefully to practitioners explaining facts about Falun Gong. He also left a message expressing that such a brutal thing taking place in China is really incredible. He also encouraged practitioners to make greater efforts to put an end to this persecution as soon as possible. He brought Japanese snacks for practitioners to show his support and encouragement. The third day, he came again. After viewing the exhibit, he said to practitioners that he would leave for his elder brother's home in another county the following day. His elder brother is 87 years old and is very healthy, and can still dance. He has more than 200 students. This time, he would bring some truth clarification materials and little lotus flowers to present to his elder brother and his students. He planned to help them learn about the persecution of Falun Gong practitioners taking place in China. The practitioners appreciated this older man's kind concern.