Washington, DC: Chinese Communist Party Governor Does Not Show Up, Fearing Lawsuits (Photos)
(Clearwisdom.net) On October 25, the chief perpetrator of the persecution of Falun Gong in Guangdong Province, Governor Huang Huahua, did not show up in Washington DC in a provincial delegation. Reportedly, Huang was scheduled to visit the Capitol on October 25. Several days ago, during Huang's visit to Canada, he was sued for his role in the persecution of Falun Gong by practitioners and served with a court summons. On October 17, U.S. attorneys also filed a lawsuit against Huang for torture. The U.S. Department of Homeland Security and the Department of Justice received a request to deny entry to Huang. These departments also received related materials as background information. The general media speculated that the change to Huang's itinerary was related to the lawsuits against him.
Recently, Chinese Communist Party (CCP) officials who have persecuted Falun Gong have repeatedly faced civil lawsuits during their overseas visits. For example, CCP Minister of Commerce Bo Xilai was to visit Canada and the U.S. with President Hu Jintao. Under overwhelming calls for denying entry of human rights perpetrators to Canada, Bo's name disappeared from Hu's list of delegates.
In addition, Xia Deren, Dalian Mayor and deputy governor of Liaoning Province, also didn't visit Canada at the end of September as planned. Falun Gong practitioners submitted Xia's name to the Royal Canadian Mounted Police for monitoring. When the public learned that Xia was to visit Canada on a trip to promote commerce between China and Canada, many media outlets reported on his relationship with the persecution of Falun Gong. In the end, Xia didn't come.
| | |
| --- | --- |
| U.S. Department of Justice | Acknowledgement of receipt |
Huang Huahua Sued For Torture During His Visit to U.S. and Canada
Since the recent announcement of the intent of the Falun Dafa Association to sue perpetrators of the persecution, Huang Huahua was the first high-ranking CCP official responsible for the persecution who traveled from the Mainland to visit other countries.
On the morning of October 14, 2005, International Advocates for Justice and Human Rights Law Project filed a criminal complaint to the U.S. Federal Court in Northern California against Huang Huahua, Governor of Guangdong Province, for crimes of torture. The complaint also asked the federal courts to thoroughly investigate Huang's crimes and to carry out a criminal trial of those who have committed crimes of torture outside the U.S., in accordance with federal laws. In the meantime, the complaint requested the Federal Court to inform U.S. Customs, Immigration Office, Homeland Security and the FBI about Huang Huahua's crimes.
At 3:17 p.m. on Monday, October 17, a criminal petition was filed with the US Attorney's Office, Criminal Division, charging Huang Huahua with acts of torture in violation of the criminal laws of the United States. Title 18, Section 2340 makes acts of torture committed outside the U.S. subject to criminal prosecution in this country. The Executive Director of International Advocates for Justice, Attorney Han, and the Executive Director of Human Rights Law Project, Attorney Marsh filed the petition. In a separate cover letter addressed to the US Attorney, Kenneth L. Wainstein, the attorneys for Falun Gong stated:
"Mr. Huang has played a major role in carrying out numerous acts of torture and genocide in connection with a six year campaign of persecution against Falun Gong practitioners that has been waged by many high-level officials of the Chinese Government and the Chinese Communist Party, as instituted by former President of China Jiang Zemin. These abuses violate international human rights standards, the law and Constitution of China, and the criminal laws of the United States. We therefore call upon you to promptly investigate these criminal charges, initiate the criminal prosecution of Mr. Xuang, and secure his arrest pending completion of your investigation so that he cannot flee prosecution by returning to China."
On the morning of October 21, the day after Huang arrived in Vancouver, Huang received a summons from the British Columbia (BC) Superior Court while on a boat ride to Victoria (the capital of BC). On October 20, Falun Gong practitioner Kevin Duan, who has recently moved to Canada from Mainland China and was brutally persecuted in a forced labor camp and brainwashing sessions in Guangzhou, filed a lawsuit charging Huang for harshly persecuting him and other practitioners during Huang's tenure as party secretary and governor.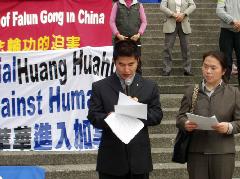 Practitioner Kevin Duan recounted his suffering in Guangdong under Huang's tenure
Attorney Writes to Secretary Chertoff of Homeland Security
Attorney Terri Marsh, Executive Director of the Human Rights Law Project, wrote to Secretary Chertoff of Homeland Security on October 17, 2005. Attorney Marsh stated in her letter, "We are writing this letter to bring to your attention the upcoming visit of Mr. Huang Huahua to the District of Columbia on or around October 25, 2005. We request that this individual be prevented from entering the U.S. as the law requires, or if he is admitted, that admittance be allowed to take place only for the purpose of subjecting him to criminal prosecution as required under our treaty commitments under the Convention Against Torture, and U.S. laws implementing these treaties."
Attorney Marsh further stated in her letter, "We also think it is important to point out that U.S. customs and immigration law prohibits entry of torturers and others who commit major human rights abuses, and that the U.S. Bureau of Immigration and Customs Enforcement should be alerted to their responsibility to more effectively prevent the entry of those who have committed major crimes against humanity, as Mr. Huang has done."
On the afternoon of October 18, the letter and criminal petition were delivered to the Department of Homeland Security in Washington DC.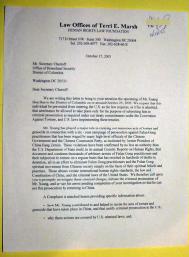 Copy of Attorney Terri Marsh's letter to Secretary Chertoff of Homeland Security and acknowledgement of receipt
WOIPFG Implements a Global Monitoring and Tracking System
After the Falun Dafa Association made an announcement on October 9, the World Organization to Investigate the Persecution of Falun Gong (WOIPFG) implemented a global monitoring and tracking system.
The WOIPFG announced on October 16: "A global monitoring and tracking system has been implemented, consisting of human rights organizations and individuals located in nearly 300 cities in more than 70 countries. The World Organization to Investigate the Persecution of Falun Gong is coordinating its operation. The goal of the system is to monitor and keep track of Chinese Communist Party (CCP) and Chinese government officials who are actively involved in the persecution of Falun Gong, so as to assist victims in pursuing legal actions in a timely manner. The tracking system focuses on those who give orders, arrest, brainwash, abuse, torture, and murder Falun Gong practitioners, and those who are directly involved in blocking information, instigating the media [to report false news or withhold news about Falun Gong], and sentencing practitioners without legal basis."
Those Involved in Persecution of Falun Gong Face Final Choice
The Executive Director of International Advocates for Justice, Attorney Han, said, "Along with the exposure and further investigation of the persecution, more and more people and organizations have learned about the evil nature of the persecution. Many Chinese officials have expressed a willingness to change their behavior and correct their mistakes. However, some officials like Huang continue committing crimes against humanity. They will be held responsible for what they have done and brought to justice."
The WOIPFG urges those who are persecuted and other people of conscience in China to assist in monitoring and tracking provincial, regional, municipal, and county officials and staff who continue to persecute Falun Gong, as well as the CCP officials who are directly responsible for the persecution. In particular, information is sought regarding the perpetrators' overseas visits. Wherever possible, reports should include name, gender, age, position, and facial characteristics (photo would be best), the country, city, and time of visit, and whether they have any illegal assets or commercial activities overseas. Please send the information to the WOIPFG or forward it through reliable channels.
The WOIPFG urges those who are willing to change their behavior and correct their mistakes to send their guarantee statements or letters of regret through safe channels to the Minghui/Clearwisdom website.