Portsmouth Herald News, NH: Clarifying the truth - Maine couple takes on the war against Falun Gong
January 26, 2005 | By Abigail Smestad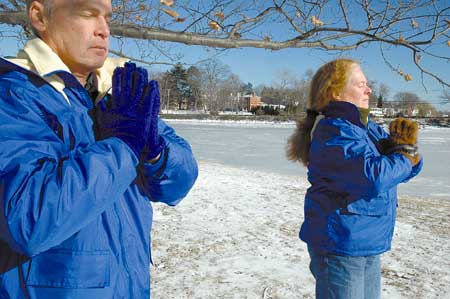 Photo by Amy Root-Donle
Marcus Gale and Mary Byrom demonstrate Falun Gong by South Mill Pond in Portsmouth Friday morning.
What would happen if yoga suddenly became illegal? If the government decided that since so many people were doing Pilates, it was going to outlaw the exercise and persecute everyone who continued to practice it?
This is what allegedly happened in China with Falun Gong, an ancient Chinese form of meditation used to improve individual health and spiritual well-being.
Marcus Gale, 53, is a singer and performing artist who has been practicing Falun Gong, also called Falun Dafa, since 1998. According to Gale, the Communist party in China outlawed the meditative practice in 1999 because it saw the increasing number of followers as a threat to the government.
"There's all this talk about terrorism," Gale said, "and here are 100 million people being terrorizd and no one knows about it. There's a secret genocide campaign going on. People should care when basic human freedom is being challenged on such a large scale."
[...]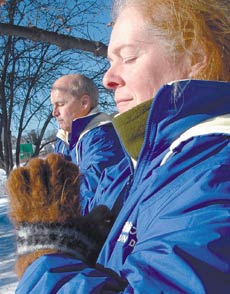 Photo by Amy Root-Donle
Peter Somssich, secretary of the N.H. Seacoast 550 chapter of Amnesty International, said the Communist government in China has been persecuting Falun Gong followers in various ways and that as far as he knows, there is Isn't anything illegal about practicing the exercise.
"(Falun Gong followers and activists) do have a very strong case where they are being persecuted for no obvious reason and it's certainly a violation of human rights," said Somssich.
The Amnesty International Web site states that "tens of thousands of Falun Gong practitioners have been arbitrarily detained by police, some of them repeatedly for short periods, and put under pressure to renounce their beliefs. Many of them are reported to have been tortured or ill-treated in detention. Some practitioners have been detained in psychiatric hospitals.
Those who have spoken out publicly about the persecution of practitioners since the ban have suffered harsh reprisals."
Gale said that he and his wife, Mary Byrom, of North Berwick, Maine, have found Falun Gong to be a successful form of stress relief and a way to improve the mind, body and spirit. They said they were shocked when they learned that the form of meditation was illegal in China and that followers were allegedly being arrested, tortured and even beaten to death.
Gale and Byrom, a visual artist, wanted to get involved and have used their talents to increase local awareness about the Chinese struggle over the past four years. Gale said that they decided to show people "live and in-person what's really going on."
In addition to handing out brochures on a daily basis, Gale has written numerous children's songs explaining what is happening in China. Such as "The Trial," about the grand trial of one of the communist leaders persecuting Falun Gong followers, and "Why," about all the children in China who have been orphaned after their parents were taken away for practicing the meditative art.
Byrom designed a live anti-torture exhibit by constructing cages and various tools used for torture and then having actors pose and depict the violent acts that are taking place in China. The "living theater exhibit" took place on the streets of Boston and New York during the Democratic and Republican National Conventions last year. Byrom said that more than 3,000 volunteers from all over the world arrived to participate in the weeklong, live exhibit.
"There were 300 people next to the exhibit doing the exercises," Byrom said.
"I had it set up so you could see, this is the practice, and then this is what happens to them when they do this in China, and then there were the torture exhibits."
"Anyone who practices Falun Gong feels like it has improved their physical health and emotional health," Gale said. "(Those involved) feel like they can make a difference and help. We aren't protesting, we're just clarifying the truth."
"I feel like (what I've done) is just a beginning step," Byrom said. "I won't feel relaxed, or content, or happy until they stop the persecution."
According to the Web site, "Amnesty International is calling on the Chinese government to stop the mass arbitrary detentions, unfair trials and other human-rights violations resulting from the crackdown on the Falun Gong and other groups branded by the government as 'heretical organizations.' All the information available indicates that the crackdown is politically motivated, with legislation being used retroactively to convict people on politically driven charges, and new regulations introduced to further restrict fundamental freedoms."
"This is so huge," Byrom said. "I mean, I think one out of every five families is affected by this. I mean, people must know about it."
Gale contends that the persecution of Falun Gong has affected 100 million people in China because the government wants to wipe out the practice by wiping-out the people involved. He just wants to make a difference.
"It's a practice that's good for people's well-being," Gale said, "and if you aren't hearing about (the persecution of Falun Gong) in the news, then you need to hear about it somewhere."
Both Gale and Byrom said they plan to continue using their artistic talents to expose the struggle over Falun Gong in China. One of the next steps, Byrom said, will be a series of forums at various colleges and universities around the Seacoast and New England.
[...]
http://www.seacoastonline.com/news/01252005/it/60938.htm