(Clearwisdom.net)
I. Traditional Chinese culture was established by Gods
Traditional Chinese culture is a precious cultural heritage. It not only carries 5,000 years of long-standing history but is also the cultural heritage from previous human civilization, or in other words, from pre-historic civilizations. Among these very ancient aspects of Chinese culture are Taiji, Hetu, Luoshu, Zhouyi, Bagua, and so on. The palaces of various dynasties collapsed one after another, but the cultures remained. Even when the Central Plains were ruled by different nationalities, what the conquerors had taken was only in the form of land and wealth. In the end, the conquerors themselves were conquered by the Chinese culture. This is the most unique cultural phenomenon in human history.
(Clearwisdom.net) The most recent headline news in China is the passing of Mr. Zhao Ziyang. Many affectionate commemorative articles were found online after this 85-year-old man, who lived under house arrest for 15 years, passed away. The media in Hong Kong heavily reported his death. The title of the headline news of Apple Daily is "CCP Owes Him Justice," and Ming Pao published a front-page article titled "Zhao Ziyang is 'Free.'" Major media in the U.S. also gave lots of coverage to the news. The New York Times published on its international news section a picture of Zhao Ziyang on the eve of June 4, 1989 at the Tiananmen Square, as he gave a speech to the hunger-striking students. The Washington Post reported it as headline news on its international page, including a recent picture of a white-haired Zhao Ziyang. The media in Europe, Russia, Japan, Korea, and other regions around the world also covered the news.
(Clearwisdom.net) Ms. Xu Xiuzhi, 48, was a Falun Gong practitioner from Gaobeidian City, Hebei Province. In 2000, she went to the city government to appeal for Falun Gong and was sentenced to two years of forced labor. After her term expired, she was released; however, police headed by Zhao Kejun and Zhao Jun from the city police department and the 610 Office kept coming to her home to harass her. In order to avoid further persecution, she left home and went back to her parents' home in northeast China. The police didn't want to give up, and they went to northeast China three times attempting to catch her. In June 2003, the police arrested Xu Xiuzhi. After taking her back to Hebei Province, the police persecuted her in a brainwashing class for over 50 days before releasing her. Afterwards, she was forced to report to the local police station once every week. The police station director even abused her sexually. Under the tremendous pressure, Ms. Xu became incontinent and her lower body was paralyzed. She passed away in June 2004.
~ Accounts of Persecution ~
~ Rallies & Protests ~
~ Falun Dafa in the Media ~
~ Other Community Events ~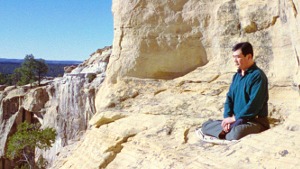 Master Li quietly watching the world from amidst the mountains after leaving New York following July 20th, 1999. (Published January 19, 2000)