Turned Out Into the Cold: The Situation of Children Orphaned as a Result of the Persecution of Falun Gong (Photos)
(Clearwisdom.net) (Comprehensive report by Li Ming, Clearwisdom reporter)
Children are the most vulnerable and innocent beings. The duty of protecting them and providing them with loving care is undeniably among the highest position within any civilized society's social ethics.
In August 1925, representatives from 54 countries gathered in Geneva, Switzerland to attend the "World Conference on the Well Being of Children." The attendees adopted and passed the "Geneva Declaration Protecting Children." Following the conference, various governments around the world designated one day each year as Children's Day, different in each country, to draw attention to children's issues.
During World War II, June 1942, in the Czech Village of Lidice, the Nazis slaughtered all the newborn babies and more than 140 male citizens over 16 years of age by machine gun fire, and sent women and 90 other children to concentration camps. All the houses and buildings in the village were burned down. The entire village was destroyed.
To memorialize all the children who died in Lidice, as well as in the rest of the world during World War II, and to safeguard the world's children's rights to subsistence, to receive health care and education, and to oppose the killing and mistreatment of children, the International Democratic Women's Union Board of Directors held a meeting in Moscow, Russia in November 1949. They designated June 1st of each year to be a festival for children from all over the world - International Children's Festival Day.
Since the United Nations was established, children's well-being and rights have always been a major issue. On December 11, 1946, the United Nations Children's Fund was established. The "Universal Declarations of Human Rights," passed by the United Nations General Assembly in 1948, acknowledged the need to assure special care and assistance for children. At present, various countries have been paying attention to their children's future and they actively protect children's rights and interests. In 1989, the United Nations passed the "Convention on the Rights of Children."
Childhood is supposed to be a time of happiness and good memories in a person's life. People often describe this segment of their life as their "golden childhood."
China is one of the countries that participated in formulating and signing the United Nations' "Convention on Rights of Children." But since 1999, a ruthless persecution in China against Falun Gong practitioners, that has so far lasted over five years, has caused hundreds of children to lose their parents. Since the "Notice Regarding Collecting Information About Orphans" was published by Clearwisdom Editors on September 15, detailed information on more than 100 orphans has made it through the Chinese Communist's strict information blockade. The information, published on Clearwisdom.net, includes data on newborn babies, kindergarten children, elementary school students and other young boys and girls.
These innocent children were deprived of happiness merely because their parents persisted in and were persecuted for their belief in Truthfulness, Compassion and Forbearance. After losing their parents, the children have been denied the care and support they need. They are lonely and poor, have to endure derision, being looked down upon, laughed at, sneered at or even have to endure abuse from their peers and those adults whose minds have been poisoned by the lies from Jiang's factions about Falun Gong. These children's tender and young hearts have been harmed time after time. Moreover, after their parents were killed, the authorities looked for many of these orphans. Some children were abducted, some children's whereabouts became unknown, and some children were even deceived into being forced to watch the autopsy of their loved ones.
I. Young hearts withstand tremendous mental suffering
When the killing reaches the most vulnerable ones, those who have absolutely no power or defense, the degree of the terror and evilness of the persecution becomes abundantly clear. It's heartbreaking enough to think about innocent children who have lost their parents, but what the orphans of Falun Gong practitioners have suffered is beyond imagination, as the following stories illustrate.
Unable to bear the mental devastation, a Chongqing middle school student drank pesticide in a suicide attempt
http://www.clearwisdom.net/emh/articles/2004/11/25/54916.html
Ms. Li Qingqing, 13 years old, is a student in the Jiangjin City Heping Middle School. She lives in the Ninth Section of Zhouwu Village, Luohuang Town, Jiangjin City in Chongqing. Qingqing became an orphan when she was only nine years old. Her father died of illness in 2000. Her mother, Ms. Zeng Fanshu, was a schoolteacher at Xiangtang Middle School in Shuangfu Town of Jiangjin City. Ms. Zeng started to practice Falun Gong in 1996. Since the persecution began on July 20, 1999, she was abducted six times by the authorities. On the 19th day of the 12th lunar month in 2001 (around January 2001), 11 days before the Chinese New Year, the police illegally broke into her home again and took her away. Because Ms. Zeng refused to give up Falun Gong practice, she died from torture in the Dongmen brainwashing center in Jiangjin City on the second day of the 2001 Lunar New Year.
Qingqing, who just lost her father, now lost her mother. She had to go live in her uncle's home and often cried for her mother.
In China, a poor orphan like her who has to bear the pain of losing both her parents cannot get the help she deserves, either from the government or from society. Moreover, because of Jiang's factions' defamation and lies and horrible suppression against Falun Gong, none of the young children around Qingqing would dare to play with her.
Qingqing could no longer bear such cruelties. She drank several ounces of a substance thought to be a pesticide. When others knew that she had taken the pesticide, no one even tried to save her!
Alas! The bloodshed and terror from Jiang's persecution against Falun Gong have devastated the average person's human nature, and fear has caused them to lose sympathy and compassion. Fortunately for Qingqing, the substance was not pesticide, so her life was spared.
A five-year-old child lives in ridicule and insult
http://www.clearwisdom.net/emh/articles/2004/12/4/55237.html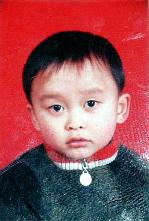 Wang Jing was born in November 1998 and lives at 49 Yutie Village, Chongqing City. He turned five years old in 2003. Wang Jing not only has had to bear the pain of losing his mother and not seeing his father who had been illegally detained for years, but he also has to withstand the ridicule and insults from children around him whose minds had been poisoned by Jiang and his faction's lies about Falun Gong. Wang Jing grew up depressed and sad.
In February 2003, Wang Jing's father, Falun Gong practitioner Mr. Wang Zhihai, was released from a labor camp and returned home. Little Wang Jing was so happy reuniting with his father whom he hadn't seen for years. He hadn't been with either father or mother since he was half a year old. How he admired others who had both parents' love and care! How his young heart longed to also be with his mother!
However, before long, the destructive, sad news came that his mother had been killed in detention. Wang Jiang's mother, Ms. Duan Shiqiong, worked for the Chongqing Railroad Passenger Services. She was a good wife and mother and was well liked by her colleagues and customers.
Since the persecution began in 1999, Ms. Duan went to Beijing twice to appeal for Falun Gong. She was arrested many times and her home was ransacked many times. On June 19, 2003, the Jinniu District Court secretly sentenced her to seven years in prison. She was brutally tortured. On August 11, 2003, Duan Shiqiong was transferred to Bed 13 at the Surgical Department, Qingyang District People's Hospital in Chengdu City, where she was still being tortured. She died in the hospital on September 16, 2003 at the age of 34. Little Wang Jing's dream of reuniting with his mother will never be realized.
Seven-year-old girl is afraid to mention her parents' names
Zhen Xianchu, nicknamed Gege, is a 7-year-old girl who was born in January 1997. She is currently an elementary school student in the second grade. Her mother, Falun Gong practitioner Ms. Shen Jianli, was born in October 1969. Ms. Shen had a Master's Degree in Mathematics and was a faculty member of the Department of Applied Mathematics at the Nanling Campus of Jilin University, in Changchun City, Jilin Province. She was tortured to death in April 2002 at the age of 34. Gege's father, Mr. Zheng Weidong, is also a Falun Gong practitioner. The Nanguan District Court in Changchun sentenced him to 13 years in prison on March 6, 2002. He is currently imprisoned in Shilingzi Prison in Siping City, Jilin Province.
On March 6, 2002, Gege and her mother went to the Nanguan District Court to watch her father's trial. Her mother was arrested at the court entrance and tortured to death a month later. That day, 4-year-old Gege was left alone at the court entrance. Several Falun Gong practitioners took care of her until they found her grandparents. The grandparents have been struggling financially. Their only income comes from the grandfather's 600 yuan monthly retirement salary. What's more heartbreaking is that Gege's grandmother died from a heart attack in October 2004 and her grandfather is also in poor health. Her maternal grandparents also suffer from many ailments, including heart disease, legs pains, and other ailments. The elderly couple was devastated by the news that their daughter was tortured to death for practicing Falun Gong.
Gege is afraid to mention her parents' real names. She becomes very frightened whenever policemen are mentioned. http://www.clearwisdom.net/emh/articles/2004/11/22/54828.html
In China, because of the hate propaganda by Jiang's faction, many students and schoolteachers still do not understand the truth of the persecution of Falun Gong. Some schools are still carrying on signature campaigns to criticize Falun Gong, and some school principals and schoolteachers "have talks" with students whose parents are Falun Gong practitioners. These pressures have created heavy mental burdens for the children. On top of losing their parents, which has made them miserable to begin with, the pressure from the school and teachers, as well as the misunderstandings from their schoolmates, have created a great psychological burden for these children. As a result, they've had a difficult time concentrating on class work; their academic records have dropped, and their physical health has been affected as well. Due to such extreme pressure and fear, some children even dare not accept any care or help from Falun Gong practitioners. The Chinese Communist Party and Jiang's terrorist tyranny even makes it difficult to provide care to an orphan of a Falun Gong practitioner.
II. Orphans become fugitive, or their whereabouts became unknown
The story of Liu Xiantian
Liu Xiaotian was born in December of 1985. He is now 20 years old. His family lived in Yongzhou City, Hunan Province. His father was Liu Qing, an official of the Zhishan Town Government in Yongzhou City. His mother was Yang Yuyan, who used to be employed by the Shanghe Town Textile Factory, in the Lengshuitan District. Prior to 2001, Liu Xiaotian's family led a happy life. Although they were not rich, they lived a harmonious life. His mother had given birth to him at a late age, and the parents doted on him. Liu Xiaotian went to the local middle school and led a happy and peaceful life. http://www.clearwisdom.net/emh/articles/2004/8/21/51602.html
One day at the beginning of 1999, his father came home from a business trip to Wuhan City, Hubei Province and said that he had seen many people practicing Falun Gong in the Wuhan Town Square. The exercises were beautiful. Soon after, his parents began to practice Falun Gong and follow its principles of Truthfulness-Compassion-Forbearance. They wanted to become better people. They learned to cultivate their minds and to think of others first. In the fall of 1999, his mother's work place planned to lay off some of their employees. In order for people who had a more difficult situation to keep their job, Xiaotian's mother volunteered to be laid off in October.
When Xiaotian was sixteen years old, a disaster hit this family. On November 23, 2001, a Friday, Liu Xiaotian was in the classroom. The police came to his school and told his teacher that his parents were detained. They asked for him. A classmate overheard it and ran to tell him that his parents were in trouble and the police wanted him. Hearing that, Liu Xiaotian quivered with fear. He ran out of the school without taking anything. He hid in his neighbor's storage room for the night. Around midnight, he snuck across the road to check out his home. He saw that the windows of his home were smashed, and so was the furniture inside. His neighbor saw him and offered for him to stay at his place. However, two or three days later, the police went to the neighbor's place, telling them that if they saw Liu Xiaotian and didn't report this to the police, they would be punished. The neighbor had no way out but to give the boy some money and send him to his only relative, an uncle who is a farmer in Fujian Province.
After a long and hard journey, Xiaotian finally reached his uncle's place. His legs were injured and he had a big scar on his neck. Five or six months later, in May of 2002, the local police came to his uncle's home. Liu Xiaotian immediately hid. He didn't know what the police said to his uncle, but after the police left, his uncle became very quiet. That night, his uncle asked a friend to send Xiaotian to Shenzhen, a city close to Hong Kong. He hid in a huge warehouse filled with piles of sacks. He dared not speak to anyone and thus spent a whole year in fear and anxiety, and suffered from depression.
Young Xiaotian missed his parents, but his uncle always told him that he had no information about them. He spent a lonely year in this warehouse. He had nobody to talk with, and had no love and care from anybody. The nights were so long and the sorrow was so enormous. Because the mental anguish was so huge, together with the long-term isolation, his mind suffered great harm.
In June of 2003, his uncle, who did not have an easy life to begin with, went into enormous debt to pay smugglers to get Xiaotian out of China. On July 1, 2003, Liu Xiaotian arrived in Denmark. Regrettably, several hours later, the smuggler took him to the Copenhagen railway station and left. Having experienced so many threats and deceptions, Liu Xiaotian became very fearful. He trembled at the sight of the police. An older Chinese lady took him to a refugee camp. Deeply frightened, he couldn't speak properly, nor could he fill out forms. He was mostly afraid of being sent back to China and put in the hands of the Chinese police.
With the help of the staff in the refugee camp, Liu Xiaotian got in contact with Falun Gong practitioners in Denmark. He cried. The first words he said to them were to ask them to look for his parents. He missed his father. He missed his mother. Because of what he had gone through, he couldn't express himself clearly. He couldn't read books, either. He often cried and had nightmares. It took Denmark Falun Gong practitioners one year before they could really learn all that he had suffered.
Not long ago, his uncle who still lives in China, told him for the first time that his parents had died in April 2002 from torture, five months after they were detained. No one knows exactly what happened or in which prison they died. The uncle told Xiaotian that, during that visit by the local police in May of 2002, the police informed him of the death of Liu Xiaotian's parents. They refused to tell him any details. He dared not ask anything either, after he heard the police say the word "suicide." [ed. note: the authorities often label torture deaths of Falun Gong practitioners in detention as "suicide," to absolve themselves of any responsibility.]
What's more inconceivable is that after the police took two lives in five months, they intended to get rid of the victims' orphan. They forced Liu Xiaotian's uncle to sign papers declaring that he "would disassociate himself from Liu Xiaotian's family." That meant that he could have nothing to do with them. The police also demanded that he report Liu Xiaotian's whereabouts and threatened that their entire family would be punished, should they go against this directive. His uncle was deeply frightened. Therefore, he sent Liu Xiaotian that very night to that warehouse in Shenzhen. He dared not keep Liu Xiaotian at his own place. Liu Xiaotian had no one to turn to in China, nor did he see any way out. That is the reason his uncle had to borrow a huge amount of money, a debt that he can so far not pay off, to send Liu Xiaotian abroad.
Photos provided by some kind-hearted people who have information, told Liu Xiaotian that the police first posted seals on the gate of his family home. Later they tore the house down and removed the ruins, leaving nothing there.
Liu Xiaotian's true-to-life reenactment of the role of a victim in an anti-torture exhibit held in Northern Europe. He said he wanted to let people know about his parents' suffering.
Liu Xiaotian finally escaped from China with his uncle's help, who risked his own life to do this. He started practicing Falun Gong as well, in Denmark, with the help from local Falun Gong practitioners.
There are countless children in China who have similar fates as Xiaotian's, and their whereabouts are still unknown as of today.
A thirteen-year-old boy is missing
According to a Clearwisdom report from November 2004, Falun Gong practitioner Mr. Miao Qisheng from Shenyang City, Liaoning Province was tortured to death on May 14, 2002 by officers from the Xianggong Police Station in the Huanggu District, Shenyang City. He was only 36 years old. Officers at the Xianggong Police Station secretly carried the body away and banned his family and relatives from seeing his body. They stonewalled all requests for information. Mr. Miao's wife, Ms. Zu Liming, is also a Falun Gong practitioner. Ms. Zu was abducted in April 2001. Their son Miao Yumeng, around 13 years old, suffers from heart disease and his whereabouts are unknown.
http://www.clearwisdom.net/emh/articles/2004/11/19/54713.html
A twelve-year-old girl is missing after her mother is tortured to death
According to another Minghui report from December 1, 2004, Ms. Liu Limei from the Institute for Animal Medical Research, the Northeastern Agricultural University in the Xiangfang District, Harbin City, Heilongjiang Province was tortured to death in the Wanjia Labor Camp at 6:30 a.m. on August 12, 2003 for refusing to give up Falun Gong practice. She left behind a twelve-year-old daughter, who was an elementary school student at the Subsidiary Elementary School, the Northeastern Agricultural University. Now her daughter's whereabouts are unknown.
III. Denied adequate care and support, many children lead a difficult life, bullied and humiliated
According to detailed information on more than a hundred orphans of Falun Gong practitioners in China that Clearwisdom has received, almost all children have lost any source of income after their parent or both parents were tortured to death. They have been denied adequate care and support. Some children's families had already been ruined after being extorted out of huge amounts of money or through frequent ransacking of their homes and belongings. These poor children can only live with their remaining single parent, paternal grandparents or maternal grandparents, who have little or no income at all. Some children have been forced out of school. Some older children had to leave home and work at odd jobs to make a living. Other children live under others' roofs, leading a difficult life.
?
A young boy loses his mom and is forced to quit school to help make ends meet
Wang Defu, nicknamed Chubby, son of Falun Dafa practitioner Ms. Zhang Haiyan, is now twelve years old. He lives in the Wangjia residential group, Dongxin Village, Hujia Township, Heishan County, Liaoning Province. Soon after Ms. Zhang started practicing Falun Gong, her nearsightedness was cured and her deformed right leg became normal. She benefited from the practice, both physically and mentally. After Jiang Zemin's regime started persecuting Falun Gong in 1999, Ms. Zhang fearlessly continued to practice and was therefore illegally jailed. On January 18, 2004, Ms. Zhang Haiyan died as a result of more than two years of inhumane torture. Chubby was devastated at his mother's death. He cried, "I'll never see my mommy again!"
Chubby now lives with his father and his disabled grandfather and grandmother who are in poor health. The family has less than half an acre of land per person on which to make a living. They live in a run-down mud brick house with a damaged roof, but they can't afford to fix it. Ms. Zhang Haiyan used to be the family's main breadwinner, but after she was detained and died, their family was ruined financially. Now Chubby had to quit school in order to work with his father as a shepherd to make a living. His face is often dirty after a long day's work. It's heartbreaking to see his situation. http://www.clearwisdom.net/emh/articles/2004/11/29/55044.html
Little Huang Ying's story
| | | |
| --- | --- | --- |
| | | |
| "Happy" kissing the picture of her mother saying, "I miss Mommy." | Happy's mom, Luo Zhixiang, who was tortured to death by perpetrators from the Tianhe District 610 Office | Happy's mom, Luo Zhixiang, and dad, Huang Guohua |
Falun Dafa practitioner Ms. Luo Zhixiang used to be the architectural designer in the Design Office at the Nongken Construction Industry Corporation in Guangdong Province. On November 22, 2002, personnel from the Tianhe District 610 Office in Guangzhou City, along with personnel from the Xinghuajie Police Station, took her to the Huangpu Drug Rehabilitation Center for brainwashing. She was tortured to death on December 4 at the age of 29. She was three months pregnant when she died. Ms. Luo's daughter Huang Ying, nicknamed Happy, was only a year and a half when she died. Right now Happy lives with her grandparents in a dilapidated house made of sun-dried mud bricks at No. 12 Xincun, Rujiazhuang Village, Wujing Town, Linqu County, Shandong Province. Her grandparents have no source of income. They lead a difficult life. Happy's father, Mr. Huang Guohua, is also a Falun Gong practitioner who persisted in clarifying the truth of Falun Gong and was illegally jailed by the authorities. After he was released, the 610 Office in Guangzhou City was still after him. He went into exile in Thailand. http://www.clearwisdom.net/emh/articles/2004/10/4/53117.html
Two young sisters lead a hard life with their 95-year-old grandmother
Falun Gong practitioner Ms. Li Mei from Maoming City, Guangdong Province was 48 years old when she died. On January 24, 2001, the Chinese New Year's Day, Ms. Li was abducted and detained in the Zhaitou Detention Center, Dianbai County, and was later transferred to the Maoming Brainwashing Center. At the brainwashing center, Li Mei suffered brutal torture and was injected with drugs that damaged her nervous system and left her disoriented and confused. Consequently, she was no longer able to take care of herself after her release on August 2, 2003. Li Mei passed away on June 24, 2004. She left behind two daughters, 14-year-old Li Guanggen and 10-year-old Li Guanghua, who are students at Zhongpo Elementary School in Poxin Town. Their father does seasonal labor away from home. The children are left in the care of Li Mei's 95-year-old mother-in-law who also needs to attend to housework with meager resources. The family's situation is heartbreaking.
http://www.clearwisdom.net/emh/articles/2004/12/12/55514.html
A fifteen-year-old girl has to work for a living
Mr. Zhang Yanchao was a Falun Gong practitioner from Cuijiawopeng Village, Lalin Town, Wuchang City, Heilongjiang Province. Police from Division Seven of the Harbin City Public Security Bureau tortured him to death in early April 2002. His daughter is fifteen years old and lives with her maternal grandmother. She had to drop out of school and discontinue her studies in order to do odd jobs to make a living, since her grandmother is very poor and can't afford to pay for her schooling. http://www.clearwisdom.net/emh/articles/2004/11/18/54666.html
A young boy suffers abuse at home after his mother dies and is forced to run away
Falun Dafa practitioner Ms. Qu Junli was 28 years old when she was tortured to death. At that time she was a laid-off worker from the Xiguan Power Plant, Chuanying District, Jilin City. Ms. Qu went to Beijing to appeal for Falun Gong. On December 16, 2000, the Beijing authorities tortured her to death. Her son, Shi Bo, was born in July 1995 and is currently in the third grade. After his mother's death his father remarried and had a baby girl with his new wife. The couple frequently and brutally beat Shi Bo. When his father was not at home, his stepmother would often slap his face until it was swollen. One night around 9:00 p.m., after being beaten by his stepmother, Shi Bo secretly called his grandparents who later came to take him away. His grandparents are old and his grandmother does not receive a retirement pension, so they all depend on his grandfather's small retirement pension. His grandfather is in poor health and suffers from heart disease. Their situation is heartbreaking. http://www.clearwisdom.net/emh/articles/2004/12/10/55437.html
A teenager's new stepmother treats him unfairly
Falun Dafa practitioner Ms. Su Baolan was tortured to death in September 2001 at the age of 37. She was from Shirenpuo Village, Shidui Town, Anqiu City, Shandong Province. Her sixteen-year-old son, Han Zhihui, is a sophomore at Qinyun High School, Anqiu City. In the fall of 2003, his father remarried a woman with a 13-year-old daughter. Since then, Han Zhihui has been treated unfairly and his life has become miserable. Han Zhihui has been denied adequate care and support. Even though his father cares about him and has a secure source of income, his stepmother makes the decisions on everything. For the 2004 spring semester, his stepmother only gave him 60 yuan for living expenses and refused to cover any other expenses. The cost of school supplies and other expenses are at least several thousand yuan a semester. Han Zhihui's grandmother gave him another 60 yuan. But his grandmother does not have any source of income herself. She is heartbroken and often cries, having to see her grandson mistreated.ttp://www.clearwisdom.net/emh/articles/2004/10/30/54021.html
IV. Children are put into terrifying situations
Police force a seventeen-year-old boy to witness his father's autopsy
Falun Dafa practitioner Mr. Liu Qiusheng was from Qingdong Village, Cuimiao Town, Fucheng County, Hebei Province. On February 2, 2002, without showing any warrant, Mo Dafu, the Cuimiao Township Communist Party secretary and several officers from the local police station, including Jing Shucang, abducted Mr. Liu. Their only reason for taking him away was that he practiced Falun Gong. After they illegally took him to the police department, Kou Wentong, the deputy head of the police department, and Zhang Zhijun, tied Mr. Liu up and started to beat him for over an hour, until he lost consciousness. According to another imprisoned person there, the officers later beat Mr. Liu several more times and he was also force-fed while being tied up on a "Death Bed."
Within just twenty short days, from February 2 to February 22, the police tortured the once-healthy Liu Qiusheng to death. To cover up their crime, Kou Wentong and other officers who were involved in murdering Liu Qiusheng went to the village Party Secretary for help. Together they plotted to call in Mr. Liu's teenage son Liu Dong who was less than seventeen years old, from a factory in which he was doing an odd job, as a witness to an autopsy, without informing Mr. Liu's wife or mother.
Seeing the badly tortured body of his father being dissected, the child was terrified. When the autopsy was completed, the officers reluctantly informed Mr. Liu's wife. What Mr. Liu's wife saw was a bloody and indiscernible body, though it was obvious that his ears, face, lips, right shoulder and right side of the chest were terribly injured as a result of abuse. Nevertheless, the autopsy report stated, "No exterior injuries; died of heart attack."
Witnessing the injuries all over her husband's body, Liu Qiusheng's wife insisted on personally hiring an independent legal medical expert. Refusing to cooperate, Police Chief Kou ordered the body to be cremated right away. Liu Qiusheng's family struggled hard to stop the cremation, until officer Kou, the deputy head of the powerful county police department, called in more than 100 policemen. The police chief personally directed the officers to encircle Mr. Liu's family members. With half a dozen officers physically attacking each of the family members, the policemen pushed all of the family members down, stepped on their heads and covered their mouths with their hands to stop them from shouting or talking. The man who was attacking Mr. Liu's son was actually the officer who had previously pretended to be the coroner (he said he was from Hengshui City at the time when he conducted the autopsy, but he is actually from the county police department). In the end, they managed to quickly cremate Mr. Liu's body and destroy the incriminating evidence. "Go ahead and sue us," they shouted sarcastically.
The murderers thought that after the evidence was destroyed the orphan and the widowed mother couldn't do anything about it. But the heavens are watching! It is a heavenly principle that good is rewarded with good, and evil provokes retribution.
http://www.clearwisdom.net/emh/articles/2004/11/1/54081.html
* * * * * *
For over five years, the Chinese Communist Party and Jiang's faction have manipulated the whole state machine to carry on this ruthless persecution and murder against Falun Gong practitioners, who only strive to live according to Truthfulness-Compassion-Forbearance. The orphaned children of Falun Gong practitioners have also been suffering mental devastation, a curtailed source of income, and the authorities are often after them. This is the real picture of genocide that certain people in the Chinese Communist Party, those in Jiang's regime, have committed during the persecution against Falun Gong. Over forty lawsuits against Jiang and his followers are presently pending and in progress around the world, to bring to justice those perpetrators of such genocidal crimes.
December 20, 2004