U.S. Citizen Charles Li Plans to Appeal from Prison (Photo)
(Clearwisdom.net) According to the Epoch Times, U.S. State Department Consular Affairs spokesperson Kelly Shannon said in an interview that on August 19, a consulate official in Shanghai visited U.S. citizen Charles Li in a Nanjing prison.
Ms. Shannon said that Charles Li appeared healthy and talked with the consulate official about appealing the ruling of a Yangzhou Court. Charles Li had not yet selected a lawyer to help in his appeal.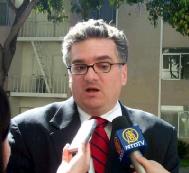 U.S. Attorney James Don volunteers to act as Charles Li's lawyer
Unjust Ruling of Yangzhou Court
On March 23, 2003, a Yangzhou Court sentenced Charles Li to three years of imprisonment and deportation based on speculation that accused him of "damaging national TV and broadcasting facilities." Charles Li refused to accept the ruling and appealed on March 31, 2003, but his appeal was rejected on May 5 and he has been confined in Nanjing Prison since then.
A friend of Charles Li in the U.S. said, "Since Jiang's regime initiated the persecution of Falun Gong practitioners in 1999, the regime has violated the Chinese Constitution and has never followed the law when dealing with Falun Gong practitioners, including Charles Li."
The friend said, "Jiang Zemin ordered his '610 Office' and followers throughout the country to implement the policy that, 'No one will be held responsible if Falun Gong practitioners are beaten to death, just count them as suicide; No investigation is needed, just have them cremated.' No lawful procedures are followed. In China, Falun Gong practitioners who were tortured appeal to courts, but the courts do not process the appeal, and those culprits [who are] killing, beating, raping and robbing Falun Gong practitioners are not punished, but [instead are] rewarded."
Charles Li's friend continued, "Like the staged Tiananmen self-immolation incident, the Yangzhou Court designated a so-called 'defense attorney' for the benefit of the U.S. consulate official during the trial on March 23, 2003. It is easy to imagine what kind of defense was mounted, because the law has never been followed in dealing with Falun Gong practitioners in China."